Why The X-Men Aren't In 'Civil War'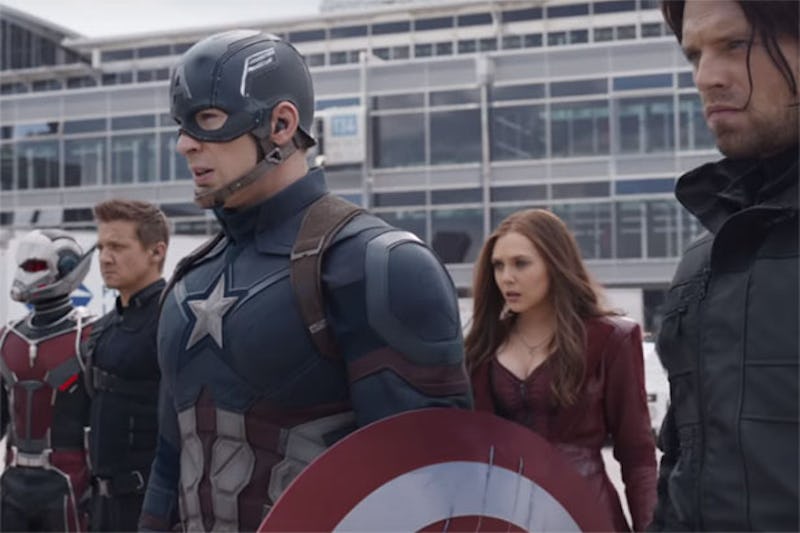 Over the past few years, there has been tons of speculation about whether or not the X-Men will ever make an appearance in The Avengers saga. Hugh Jackman, a.k.a. Wolverine, has previously said that he hoped a movie about the X-Men and Avengers would happen, and fans would certainly be into the idea. Yet it hasn't come to fruition, possibly because of money — the X-Men franchise is expensive, but the movies are as successful as the Avengers films. Still, people have hope that a crossover will happen, and so many fans were disappointed to hear that the X-Men aren't in Captain America: Civil War .
Fans of the Marvel comics series know that the X-Men have a civil war of their own to fight, and so their absence from the new Captain America movie, while disappointing, makes some sense. Besides, this isn't the first time a studio has decided to deviate from the comics (where the X-Men are involved in Civil War); in fact, that's pretty much become the norm. And there's still big potential for an X-Men follow-up to Captain America: Civil War , with the release of the comic Civil War II: X-Men. In this comic, two factions of the famous mutants go head-to-head over an issue of unchecked power, just like the Avengers do in Civil War. Marvel has released several teasers about this upcoming comic, all of them pointing towards the ultimate superhero movie, should filmmakers take the bait.
In this forthcoming comic, there is not only a crossover between the Avengers and the X-Men, but a whole slew of female characters, like Jean Grey, at the front and center. So if an X-Men/Avengers movie were to happen, fans can look forward to seeing several badass women duking it out, not just the one or two typically seen in a superhero movie. If Jean Grey, say, were to be the star of Civil War II, alongside female characters like Ms. Marvel and She-Hulk, the studio would be accomplishing something hugely important.
It sounds like making Civil War II a reality could be the way to get that X-Men/Avengers crossover fans have all been waiting for, while hoisting up some hella cool female superheroes into the spotlight. Sounds like a win-win to me.
Images: Giphy, Marvel