'Mien Kampf' Proceeds Will Be Going Someplace New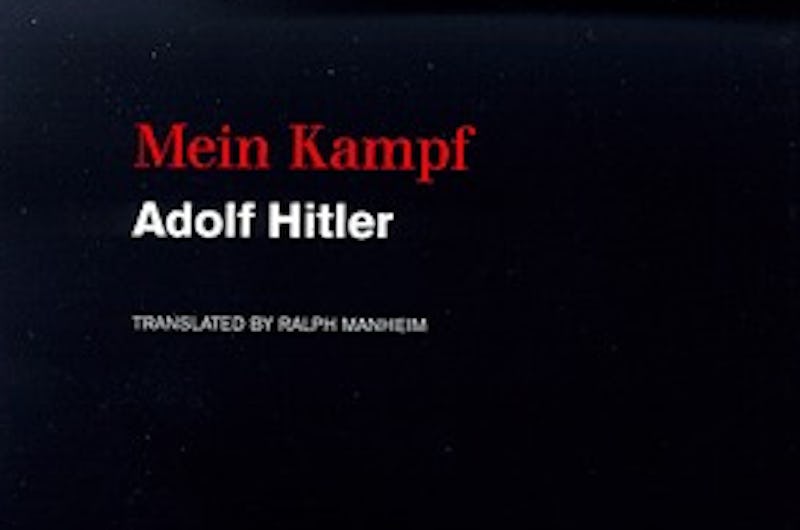 What do you do with money made from the writings of a genocidal fascist? It's a moral conundrum faced by Houghton Mifflin Harcourt, the U.S. publisher of Mein Kampf . And now the publishing house is making some changes to how they handle the funds from sale of the book. But as with anything involving this book, there are no easy answers to the moral and ethical quandaries that arise.
Houghton Mifflin Harcourt was the original publisher of Mein Kampf back when the book first hit U.S. shelves in 1933, before Hitler went on to invade half of Europe and preside over the systematic murder of over 10 million innocent people. Due to its historical significance, there will probably always be interest in the book, and so it's naturally remained in print ever since. Which raises the question of whether or not it's OK for a publishing company to profit off the sale of a work that was not only written by Adolf Hitler, but lays out many of the attitudes and rationales that led to genocide under the Nazi regime. No matter how you look at it, it's hard not to see the profits as blood money.
Because they also aren't comfortable profiting off such a work, Houghton Mifflin Harcourt has traditionally donated the money they make from Mein Kampf to organizations that promote education about the Holocaust or that fight anti-Semitism, such as the Anti-Defamation League and the Museum of Tolerance. And the reasoning there makes sense — as long as someone is going to be making money off this book, it should be going to people fighting against what Hitler stood for, and what the book stands for.
Now, however, Houghton Mifflin Harcourt is making some changes in how they allocate the money, choosing to donate more broadly to organizations that promote tolerance more generally, instead of focusing on organizations with a specific focus on the Holocaust or Jewish issues. The focus has so far been on organizations based in Boston, where the company is based.
"Our goal was to just go a little bigger and broader with organizations that were working within the public sphere at large," Andrew Russell, director of corporate social responsibility for Houghton Mifflin Harcourt, explained. "We felt like we had the opportunity to make a broader impact here in Boston."
However, not everyone in pleased by the new direction. Many feel that, given the book's specific history, money made through book sales should have a specific focus.
"Holocaust education and Holocaust awareness should be at the top of the list for these profits," said Robert Trestan, director of the Anti-Defamation League's New England regional office. "Number two would be anti-bias education."
Moreover, one organization that Houghton Mifflin Harcourt attempted to give to, the Boston Children's Museum, politely declined the donation, saying they didn't think it was a "good fit."
Moral dilemmas around Mein Kampf are nothing new. In Germany, the book only became available again this year once it entered the public domain, and questions immediately arose. Should the government try to ban it again, if they even could? Should they publish an official, annotated copy? Should it be taught in schools?
The questions in the case of Mein Kampf's U.S. profits are different but not less difficult to answer. Since Hitler targeted specific groups of people during his time in power — many of whom are also discussed and disparaged in Mein Kampf — is it really right to direct funds that wouldn't even benefit those victimized communities? But on the other hand, Hitler's ideology has implications beyond those groups he targeted while he was alive, and those same ideas found in Mein Kampf have hurt other people an other communities as well. And for a book that has been an accessory to so much evil, should the focus perhaps instead be on doing as much good as possible? Can you ever ignore the very real historical realities of the book?
And then of course you eventually circle back to the idea of just being very uncomfortable that anyone profits off this books — after all, blood money is blood money.
That's the thing about Mein Kampf. You can't ban it, because the quickest way for history to repeat itself is to ignore it. But having it around is a headache like no other.