These New Season 2 Promos Are Totally 'UnREAL'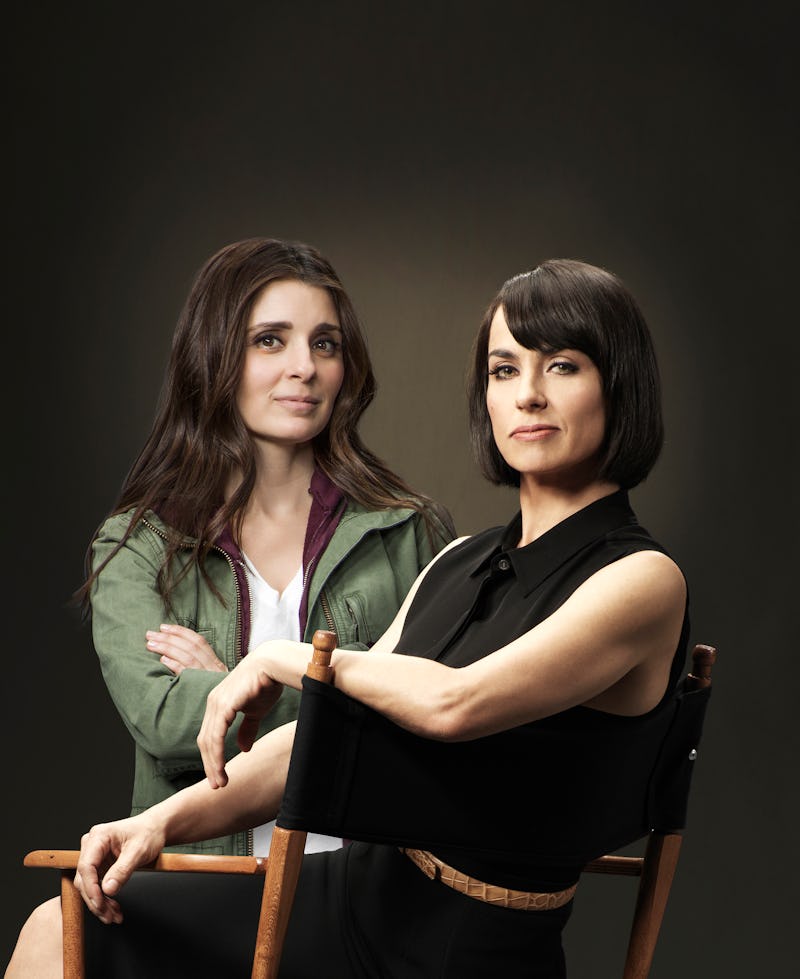 Rachel Goldberg and Quinn King have a very… shall we say… loose relationship with the truth. The protagonists of last summer's breakout hit UnREAL are unflinching and unscrupulous in their willingness to bend and sculpt reality to fit the needs of the Bachelor-esque dating show they're producing — those needs being "drama," "tension," and of course "backstabbing." This Monday, Lifetime released the first batch of cleverly-edited UnREAL Season 2 promos, which promise that Rachel and Quinn will find new and even nastier ways to bend the truth in the drama's sophomore year. And the second season looks better than ever.
Each 30-second teaser introduces viewers to one of the contestants for the new season of Everlasting. Given the structure of the show, the contestants that we got to know and love last year — like lovable lesbian Faith, would-be winner Anna, and dearly departed Mary — are gone. But while it's sad to see them go, the presence of new blood means fresh victims for Rachel and Quinn to torment for the audience's delight. The Season 2 status of last year's suitor, Adam Cromwell, is still unknown, but B.J. Britt (aka Agents Of S.H.I.E.L.D.'s Trip) will be taking his place as Everlasting's first black bachelor, Darius Hill.
Are you ready to meet your new crop of contestants? Be warned: this may be the only unedited glimpse you get at the following three characters before Rachel and Quinn get their devious hands on them.
Chantal
You may recognize actress Meagan Tandy from her recurring role as mercenary Braeden on MTV's Teen Wolf. On UnREAL she'll play Chantal, who, according to Variety, is "a Southern debutante who's elegant, beautiful, polished and believes she's destined to marry Hill, after the tragic loss of her fiancé."
Despite that the seemingly cheerful Chantal states that she "doesn't believe in war," Rachel and Quinn are quick to edit her statement into something a tad bit more juicy: "If you're not careful, I will cut you."
Tiffany
If you're a soap opera fan, then you probably know actress Kim Matula from her Daytime Emmy-nominated role as Hope Logan on 907 episodes of The Bold And The Beautiful over the past six years. Variety describes her character, Tiffany, as "a hot, smart and rich all­-American girl who's the daughter of a professional football team owner. She hopes that Everlasting will help her step out of her father's shadow."
In this clip, Tiffany states a valuable life lesson: "It doesn't matter the size of a man's wallet or who wears the pants." But that's hella boring, so that gets morphed by Rachel and Quinn into: "The best way to a man's wallet is through his pants."
Yael
This contestant is going to "drive Rachel insane because she's the hotter, less damaged, not crazy, version of her," according to Deadline. This is actress Monica Barbaro's first regular role on the small screen, but if you're an avid television watcher, then you might have seen her guest starring on the likes of Hawaii Five-0, Cooper Barrett's Guide To Surviving Life, and Crazy Ex-Girlfriend.
Yael sounds super supportive of her fellow bachelorettes, telling the camera that, "This house is full of amazing women," but nobody watches reality shows to see nice people! "This house is full of backstabbing liars. Especially me," the edited version says.
Surprisingly, Chantal, Tiffany, and Yael all seem likely perfectly lovely people! Too bad they'll soon be clawing each other's eyes out thanks to the machinations of Rachel and Quinn. UnREAL Season 2 premieres on Monday, June 6.
Images: Stuart Pettican/Lifetime