Chris & Elizabeth's 'Ellen' Appearance Is Gold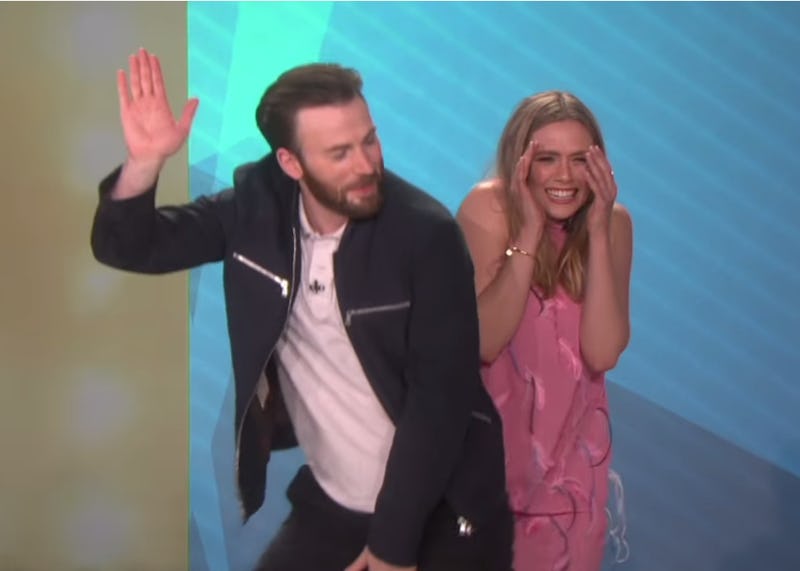 It's official: These Captain America: Civil War stars need their own talk show or at least their own variety hour. After watching Chris Evans and Elizabeth Olsen on The Ellen DeGeneres Show , in an episode airing Monday, May 2, it's clear that they are the best guests to have ever appeared on the daytime talk show. Not only do they have great chemistry, but they are both hilarious, are great at scaring each other, and have some amazing dance moves that I will never not be impressed by. Evans and Olsen's Ellen appearance will be hard to beat.
First, Evans scared the crap out of Olsen and it was as glorious as it sounds. Remember how he scared his other Captain America co-star Scarlett Johansson when she was on Ellen in April 2015? Yeah, well he did the same thing with Olsen. Upon entering her dressing room, Olsen was told "there were some QVC products in the bathroom to check out," and she went to the bathroom. As Ellen viewers know, that is a big mistake. Someone is always hiding in the bathroom, and as soon as Olsen entered through the doorway, Evans scared her good. So much so, she started sweating, because she wasn't expecting it.
Now, don't feel too sorry for Olsen, because DeGeneres got Evans back by scaring him with someone in an Iron Man costume.
One would think that would be enough for a great Ellen appearance, but there's more. DeGeneres had the Captain America stars participate in a game called "Last Dance." It's basically like a dance off, where they each do different dance moves. In the end, DeGeneres even donated $10,000 to Christopher's Haven, a charity near and dear to Evans' heart.
Aside from that wonderful deed, I discovered just how amazing of a dancer the 34-year-old actor is. I mean, if you think he is great at playing Captain America, wait until you see him bust a move. From the running man to Beyoncé's "Single Ladies" to Madonna's "Vogue" to moonwalking, he clearly needs to dance more in his films.
As for Olsen, yes, she is just as adorable dancing as she is whenever she does anything else. That said, I won't lie in saying her twerking doesn't need some work.
Now, let's check out some of Olsen and Evans' best Ellen moments in gif form.
The Scaring
This is exactly how I would react.
Yep, that's about right.
The Dancing
He needs to go on tour with Beyoncé, stat.
It's so bad, it's so good.
Her face is the best.
Get it, Chris.
Yeah, these two know how to make a talk show entertaining — and how to promote a movie.
Images: The Ellen Show/YouTube (6)