If Movie Audiences Voted for 2014's Best Picture Oscar, What Would Win?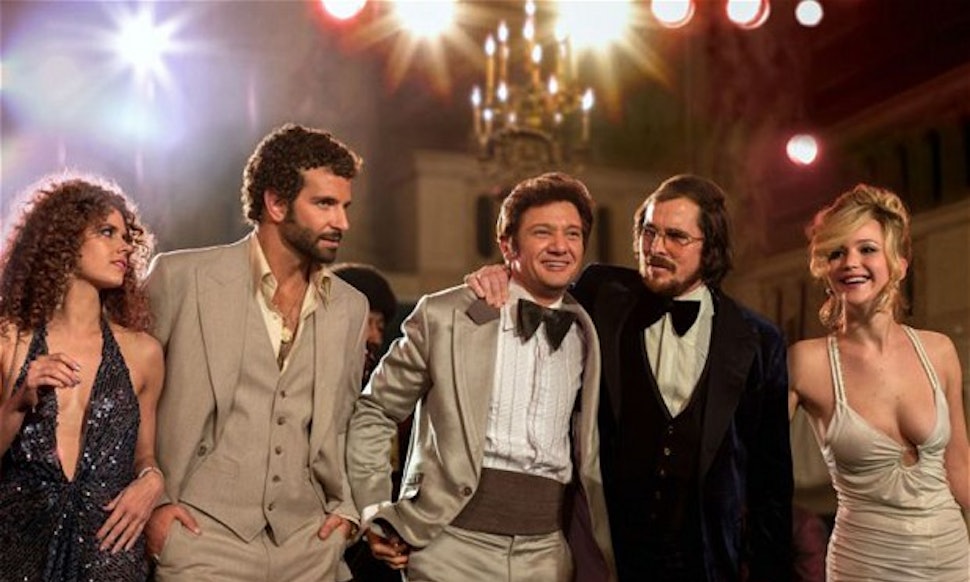 On March 2, the Academy of Motion Picture Arts and Sciences will crown the Best Picture of 2013. There are nine contenders, with varying degrees of mainstream appeal. Will the Academy pick a movie that will cause cheers from the loyal viewers watching at home, or one that elicits eye rolls from everyone not working toward a PhD in film? That remains to be seen. But just for fun, let's imagine which of the nominees might take home the big award if it came down to a good old fashioned popular vote.
Based on CinemaScore, a service that rates a film's appeal with theater audiences, and Rotten Tomatoes' audience voters, which film would have the best odds of winning the popular vote? Click on to see!
Image: Columbia Pictures
'American Hustle'
Do audiences love David O. Russell or do they just love Jennifer Lawrence? Either way, is that love enough to propel this flick to the top spot in an audience-driven Oscars? The answer: Probably not. As much as America is in love with resident It Girl/Sweetheart/Unfiltered Goddess Jennifer Lawrence, her small supporting role in American Hustle wasn't enough to make it an audience favorite. The movie earned a B+ (which is just kind of meh) from CinemaScore and, even worse, only 78 percent of audience voters on Rotten Tomatoes certified the flick fresh. Maybe they weren't fans of bad hair pieces and period costumes?
Image: Columbia Pictures
'Captain Phillips'
So maybe J-Law and company weren't a big enough draw to win over the audience vote in our fictional Best Picture race, but Tom Hanks proved yet again that he still has what it takes to charm the pants off America — even in a gritty, modern day pirate drama. Captain Phillips got a coveted A CinemaScore and a 91 percent fresh rating from audience voters on Rotten Tomatoes, putting it in major contention for the popular vote.
Image: Sony Pictures
'Dallas Buyers Club'
Was it the gripping story of a man with AIDS or the novelty of seeing Matthew McConaughey in a potentially Oscar-winning role that reeled audiences in for Dallas Buyers Club? If we're being honest, it was probably the latter. But no matter what drew audiences in for DBC, they walked out loving it. The movie has a 92 percent fresh rating from audiences on Rotten Tomatoes.
Image: Focus Features
'Gravity'
Gravity is this year's box office smash nominee. Like Avatar before it, it boasts amazing technical innovation and monster ticket sales. The buzz around the movie was incredible and moviegoers went out in droves to see it (literally, droves). But did they love it once they left the theater? Yes and… less yes. With an A- CinemaScore, Gravity seemed like a lock for a popular vote, but the movie only has an 84 percent fresh rating from audiences on Rotten Tomatoes. Maybe more reflection on the (IMHO) meh ending didn't bode well for the movie. Bottom line is: We couldn't count on out of this world voting support if fans picked the Oscar winners.
Image: Warner Bros Pictures
'Her'
Is it really shocking for an offbeat Spike Jonze movie not to connect with the masses? Her isn't the kind of movie upon which the Academy is ever likely to truly bestow the Best Picture title, and it's not the kind of movie a popular vote would help either. While a good movie, it's caught in the middle, losing on both sides. With a B- CinemaScore and an unimpressive 85 percent fresh rating from audience voters on Rotten Tomatoes, it definitely wouldn't take home the top prize.
Image: Warner Bros Pictures
'Nebraska'
Nebraska, the latest from Alexander Payne (the man behind recent Best Picture nom The Descendants) didn't quite hit the mark with audiences. Although critically acclaimed, the film only has an 87 percent fresh rating from audiences on Rotten Tomatoes. That's not a bad rating in general, but not nearly high enough to secure a fan-favorite Oscar.
Image: Paramount Vantage
'Philomena'
Her and Nebraska might not have hit with audiences, but Philomena didn't have that problem. The movie was a critical darling and a fan favorite (at least among those who actually saw it); it got an A from CinemaScore and is 90 percent fresh among fans on Rotten Tomatoes. That combination makes it a front-runner in the audience Oscars.
Image: The Weinstein Company
'12 Years a Slave'
With an A from CinemaScore and a 92 percent fresh rating from audiences on Rotten Tomatoes, 12 Years a Slave is a frontrunner in both the real Oscars and our hypothetical version. Fans loved the movie almost as much as critics (who gave it a 96 percent fresh rating on Rotten Tomatoes) and the all-star cast and awesome story would probably be enough to lock in a win. This would be a good one to pick in your hypothetical Oscar pool.
Image: Fox Searchlight Picture
'The Wolf of Wall Street'
If 12 Years a Slave was the audience winner, which was the loser? In no universe would The Wolf of Wall Street win the audience-voted Oscars. The polarizing and vulgar dramady earned a pretty pathetic C from CinemaScore and audiences only gave it an 83 percent fresh rating on Rotten Tomatoes. Fans might be willing to rally behind the never-a-bride-always-a-bridesmaid Leo for best actor, but the odds of Wolf winning Best Picture on an audience vote are slim to none.
Image: Paramount Pictures