It's a 3-Way Race for The Academy's Best Picture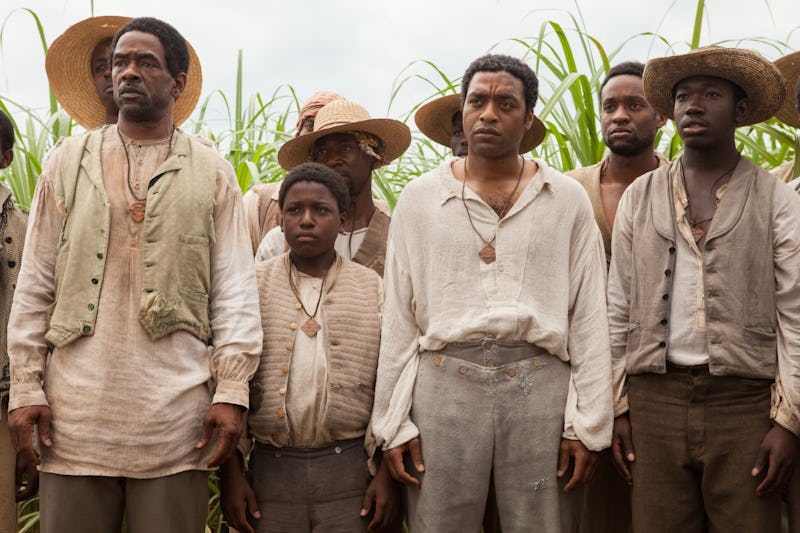 Usually by this time in awards season, it's pretty clear which film is going to win the Oscar for Best Picture, or at least which one is expected to take home the prize. Typically, one movie and its actors has swept most of the major pre-Oscar awards, and the majority of the other nominated films have faded into distant memory. This year, though, only the second half of that is true; while Wolf of Wall Street, Her, Nebraska and others have all lost their Best Picture steam, more than one film is left standing. For the first time in years, three films have equal potential to win the top prize: Gravity, American Hustle, and 12 Years a Slave. And now that the BAFTAs have awarded Best Film to Slave , the race gets even murkier — which one of the three will take home Best Picture come March 2?
Less than two weeks away from the Oscars, and the answer is still up in the air. Each of the three films has won its share of accolades from other award shows, and even with Slave's recent BAFTA win, there's no telling which film is going to come out ahead come Oscar night — or if, in an unlikely but possible scenario, they all get superseded by some dark horse competitor.
Let's break it down. First, there's 12 Years a Slave, considered by many to be the most deserving candidate for Best Picture, if not the expected winner. Almost immediately after its November release, Steve McQueen's film became the most talked-about movie in America, with every critic and viewer weighing in on its depictions of slavery and the performances of its cast. Nearly all are in agreement that Lupita Nyong'o is the frontrunner for Supporting Actress, and that star Chiwetel Ejiofor, despite the strength of his performance in the film, is unlikely to win Best Actor over the unstoppable Matthew McConaughey. When it comes to Best Picture, though, the predictions are less certain; Slave won the top honor at the BAFTAs and the Golden Globes, yes, but many believe that it's simply too depressing for certain Oscar voters to want to award it the highest prize.
Of course, dark isn't always a sign of disaster; past Best Picture winners The Hurt Locker, Crash, Million Dollar Baby and more were all serious, violent films. Yet Slave, unlike many of the others, is not enjoyable. It's wonderfully made and important, yes, but in terms of entertainment, which Oscar voters value highly (see: Argo, The Artist), it's lacking.
Still, Slave is a frontrunner, especially after picking up the BAFTA and Globe wins. Few movies, though, take home Best Picture at the Oscars without picking up at least a few other wins first, and Slave's pattern of losing nearly every other nomination before grabbing the top prize doesn't bode too well.
And then there's Gravity, Alfonso Cuaron's gorgeous, terrifying film that was once the near unanimous prediction for Best Picture — until 12 Years a Slave came along a month later. Gravity is tied with American Hustle for most Oscar nominations, ten, and while it lost Best Film to Slave at the BAFTAs, it did win Outstanding British Film (despite having a Mexican director and American stars, but that's besides the point). Cuaron is the frontrunner for Best Director, and while star Sandra Bullock is unlikely to best Cate Blanchett for Lead Actress, her performance in Gravity has been one of this year's most universally lauded.
It would all point to Best Picture, except for the fact that Gravity is not a particularly good movie. The script is weak, with cringeworthy one-liners ("it's gonna be a wild ride!"), and despite a few backstory details, Bullock's protagonist is a disappointingly flat character. With such a strong lead performance and stunning visuals, though, these flaws aren't considered as meaningful — but that doesn't mean they should be ignored.
Yet while it might be a lesser-made movie than 12 Years, Gravity is certainly more enjoyable. And if entertainment is what Oscar voters are going for this year, then Gravity just might take home the night's top prize.
That is, unless American Hustle does what some have predicted and takes the win out from under Slave and Gravity. The film hasn't won Best Picture nearly as many times has its two top competitors have, but it's lost impressively little momentum since its December release. Like director David O. Russell's two prior films, Hustle is a showcase for its actors, and it wouldn't be surprising if its two stars, Amy Adams and Jennifer Lawrence, take home Best Actress and Supporting Actress, respectively, instead of the current favorites in their categories, Blanchett and Nyong'o.
Still, the lack of Best Picture wins from other award shows isn't promising. Yes, Hustle won Best Musical/Comedy at the Globes, but it wasn't up against 12 Years or Gravity. In competitions where all three films are vying for the same top prize, Hustle has routinely lost out. Some critics have argued that despite the film's stellar ensemble, it's simply not a good enough quality movie to win Best Picture.
Yet it is entertaining, probably the most entertaining of all nine nominees in its category. It's old-fashioned moviegoing, a dramedy that's big, bold, and hugely enjoyable. It may not be as challenging or original as Slave or Gravity, but it's just as fun to watch as last year's Argo — and we all know how that turned out.
With a Best Picture race this close, placing bets on any one film is asking for trouble. There's simply no telling which of the three is going to come out ahead on March 2, or if they'll all be beaten by a film many already counted out of the running, like Philomena or Nebraska. Sure, it's unlikely, but having Best Picture go to one of those outliers wouldn't be a total shock. In a year as good for movies as 2013 was, every one of the contenders for Oscar's top prize could arguably be a worthy winner.
Most likely, though, the race will come down to Slave, Gravity, or Hustle. Thankfully, all three films are fantastic; whichever one of the three takes home the prize will be deserving. For the first year in forever, there's no dud in the mix — no matter who you're rooting for, the Oscar race for Best Picture, finally, will be a competition worth watching.
Image: Fox Searchlight