Meet The Kids On 'Grace And Frankie'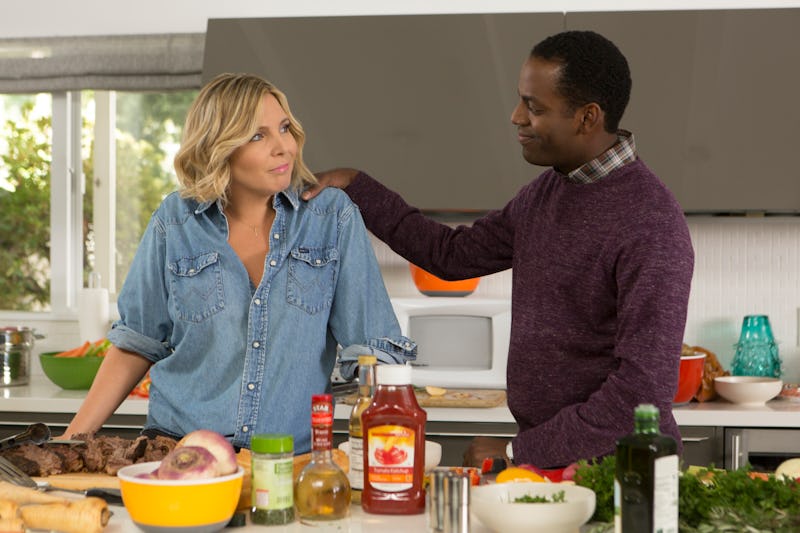 The second season of Grace and Frankie is upon us, and I, for one, cannot wait to get back into the lives of Grace Hanson and Frankie Bergstein. If you've never seen the show, it follows two women — Grace and Frankie, obv — who have just learned that their divorce lawyer husbands are in love… with each other. Needless to say their lives are turned upside down, and Grace and Frankie how to figure out how to support each other as they navigate this very uncharted territory. Did I mention they don't like each other? Oh, and the kids on Grace and Frankie have plenty of opinions, too.
Speaking of the kids, Grace and Frankie have four adult children between them. The stars on this show are serious — Jane Fonda, Lily Tomlin, Sam Waterston, and Martin Sheen — but I want to know more about the actors who play Grace and Frankie's children. This show is very much an ensemble cast, and I love that every single person on the screen makes me laugh. Can you recognize the faces of Mallory Hanson, Brianna Hanson, Coyote Bergstein, and Bud Bergstein, but you just can't place from where you know these fine actors? Well, today is your lucky day, because I am here to enlighten you.
Brooklyn Decker
Decker, who plays Mallory, the younger daughter of Grace and Robert, got her start as a model. According to her IMDB bio, Decker was discovered by a model scout in a shopping mall (aren't they all?), and she quickly booked high-profile gigs like the Sports Illustrated Swimsuit Issue (Decker was on the cover in 2010). From there, Decker moved to acting, making appearance on shows like Chuck, New Girl, The League, and Friends With Better Lives and movies like Just Go With It and What To Expect When You're Expecting. She's been married to former tennis pro Andy Roddick since 2009, and they have a baby boy, Hank, together. I particularly like to peruse Decker's Instagram, because it's a mix of baby pics, ugly selfies, and shots of her bulldog.
Ethan Embry
If you're anything like me, you first saw Ethan Embry screaming about Rex Manning Day in the film Empire Records. Embry has been in the acting business for a while, and he's probably in one of your favorite movies. Can't Hardly Wait ? That Thing You Do!? Vegas Vacation? White Squall? Sweet Home Alabama? Suffice it to say that he's kept busy since those movies — his IMDB page reads like a Dead Sea scroll, with his turn as Coyote Bergstein on Grace and Frankie just the newest on the list. To me, he'll always be dancing to "Say No More (Mon Amour)."
June Diane Raphael
Raphael plays Brianna, the oldest daughter of Grace and Robert and the one who is currently running the cosmetics empire that Grace founded. While her role on Grace and Frankie is more straight man than wacky, Raphael is a comedian through and through — you've seen her be her hilarious self in movies like Forgetting Sarah Marshall and Bride Wars. Along with pal Casey Wilson, Raphael created the UCB two-woman sketch comedy show Rode Hard & Put Away Wet. She's married to actor Paul Scheer, with whom she hosts the popular podcast How Did This Get Made?. How do they get anything done in her house? I'd be too busy laughing.
Baron Vaughn
One of Vaughn's first roles in Hollywood was that of "Party Goer" in horror flick Cloverfield, so if Bud Bergstein, Frankie and Sol's adopted son, ever needs to fight a strange space alien from another galaxy, Vaughn can just flow right in. Vaughn got his big break, though, on the USA show Fairly Legal (which I loved and miss even today) before earning appearance on shows like Key & Peele, Comedy Bang! Bang!, Girls, and Arrested Development. He's also a writer, having put on paper his own short, Happy Birthday, America.
Catch the kids in Season 2 of Grace and Frankie to see what trouble they get up to this time around.
Images: Melissa Moseley/Netflix (5)