'Grace & Frankie' Is Your New Favorite Show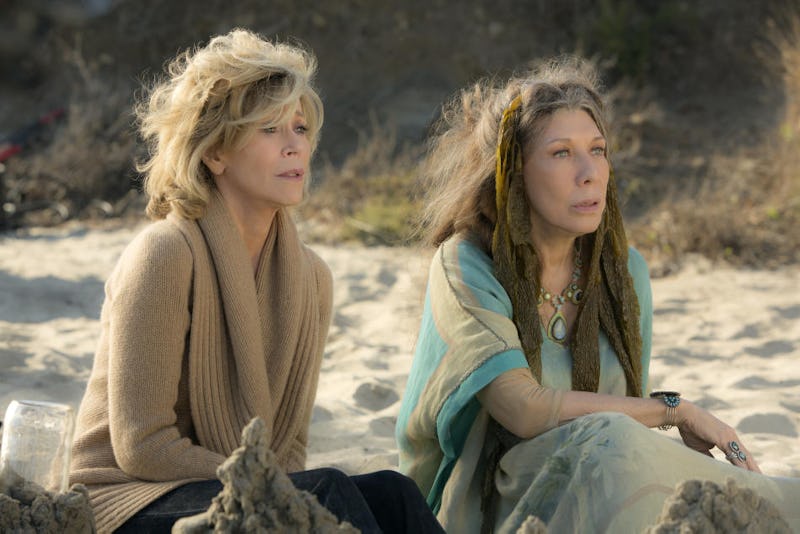 You guys, it's here. The day we — or at least, people like me who are basically 70-year-old ladies trapped in the bodies of millennial journalists — have been waiting for forever has finally arrived: the release of the first trailer for Netflix's Grace and Frankie . The star-studded show, set to premiere on the streaming service May 8, has been hotly anticipated for months — and thankfully, Thursday's 90-second preview doesn't disappoint.
In fact, it's practically a sign saying "this is going to be your new favorite show, probably of all time." Seriously: from the incredible people in the cast (Lily Tomlin, Jane Fonda, Martin Sheen, Sam Waterson) to the insanity of the plot (two feuding women are forced to bond when their husbands come out as gay and move in together) to the hilarity of the scenes shown (Awkward dinner parties! Inappropriate uses of whipped cream!), everything about Grace and Frankie looks incredible.
If you're somehow not convinced that a series about four 70-somethings is really going to be that good, though, allow me to explain further. Here are six reasons why Grace and Frankie is going to be your new favorite show:
The Cast is Incredible
Like, seriously incredible. The four leads are all Emmy-winning actors, all of whom, for some unexplainable reason, haven't had a place to shine on TV like this in years. And if they weren't enough, the show also features Brooklyn Decker, Ethan Embry, Baron Vaughn and June Diane Raphael. This is one star-studded affair.
Its Lead Actors Are All in Their '70s
It's incredibly rare for movies or TV shows to feature senior citizens in prominent roles, let alone make them the complex, compelling lead characters. Yet Grace and Frankie does just that, with the show revolving around its four elderly leads and its plots dealing with the taboo-for-old-people subjects of aging, sex, and heartbreak.
It Reunites Jane Fonda and Lily Tomlin
Fans of the Dolly Parton classic 9 to 5 will remember that it also co-starred Fonda and Tomlin as women seeking revenge on their terrible boss. Surprisingly, that was the only time the legendary duo worked together, but Grace and Frankie has finally fixed that error. Not only do Fonda and Tomlin get to be in the same show, but they seem like they're in practically every scene together; what more could fans want?
It's Super Feminist
The whole show revolves around the relationship between two very different women, neither of whom, it appears, fall into cliche. Both Tomlin and Fonda's characters are feisty, sarcastic, and sharp, and while their husbands' lives are the reasons for their forced bonding, most of their conversations seem to pass the Bechdel test with flying colors.
It's Bringing More Gay Characters to TV
It's too early to know exactly how well the sexualities of Sheen and Waterson's characters are treated by the show's writers, but judging from the trailer, it's clear they're not simply caricatures. The men are rare examples of LGBT characters on TV, and it looks like Netlix is doing right by giving them full lives and personalities that aren't cliches.
It's Made By the Friends' Producer
Alongside Home Improvement's Howard J. Morris, Friends' co-creator Marta Kauffman brought Grace and Frankie to life. With that kind of resume, there are certainly some high expectations, but hopefully, she'll use whatever brilliance she brought to Friends to make her new show just as loved.
Check out the trailer below:
Images: Netflix (2); Getty Images; 20th Century Fox