The 'Dance Moms' Cast Is Going To Change Big Time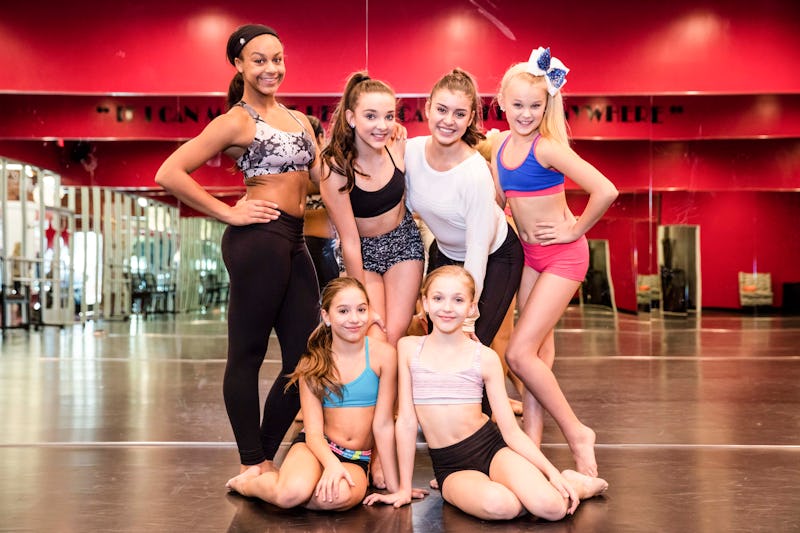 When the Dance Moms Season 6A finale airs on May 3, it will mark the end of an era for the ALDC's junior elite competition team. Maddie and Mackenzie Ziegler are leaving Dance Moms to pursue other opportunities, meaning Nia is the only remaining member of the original team that was introduced in Season 1. The Zieglers' departure means that major changes are in store, so is anyone else leaving the Dance Moms cast? A rep for Lifetime said that, while the second half of Season 6 is still being filmed, it's too early to discuss anything beyond the current season. But, either way, the cast will be different when the show returns likely in June.
The dancers are already back in Los Angeles training and attending competitions for Season 6B — and, based on a recent Instagram photo posted by Kendall, it looks like the junior elite team hasn't officially added any new members. This means the team now consists of Kendall, Kalani, Brynn, JoJo, and Nia. The departure of Maddie and Mackenzie doesn't necessarily mean Abby will add two new permanent members, but it's a safe bet she has a few tricks up her sleeve when it comes to assembling group numbers, trios, and duets. For example, earlier this season she invited an ALDC Pittsburgh dancer, Sarah Hunt, to perform alongside Brynn and their duo placed first. Plus, Sarah recently posted this video to Instagram, which indicates she may return to the show in some capacity:
Sarah is an amazing dancer and, let's be honest — her mom causes drama and that's something that is always welcome on Dance Moms. Although nothing has been confirmed, I wouldn't be surprised if she lands herself a permanent spot on the team — both mother and daughter made clear that they'd love to join the show for good and they're willing to relocate to California. It also looks like Abby may mix things up a bit by inviting boys to compete with the team. A clip from a recent competition shows Nia performing in a trio with two boys from ALDC Pittsburgh:
Then there's the matter of the "minis." Abby has said multiple times that her forte is training younger dancers, not teens. A new mini competition team was introduced early in Season 6, but their actual dancing hasn't gotten much attention. (There has been plenty of drama amongst the mothers, naturally.) However, with fewer dancers on the junior elite team, perhaps Season 6B (and Season 7, if it gets the green light) will place a stronger focus on the minis. The mini team currently consists of Alexus, Alysa, Areana, Peyton, and Kendyl. Since they may be featured more prominently when Dance Moms returns, let's get to know them better.
Alexus
This recent post indicates that Alexus will be performing a solo in the upcoming Season 6B. According to her Instagram bio, the 8-year-old dancer is a four-time national title winner. Not too shabby!
Alysa
Alysa's Instagram shows that she's doing a whole lot of competing, but it's unclear whether or not she's returning to Dance Moms. Let's hope so, because she's a force to be reckoned with on the dance floor.
Areana
Areana "Ari" just posted a pic wearing her official team jacket, so let's hope we see more of this talented dancer in upcoming episodes.
Peyton
Seven-year-old Peyton, who was adorably mentored by Mackenzie in Season 6A, recently posted a photo that indicates she'll be competing in future Dance Moms competitions.
Kendyl
Kendyl, age 8, posts less frequently and it's unclear if she's still competing with the ALDC. We'll just have to wait until Season 6B to find out.
If any permanent members are being added to the junior elite team, it's being kept under wraps. When Dance Moms returns, it seems likely that the junior team will continue to compete with its five remaining dancers (often joined by guests) and a stronger focus will be placed on the minis.
Image: Lifetime