Why Do We Celebrate May The Fourth?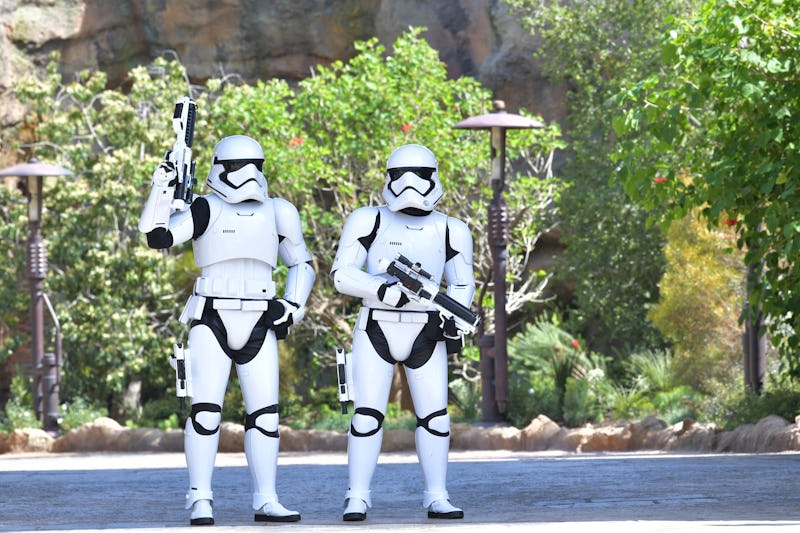 Amy Sussman/Getty Images Entertainment/Getty Images
We've grown used to a lot of brand new holidays cropping up, which makes each day a little special — like, while it's acceptable to eat ice cream any day, it's especially fun to eat it on National Ice Cream Day, which falls on July 17 this year. You probably notice a lot of social media activity on May 4, especially with friends who made a point to order their tickets for Star Wars: The Force Awakens months in advance — and that's because the holiday that falls on May 4 is all about our favorite Jedis, Storm Troopers, and Siths. What is May the Fourth? In 2011, it was named "Star Wars Day," and while LucasFilms had nothing to do with its formation, fans everywhere celebrate it. You can thank the internet for that.
Why May 4, you might ask? Well, just like Justin Timberlake accidentally became the poster child of ringing in the month of May due to his odd pronunciation of lyrics, "May 4th" kind of sounds like "May the force." And even if you're not a huge Star Wars fan, you've obviously heard of the phrase "May the Force be with you" before. For the characters in Star Wars, this was a greeting of good luck, similar to how "break a leg" is big with theater buffs. The phrase was said a bunch of times throughout the film franchise, once by Qui-Gon Jinn to Anakin Skywalker, often by Jedi Master Obi-Wan Kenobi, and of course, Han Solo used the term in a conversation with Luke Skywalker, even though Solo wasn't even totally convinced by the Force at first.
While the holiday was made "official" in 2011, it's said to have dated back to 1979, when Margaret Thatcher was elected as the U.K. prime minister. At that time, the London Evening News gave some ad-space to congratulate her, using the phrase "May the Fourth Be With You, Maggie," tagging a "Congratulations" at the end to acknowledge this honor. Thatcher took the position on May 4, of course, two years after Star Wars was released in theaters.
Besides acknowledging the holiday on Facebook, fans get to participate in some great Star Wars-related deals. Per StarWars.com, many retailers are taking advantage of the holiday. Even Build-A-Bear plans on offering a buy one, get one for $10 sale on its furry Star Wars character pals (which are adorable, and worth getting even if you're a grown adult). Toys 'R Us is also giving a 20 percent discount on a lot of its related merchandise, so it's a good day to stock up on Lego sets and BB-8 skateboards, which yes, are a real thing.
Of course, a lot of people also celebrate with costume and trivia contests. So, it's the perfect day to bust out your Princess Leia gear.
Some fans have tried to extend Star Wars Day to May the 5th, calling it "Revenge of the Fifth" — get it? — and use this day to celebrate the Dark Side. While it's not as popular, it's a great way to extend your fandom for yet another day. Although, let's be honest — since we're expected to get a new Star Wars movie every year, it can be argued that pretty much every day in December, the month of release, will technically be dedicated to the brand as well.
Images: Amy Sussman/Getty Images; Giphy (2)