9 Tips For Finding A New Signature Scent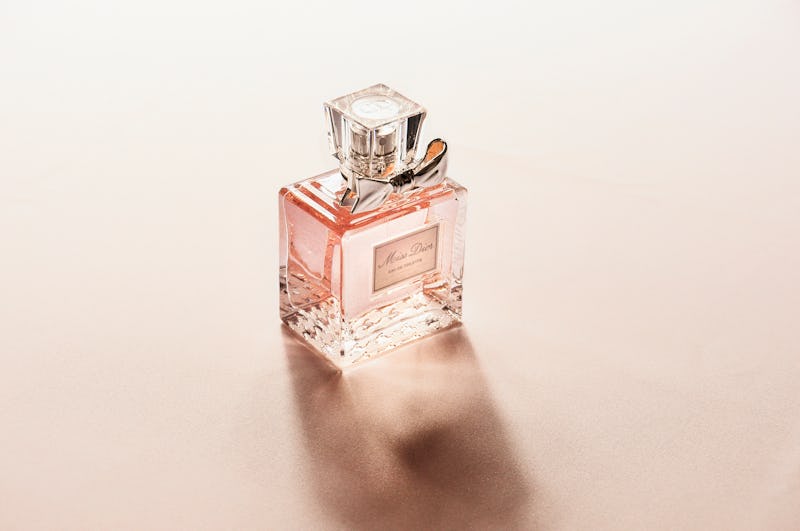 Experimenting with fragrance to pinpoint a signature scent that you love to wear can be a powerful, sensory way to amplify your style. Although your preferences might vary over time, finding a favorite perfume that makes you feel good every day is a great way to celebrate and express yourself in a non-visual manner. Although I love experimenting with different scents, trying out new fragrances with the changing seasons, or just my shifting moods, I also love to have a few favorites to fall back on.
There's a lot of talk about "signature scents" in the perfume world, so it can be easy to think that you're supposed to find one perfect "holy grail" item and stick with it for the rest of your life. But while you may find specific scents that continue to resonate with you, you shouldn't feel like you have to put all your eggs in one basket when it comes to perfume.
I've had a few signature scents over the years, moving from sweet, floral odors to spicy, boozy ones to herbal colognes and perfumes. As you discover the world of fragrance, you might also find that what you look for in a signature scent shifts with time. So if a perfume you once loved has started to lose its attraction, or you're just feeling the urge to try something new, here are a few helpful tips to assist you in the search for a personal fragrance that you'll want to reach for again and again.
1. Assess Your Preferences
When you're first embarking on the journey of finding a new scent, think back to all of the non-perfume related fragrances that you enjoy. Do you love the smell of fresh coffee brewing in the morning? What about lilac flowers growing outside the window of your childhood home? Personally, I adore earthy, herbal smells, like rosemary crushed between my fingers or the smoky tang of burning pine wood.
Although the mundane scents of everyday life may seem unrelated to the "fine fragrance" world of commercial perfume, taking time to note the types of scents that already bring you pleasure is an excellent way to begin understanding your own preferences, before being inundated with marketing, test strips, and pushy cosmetic sales people.
2. Do Your Research
In the last decade, interest in perfume as a craft has seemingly skyrocketed, with niche lines popping up left and right, and perfume bloggers shedding light on a beauty product that had previously been shrouded in a great deal of manufactured mystery. Before throwing down a chunk of change for a full bottle of some scent you read about in a magazine or beauty blog, taking time to learn the basics about scent — a kind of Perfume 101, if, you will — will almost certainly save you a lot of time, money, and frustration.
There are literally thousands upon thousands of perfumes available to you as a consumer, with more coming out every day, and knowing how to weed the duds from the treasures will make your experience of searching for a signature scent a far more enjoyable one. Blogs like Now Smell This, Perfume Posse, and Bois de Jasmin are excellent resources for everything from new fragrance reviews, to industry updates, to helpful articles about perfume history and techniques.
3. Spend Some Time "Just Browsing"
When it comes to finding your new signature scent, there's no need to rush. With almost endless options to choose from, it pays to survey the landscape a little. Try wandering around the beauty counters at your local mall, or head to Sephora and spend some time spritzing and sniffing. A word to the wise, though: Perfumes usually smell different on skin than they do on those little paper testers, and they tend to change over the period of a few hours, so trying scents out in person and living with them for a bit is absolutely essential. The first top notes of a perfume sprayed on a tester strip are often not really that representative of the scent's fundamental characteristics.
Also, your nose will get burnt out after smelling more than three or four different fragrances, so don't try to do all your testing at once. Generally, it's a good idea to spray a few different options on testers, pick your favorite, then spray that one on skin and wear it home for a longer, more accurate test drive. Don't be afraid to ask for samples, either. Wearing a potential purchase for a few days will help you decide whether it's true love or just a momentary spark of interest you're feeling.
4. Read A Book
Coming To My Senses by Alyssa Harad, $14.23, Amazon
Some of my favorite writing involves perfume and fragrance. Maybe it's because of the visceral, sensory nature of scent, but whatever the reason, it makes for great reading. Whether you want to learn more about the complexities of perfume history and production, or you're just looking for an enjoyable book to read this summer, there are some truly beautiful (and informative) options out there to dive into.
The Emperor Of Scent by Chandler Burr, $8.64, Amazon
Some of my favorites include Coming To My Senses, by Alyssa Harad, The Emperor Of Scent, by Chandler Burr, and A Natural History Of The Senses, by Diane Ackerman. Whether you love fiction or memoir, history or science, there's a book out there to take you deeper into the wild world of perfume.
A Natural History Of The Senses by Diane Ackerman, $12.75, Amazon
For more beauty tips and tricks, check out this playlist, and be sure to subscribe to Bustle's YouTube page for more inspo!
5. Stock Up On Samples
Most fragrances that you might want to try can be found in inexpensive (or free) sample sizes so that you can try them before buying. Not only is this helpful for preparing to make a larger purchase, but ordering and testing various samples of perfumes you think might appeal to you is a lot of fun in its own right.
There are many places to acquire samples, from decant services like The Perfumed Court, to fragrance retailers with special sample programs, like Aedes Perfumery and Lucky Scent, to more general-purpose sites like Ebay.
Many perfume brands also provide their own samples to consumers at low costs. While I have a couple of bottles of favorite perfumes that I wear frequently, I also love to order new samples of scents that have caught my eye, both to find new potential scents worth buying, and just for the pure pleasure of experimentation.
6. Ignore Gendered Marketing
Although there's a lot of very specifically gendered marketing material that accompanies many fragrances, it's important not to be put off by distinctions between so-called men's and women's scents. It's far more helpful to know what notes and combinations of notes you enjoy, and to look for fragrances that include these scents, than it is to steer yourself by some notion of what smells masculine or feminine.
Often, specific scents are rather arbitrarily assigned to one or the other gender, i.e., rose is considered a feminine scent, while cedar or vetiver are far more often included in colognes or other scented products marketed towards men. None of this matters, though, if you enjoy these particular fragrances. I frequently use unisex or "masculine" scents because I enjoy the materials and notes used to create them. There's no reason to limit your enjoyment of the world of fragrance based on obsolete gender notions. You do you.
7. Try A Service
With all the fragrance options and information currently available, it can feel quite overwhelming to start testing and learning about these products. If you want a little help, sort of like a guided tour of fragrance, you might consider trying out a sample service like Scent Trunk, Scent Bird, or Olfactif. These companies curate collections of designer or niche scents, and send you a variety of samples every month so that you can explore the crowded perfume marketplace at your own pace, from the comfort of your own home.
Scent Trunk and Olfactif focus on niche and indie brands, while Scent Bird skews more towards mainstream designer fragrances. Each company has a slightly different way of determining samples for you, so shop around a little and pick the service that best fits your preferences.
8. Get Experimental
Due both to the sometimes unoriginal nature of mainstream perfume, and to understandable concerns about not offending the noses of partners, coworkers, and strangers on the subway, many individuals limit their fragrance experiments to easily readable, universally appreciated scents like florals or fruity notes. But there's a whole world of potential sensory experiences out there to enjoy when you move beyond the limitations of traditional fragrances.
Don't get me wrong: I love a sexy, heady white floral as much as anyone, but I also love to try weird, unusual, or unique perfumes and colognes with notes like rubber, wood smoke, cilantro, salt, and leather. Just because something smells a little jarring or unexpected at first, or fails to fit into the "sweet and sexy" box of traditional perfume production, doesn't mean that it isn't enjoyable in its own way. So branch out a little, and try something new.
9. Mix It Up
Although this article is all about helping you find a new signature scent that you love to wear, remember that you don't have to limit yourself to a single scent. Like fashion, perfume can express different aspects of your personality or different moods depending on how you want to feel each day.
While you'll most likely develop favorites — scents you return to over and over again for the memories associated with them or the experience they give you — you shouldn't feel like you need to find one singular scent that will cover all your fragrance needs in perpetuity. As with any form of self expression, an ongoing process is often more enjoyable than a single end product.
If you're looking for a change, or just starting to learn about perfume for the first time, try out a few of these tips to help you navigate and explore the exciting world of personal fragrance. As a uniquely personal and sensual way of expressing your own individual style, scent might just allow you to celebrate yourself and add a little extra pizzazz to your daily beauty routine.
Images: Jessica Weiller, Aleksandar Radovanovic, Galymzhan Abdugalimov, Yuriy Trubitsyn, Ricky Kharawala , Mario Calvo, Matt Montgomery, Tongle Dakum/Unsplash; Mariah Carrillo (2)