How To Host The Best Kentucky Derby Party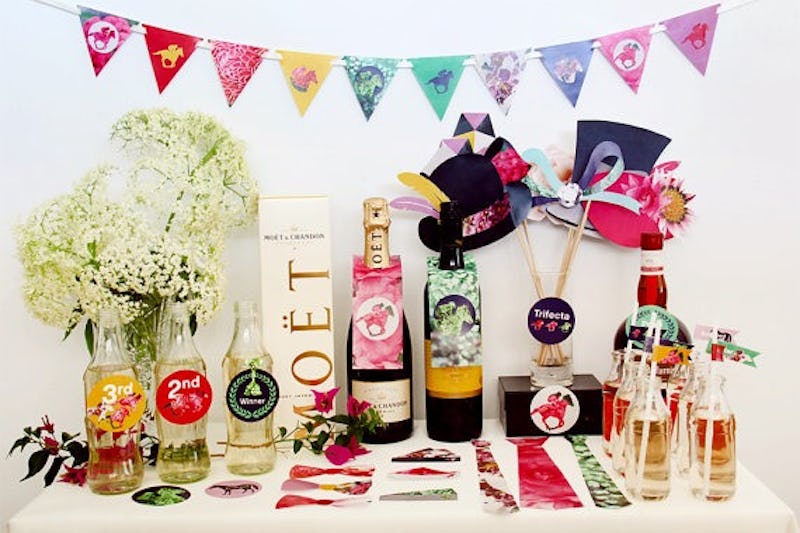 This weekend more than a hundred thousand spectators will gather at Churchill Downs for the 142nd Kentucky Derby, betting on horses with names like "Creator" and "Danzing Candy," while suited up in pastel seersucker and parading oversized, over-the-top, over-organza'd hats. If you're not one of the lucky individuals in attendance, make your own Run for the Roses fun and celebrate in style at home with these Kenturcky Derby Day party ideas.
First things first, formally round up your guests with smart invitations that reflect your southern hospitality. Call on them to place their bets when they RSVP, but promise the party is more about the experience than the winning colt or filly. Enforce a strict "dress code" (the bigger the hat the better) and if their summer suit is at the cleaners, have them arrive in a jockey uniform. Decorate your abode with festive frills and race day paraphernalia — garlands, roses, horse silhouettes, and trophy centerpieces. Keep guests satiated with delicious southern fare and a healthy offering of game day libations like the time-honored mint julep. Tune in to the race coverage and occupy commercial breaks with tracks like The Clovers' "One Mint Julep" or Tom Waits' "Jockey Full Of Bourbon" and take a break for some old time fun.
1. Send Out Some Southern Hospitality
There's nothing quite like southern hospitality, so make sure you deliver invitations with plenty of style and charm. These personalized beauties from Etsy pair perfectly with matching Place Your Bets cards for added fun for those who RSVP.
2. Enforce A Fun Dress Code
All in good fun, require that guests arrive in their Derby Day best. Interpretations can be broadened, depending on the mood of the party. For a classic approach, those opting for summer dresses should top off their look with a wide brimmed hat. Extra points for being audacious and ornate. The suit-wearing set should try for pastel or seersucker, and complete the look with a bow tie or bowler (or both).
3. Spruce Up With Derby Day Decor
You can achieve some Churchill Downs charm with some at-home DIY maneuvers that are simple and savvy. Roses are a no-brainer, so the real deal or cheaper variations of the flower (patterned table-cloths, plates, etc.) help to drive the Run for the Roses theme home. You can also spruce things up with classic Southern flowers, like magnolias and hydrangeas. If you really want some Derby Day decor, Etsy offers up a variety of downloadable decorations and you can find plenty of on-theme paraphernalia from a variety of party stores.
4. Serve Some Southern Fare
Whip up a spread of southern-inspired snacks to keep your guests satiated with these Kentucky Derby recipes that are sure to please. For dessert, top cupcakes off with frosting roses and make everyone feel like a winner.
5. Make Your Own Mint Juleps
It's not Derby Day without the official derby drink, so make your own mint juleps for the ultimate thirst-quencher with added kick, or try your hand at a Georgia julep or Kentucky Devil.
6. Place Your Bets
Engage in some good old fun and have guests place bets on who they think will walk away with the blanket of roses. Reward the winner with a generous party favor like a bottle of Kentucky bourbon.
7. Take A Break With Old-Fashioned Games
Take a break from race coverage with an old-fashioned game of horseshoes or cornhole. Host a hat contest and award prizes to the biggest and best, and set up a Derby Day photo booth so guests can take a snap of their memories home with them.
8. Watch The Race
Last but certainly not least, make sure you have all the action playing in real time by tuning into the Kentucky Derby on the NBC Sports Network on Saturday, May 7 from 4 p.m. to 7 p.m. Make sure there's plenty of room around the television for guests to gather and cheer on their choice horses, and if you're hosting outside, make sure you have a projector properly set up for clear viewing.
Images: Etsy (5); Unsplash; Tom Macy & Wild Turkey