'Shark Tank' Takes You To Frosting Heaven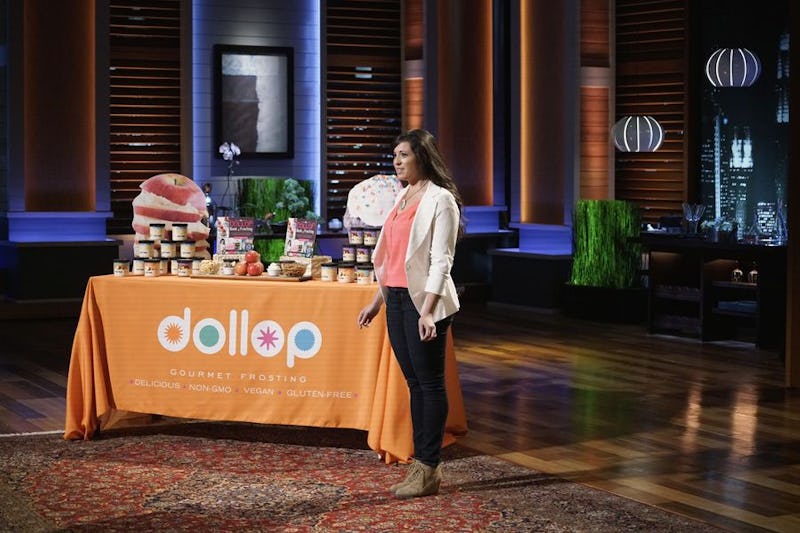 Who doesn't love frosting? Whether it's on a cake, a cookie, or you eat it right out of the container, that creamy, sugary goodness is always just about the best-tasting thing you will probably eat that day. But for a fairly new company to differentiate itself among those that have already perfected the frosting formula over the years, like the Betty Crockers of the world, is no small task. Well, after watching Friday night's new episode of Shark Tank , you may find yourself wanting to know where to buy Dollop Gourmet.
By now, you've probably figured out that Dollop Gourmet is a company that makes frosting, but it's not just any frosting. The details of this confection will be revealed in a moment, but trust me, it's a pretty interesting product.
Hopefully, Dollop Gourmet will be intriguing and tasty enough to attract a Shark or two when the company enters the Tank Friday night. Kevin O'Leary, whose portfolio includes Wicked Good Cupcakes, according to the O'Leary Financial Group website, and Barbara Corcoran, who has made deals with tons of food companies on Shark Tank over the years, will be sitting in the Tank during Friday night's episode. Dollop Gourmet should have a good shot at scoring a deal with those two around.
Once you see what Dollop Gourmet is all about, you'll understand why it may be such a sweet company for the Sharks to invest in.
It's Not Your Grandmother's Frosting
Dollop Gourmet removes what it calls "the junk" from frosting. That means it's all-natural, gluten-free, non-GMO, soy-free, dairy-free, vegan, made with organic ingredients, Rainforest Alliance certified, and made in the United States, according to the company's website. On top of all of that, Dollop Gourmet says it uses half as much sugar to make its frosting. So it's basically magic in a jar.
You Can Lick It Up Now
I know it doesn't sound like a product like Dollop Gourmet is possible to make in real life, but it's real, and it's available to purchase now from the company's official online store so you can go ahead and give it a taste yourself. The frosting is currently available in the flavors Hot Chocolate, Madagascar Vanilla, Peanut Butter Cookie Dough, and Sea Salted Caramel. They run for $7.99 a jar plus shipping. Or you can get a jar of the Hot Chocolate, Madagascar Vanilla, and Sea Salted Caramel for $19.99 plus shipping through the Shark Tank Special promotion going on now.
If you'd rather pick up a jar of Dollop Gourmet in person, the frosting is available in supermarkets like HEB, Meijer, and Whole Foods, according to the company's website. And if you want to see Dollop Gourmet in your local store, you can tell the company that, too.
The Founder Wasn't Always A Cupcake Queen
Before she created Dollop Gourmet, Heather Saffer was working at a car dealership as she earned her college degree in Psychology, unsure of what to do next with her life, according to her bio on the company's website. But then one day after tasting some terrible artificial frosting on top of "the most fabulous cookies" at her local bakery, Saffer decided to teach herself to bake, her bio says. Soon enough, Saffer opened up a build-your-own cupcake bar in her hometown of Rochester, New York, and that's when things really started to take off for her.
She Became A Master Baker
Saffer used her baking skills to compete in and win a Season 4 episode of Cupcake Wars , according to a Rochester Democrat & Chronicle article. If you've seen how intense this Food Network show gets, you know that's impressive.
The Business Has Had Its Ups & Downs
Saffer's first cupcake business "folded on a bad note financially" due to "an untrustworthy manager," she told the Rochester Democrat & Chronicle in September 2013. But she didn't let that get her down. After that, Saffer opened Dollop Gourmet Cupcake Creations, which helped her land her Cupcake Wars stint. However, Saffer closed that location in 2012 and seems to be out of the retail business now, according to a Syracuse.com article from November 2013. But who knows if that could change if she lands a deal with a Shark.
You Can Be Your Own Dollop Gourmet
If you want to start baking up your own treats that look and taste as good as Saffer's, you can pick up a copy of her cookbook The Dollop Book of Frosting: Sweet and Savory Icings, Spreads, Meringues, and Ganaches for Dessert and Beyond, which was released in 2013. That title already has my mouth watering, so I can only imagine the amazing desserts you can learn to make from it. There are also a few recipes on Dollop Gourmet's website to get you started.
If you're not craving some frosting now, you definitely will be after Dollop Gourmet appears on Shark Tank.
Image: Michael Desmond/ABC