Should Michelle Money & Cody Sattler Get Married?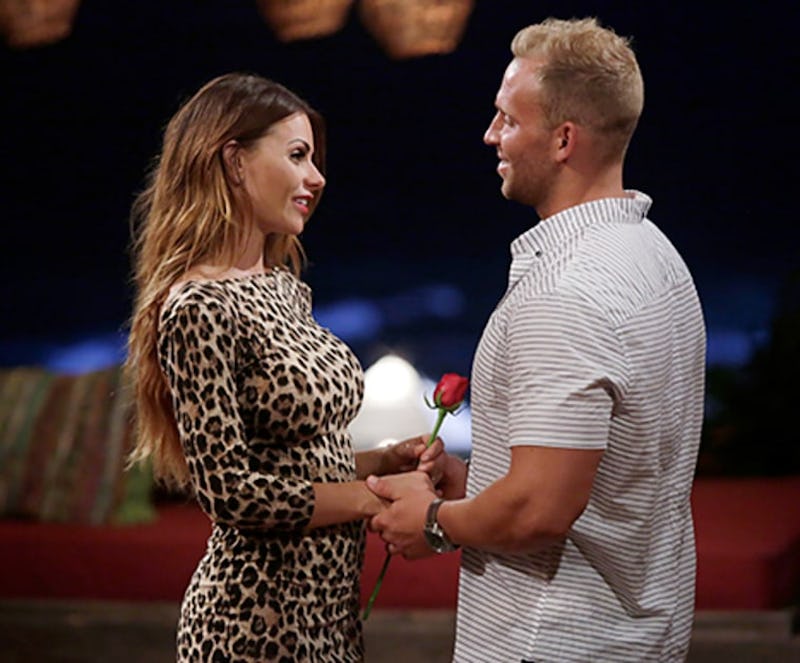 Who would have thought that we'd still be talking about Bachelor in Paradise couple Michelle Money and Cody Sattler two years after they left Mexico together? I certainly didn't, and I'm pretty sure it came as quite a surprise to fans who didn't even know they were still a couple to see them back on TV. In case you haven't heard, the Bachelor in Paradise couple are starring on Marriage Boot Camp this season and things aren't looking promising for them at all. The preview alone shows these two probably shouldn't get married any time soon, among a slew of other reasons, of course.
First let's rewind to 2014. Cody came to Paradise a little late in the game and Michelle asked him out on her date in episode five. They were forced into taking fake engagement photos and then things got serious pretty quickly. Two episodes later they exchanged roses and went home as a couple. WetPaint reported that Cody even moved to Utah where Michelle is based after the show ended. By December WetPaint confirmed they'd broken up. There were rumors they got back together in 2015, but nothing was confirmed and a few months ago they posted a cryptic selfie together. Presumably, that's when they were filming Marriage Boot Camp.
Now that you have a brief update of where they're at couple-wise, let me tell you why they shouldn't get married.
The Marriage Boot Camp Preview
In a brief clip, Michelle yells, "You said the one f*cking thing that you promised me you wouldn't! You're such an a**hole." Then she says in another clip that she's been over it since they got there and finally he just says the word, "miserable." I mean, that's a pretty awful start to making your relationship work, I would think.
It All Seems A Bit Forced
Shouldn't you be married before you seek out marriage counseling? For a couple who were very open about being together and on a dating show together, you would think fans would have known they were back together long before the show. I think it came as a shock to everyone that they were even still dating, let alone in need of televised therapy.
Long-Distance Dating
After I did some creeping, it looks like Cody's fitness business is based out of Chicago and we all know Michelle loves Utah and would likely never move away. Long distance is rough on serious relationships, and even harder when you're just casually dating.
Raising A Child
As a product of on-again off-again parents, I can say that it wasn't healthy for me as a child to watch someone come in and out of my lives. They might want to consider that fact when talking about marriage and a relationship.
She Didn't Even Really Like Him On The Show
Remember back to that first date? Cody was super into the engagement photos and pretending to be a serious couple and Michelle was totally not cool with it. She just didn't seem super into things when they left Paradise together.
They Don't Feel Right Together
I love Michelle Money, but I've known her in the Bachelor world long enough to know that she is the center of a lot of drama. Cody on the other hand was always the chill one who never really got involved in the action. I just think their compatibility might not be the best. But, maybe they'll prove me wrong on Marriage Boot Camp and add the "marriage" part to their own lives.
Images: ABC