More Episodes Of 'Marseille' May Be On The Way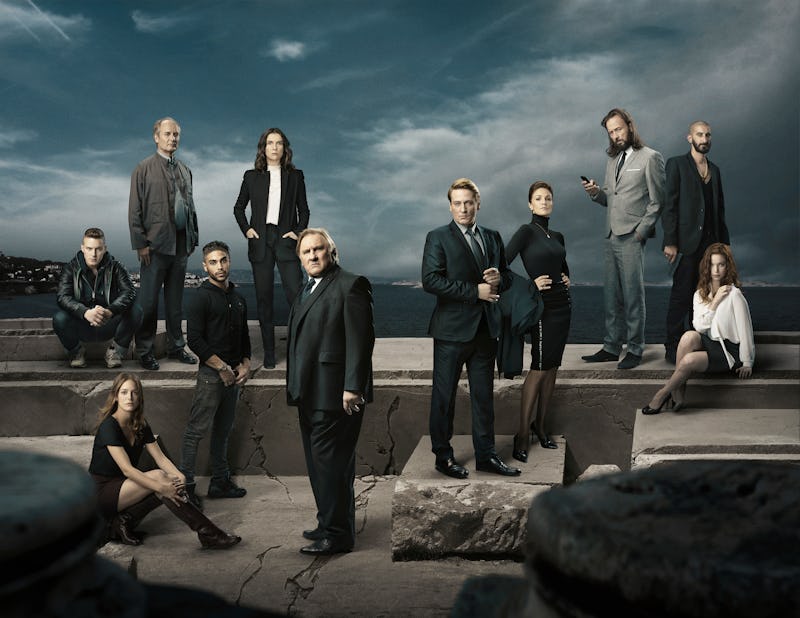 If you're a Francophile who loves a good political thriller, chances are you're more than ready to marathon Netflix's new series Marseille. All eight episodes will be available on May 5, so clear your schedule and get ready to enjoy some subtitled political drama set against a seriously beautiful backdrop. According to The Guardian, the show will waste no time getting into all the scandalous action — there's "cocaine-hoovering, a shoot-out, a firebombing, a jewelry heist and at least four affairs in just the opener" and the season will feature "a lot of sex, corruption, mafia and banlieue action, all overseen by Gérard Depardieu as Robert Taro, the city's curmudgeonly mayor." We can rest assured that Season 1 will be action-packed, but will Netflix's Marseille get a Season 2?
Although there hasn't been any official word on Season 2, Netflix is known for sticking with its originals — they've never not renewed a show for at least one additional season. And, although Marseille is their first foray into a foreign language series, Variety reports that Netflix's chief content officer Ted Sarandos was quick to point out that two million people in the U.S. alone regularly watch French TV — so he doesn't seem concerned that viewers will shy away from the show simply because it's subtitled.
Based on this extended trailer, Marseille looks addictive:
Looking at Netflix's track record, it seems likely that Marseille will return for Season 2 — but we'll probably have to wait about a year for more drama to unfold. Luckily, there are plenty of other thrillers on Netflix to hold us over until next spring. So, if you watch all eight episodes of Marseille in one sitting and suddenly feel a massive void in your life (we've all been there, right?), check out these marathon-worthy series.
House Of Cards
Vulture likened Marseille to House of Cards and, luckily for us, all four seasons are available on Netflix. Although it's based in D.C., House of Cards also focuses on the greed and corruption that often dominate the political scene.
Damages
Like Marseille, this amazing thriller series focuses on a leader who turns on her protégé. Patty Hewes (Glenn Close) recruits a young, ambitious lawyer (Rose Byrne) to join her team — but their unethical tactics on a high-profile case have deadly results. Each season features a standalone case and a new supporting cast, but it's best to watch all five seasons in order, because Close and Byrne each portray characters whose story arcs are complex and thought-provoking. Damages has also been praised for its impressive use of nonlinear storytelling and flash-forwards — so every season will keep you guessing until the last moment of the finale.
Scandal
If dramas about political scandal are your jam, it's a no-brainer that Scandal should be on your "must watch" list. The first four seasons are currently streaming on Netflix, so you have plenty of opportunities to watch Olivia Pope casually say, "it's handled." (And it never gets old.)
The Wire
Vulture also compared Marseille to The Wire — unfortunately this one isn't on Netflix, so you'll want to get your hands on your parents' HBO GO account STAT. This critically-acclaimed drama examines Baltimore's narcotics scene from the perspectives of both law enforcement and drug abusers — and it also explores how the city's government, schools, and media outlets handle the narcotics epidemic. You'd be hard pressed to find a negative review of The Wire — and Entertainment Weekly even named it "the greatest TV show ever."
So, once you've devoured all eight episodes of Marseille, don't despair — it's highly likely that the series will be back next spring. Until then, there are plenty of other action-packed, scandalous thrillers to hold us over.
Image: Marco Grob/Netflix; Giphy (4)