17 Shows To Get Excited About On Netflix In May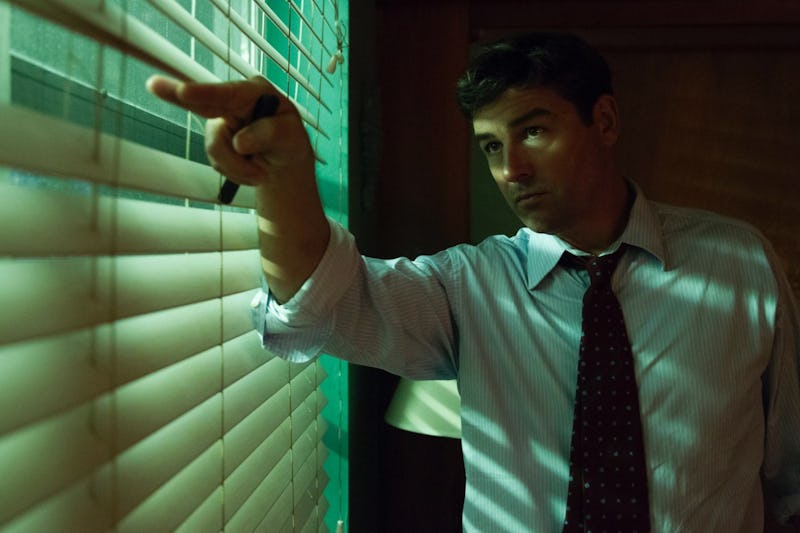 Every time I get grumpy and stressed about having to pay rent on the first day of the month, one of the only ways I can soothe myself is by saying — "Hey don't forget there's a new list of TV shows available on Netflix in May." And then I try to give myself a kiss on the forehead in the mirror, which invariably turns into a kiss on the mouth, and I set about my day reinvigorated. I just think it's nice that if we're going to live in a world where we have to hand over huge portions of our paycheck every month just to have a roof over our heads, we should also be able to come home to a glowing box that gives us whatever we want in the world that same night.
And usually, what I want is two-fold. One, I want to marathon TV shows until my eyeballs fall out of my head and bob around merrily in my glass of red wine. And two, I want completely new options each and every month, so Netflix and I never lose that magic. It's like a relationship, and the streaming platform is the perfect partner — she's always changing it up. (Don't tell her, but I'm popping the question this weekend. It's something I've been meaning to ask for a long time.) And every month with my bae, Netflix, is honestly a joy, but there are some really exciting things happening in May, so here are the ones I'm most pumped up for.
1. Marseille
It's been described as an intersection between House of Cards and The Wire, and even more interestingly, it's all in French. With subtitles, of course. Starring Gerard Depardieu as a mayor facing off against a political adversary, this Netflix original series could be just the thing to impress your hoity-toity friends while still keeping your butt firmly planted on the couch.
2. Chef's Table
If you haven't checked out this series yet, you are seriously missing out on some sumptuous food porn. Beautifully shot and impeccably researched, Chef's Table is one of those shows appealing to foodies and non-foodies alike. And bonus! You can jump in anywhere without missing out on plot details, because each episode stands alone. So even though Season 2, Part 1 is being added in May, you can start anywhere and feel totally caught up.
3. Friends
Oh sure yeah, you were expecting me to make a list of the best shows you can watch on Netflix right this second and leave Friends off the list? Maybe you aren't my lobster after all.
4. Bloodline
There are plenty of new shows out there to watch, but I feel like Bloodline is the one that keeps cropping up. Starring Kyle Chandler and centering around the Rayburn family and the hotel they own in the Florida Keys, this series is the one you've been waiting for, just perfect for marathon viewing. Catch yourself up by May 27, and you'll be just in time for Season 2, which releases to Netflix on that date.
5. The Great British Baking Show
Oh my god, you guys, it's like Top Chef, except everybody is British and really nice to each other, and not competitive, and they admit when they don't know something, and it's adorable and beautiful and I can't even determine that there's a prize for winning? You just go in a tent every weekend and bake things for the love of it, and everyone must watch.
6. Lady Dynamite
A series loosely based on the life of hilarious comedian Maria Bamford. And it's produced by Mitch Hurwitz, who created Arrested Development. Literally, where do I sign? You'll have to wait until May 20 for this one, but I suspect it will be more than worth it.
7. The West Wing
I've already spoken at length about how this political drama is one of the best things that's ever been on television, so if you need a ton of convincing, just Google my name plus "West Wing," and prepare to be bowled over by my enthusiasm. But for the moment, please just refer to earlier, where I said it's one of the best things that's ever graced the screen, and watch it, watch it all. Don't make me tell you again.
8. Chelsea
If you like your marathons with a little mystery, Chelsea is for you, because we literally have no idea what it even is yet. It's coming from Chelsea Handler, who's already impressed me personally with Chelsea Does, so I'm willing to throw my support behind whatever's coming next. We know it will air three times a week starting on May 11, and that it will somehow be both current and streaming. *Optimistic shrug*
9. House Hunters International
These episodes are the perfect little bite-sized nuggets to watch before bed or with a partner you're hoping will get bitten by the travel bug. They're just 22 minutes long, which is the ideal amount of time to get you interested in a new place with a brief snapshot, but not leave you questioning everything about where you already live and how much you pay.
10. The Unbreakable Kimmy Schmidt
I was already in love with our heroine, played by Ellie Kemper, and that was before Season 2 came back with all of its echoes of 30 Rock. Watch Kimmy trying to cope with the city with her optimistic attitude firmly in place, it's impossible to be in a bad mood for more than about 30 seconds before the bright colors and hilarious jokes wash everything away.
11. Jessica Jones
I don't want to exaggerate, but this show genuinely taught me how to be a better, more unapologetically imperfect feminist, and we should all be tuning in to watch Krysten Ritter kick ass and take names all the time.
12. Orange Is The New Black
Your favorite Litchfield inmates have been around for four seasons now, getting at each others' throats, supporting each other in the most surprising moments and ways, and sharing their backstories, and none of it has gotten even a little old. It also doesn't hurt that this is one of the most inclusive shows out there right now, so they deserve all our views all the time.
13. Daredevil
You have so many options as far as superhero content out in the world right now, and I get that, so please just trust me when I say that Daredevil won't let you down. This series starting the blind, crime fighting lawyer Matt Murdock, aka Daredevil, is pretty much universally acclaimed, which is more than I can say for most of the superhero movies hitting theaters right now. I'm looking at you, Ben Affleck...
14. Making A Murderer
Honestly I don't even need you to promise me you'll watch this entire season about the conviction and incarceration of Steven Avery, I just need you to promise me you'll watch a single episode. And then you'll be so hooked that you'll do the rest on your own.
15. Narcos
I'm a sucker for a crime thriller, and Narcos is exactly that, with a true-crime element thrown in because it centers around the real life character Pablo Escobar and his Colombian drug cartels. Serious stuff that's also seriously compelling. Don't miss it.
16. Gilmore Girls
Prepare the way! Rory and Lorelai are coming back to us, and I think it would be a really nice warm welcome if we were all up-to-date on the intricacies of their lives before the reboot. Just common courtesy, you know, and all seven seasons are right there on Netflix, so you really have no excuse.
17. Grace And Frankie
Four comedy legends in one Netflix show? We're talking Jane Fonda, Lily Tomlin, Martin Sheen, and Sam Waterston, and that's before we even dip down into the supporting cast in this series about two women whose husbands fall for each other. I'm in, and I can't wait for Season 2, premiering on May 6.
Alright, I think I have you set up for at least a week or so here, assuming you break for food and water and bathroom trips.
Images: Netflix; Giphy