18 Recipes To Celebrate Cinco De Mayo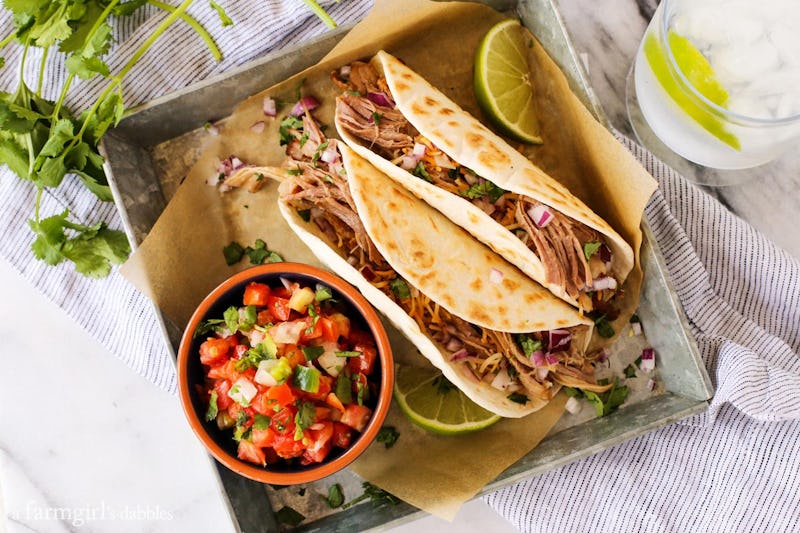 When there is an excuse to eat Mexican food, you should always eat Mexican food: that is why the beginning of May is the perfect time to turn to some tried-and-true Cinco de Mayo recipes. When you have salsa, chips, and guacamole, nothing can go wrong. But throw in some tacos, burritos, and more, and it's sure to be one huge celebration.
Cinco de Mayo commemorates the Battle of Puebla, when the Mexican army defeated the French army on May 5, 1862. While the holiday may be thought of as a Mexican Independence Day of sorts (although Mexico's actual Independence Day is Sept. 16), it's true that Mexico doesn't celebrate the day as intensely as Americans do. Still, it's a day to celebrate a beautiful country with its own diverse cultures, and that means that you can enjoy plenty of Mexican recipes on this festive day.
For your own celebrating purposes, you might choose to go traditional, making your own carnitas or braised pork, or maybe you'll be adventurous and opt for some vegetarian Cinco de Mayo recipes. Either way, the spices and ingredients of Mexican cuisine are sure to never disappoint. From breakfast through dessert, it's one delicious day of the year.
1. Black Bean Burrito With Guacamole
You simply can't go wrong with a classic bean burrito. Naturally Ella breaks down how to really fold a burrito like an expert and how to get that combination of a soft yet crispy tortilla.
2. Fish Tacos
Take a break from a more traditional ground beef-based taco with A Beautiful Mess' classic fish taco. Fried tilapia fillets taste just indulgent enough.
3. Queso Fundito With Chorizo
Originating in Northern Mexico as a campfire dish, queso fundito has turned into a go-to party food. A Cozy Kitchen creates an impossibly cheesy dip with plenty of Monterey Jack.
4. Chili Verde
Mel's Kitchen Cafe's chili is a perfectly browned batch of Mexican stewed pork, laced with plenty of hot peppers and spices. Pair it with some rice and you're good to go.
5. Roasted Mexican Cauliflower With Pepitas
Get some vegetables on your plate with the help of A Farmgirl's Dabbles. Cauliflower proves to be a versatile ingredient in this smoky recipe.
6. Elotes Salad
Mexican street corn (or elotes) is undoubtably one of the tastiest side dishes — but it's admittedly pretty messy to eat. Five and Spice turns it into a salad for easier enjoyment.
7. Mexican Rice
You can't throw a Mexican food-filled batch without one key dish: rice. Serve it in tacos, burritos, and more. House of Yumm makes the perfect red-tinted batch with plenty of tomato sauce and cumin.
8. Roasted Poblano Pepper Salsa
If you're looking to turn up the heat, then The Kitchn has your back. This hot and smoky salsa recipe is easy to make, but it has major impact.
9. Sweet Potato And Black Bean Tacos
Sweet potatoes make a hearty veggie-based filling for soft tacos. Plus, Cookie and Kate drizzles them with an irresistibly savory avocado-pepita dip.
10. Loaded Guacamole Nachos
Sure, chips and guac are a killer combination on any day of the year — but you can do better for Cinco de Mayo. Averie Cooks proves that cheese and creamy avocado are a perfect match.
11. Agua Fresca
If you want something slightly sweet and totally refreshing to sip on all day, try A Beautiful Mess' watermelon- or cantaloupe-based agua fresca. No need to grab the tequila to make a delicious beverage.
12. Savory Rhubarb Salsa With Chipotle
Sometimes when you go off the beaten path a little you can discover some game-changing, albeit untraditional recipes. Naturally Ella shows that rhubarb makes a surprisingly good spicy salsa.
13. Red Chile Sauce Chicken Enchiladas
Give the taco and burrito recipes a break and try making a different favorite at home. Mel's Kitchen Cafe's enchiladas are drenched in a just-hot-enough red sauce.
14. Carnitas With Sautéed Sweet Peppers
Skip the Chipotle line. A Farmgirl's Dabbles' braised pork carnitas are the perfect taco filling. Plus, who wouldn't want the leftovers?
15. Chili-Lime Quicos
The search for "maiz gigante" is worth it to make this crunchy roasted corn snack by The Kitchn. You'll want to snack on these all day.
16. Huevos Rancheros
Start off your day with a breakfast that will have you feeling festive all day. Cookie and Kate makes a favorite traditional breakfast that's packed with plenty of protein (and some avocado salsa verde, for good measure).
17. Tres Leches Cake
While tres leches cake's origins cannot be directly linked to any single Hispanic country, it remains a popular dessert, crave-worthy in Mexico. Averie Cooks makes it perfectly creamy with a traditional combination of cream, condensed milk, and evaporated milk.
18. Mexican Chocolate Chile Ice Cream
What's a celebration of any kind without ice cream? A Cozy Kitchen uses spices like chile pepper, allspice, and cinnamon to make a batch that's anything but bland.
Images: Naturally Ella (2); A Beautiful Mess (2); Cookie and Kate (2); A Cozy Kitchen (2); Mel's Kitchen Cafe (2); A Farmgirl's Dabbles (2); The Kitchn (2); Five and Spice; House of Yumm; Averie Cooks (2)