You'll Have To Wait For 'Blue Bloods' Season 7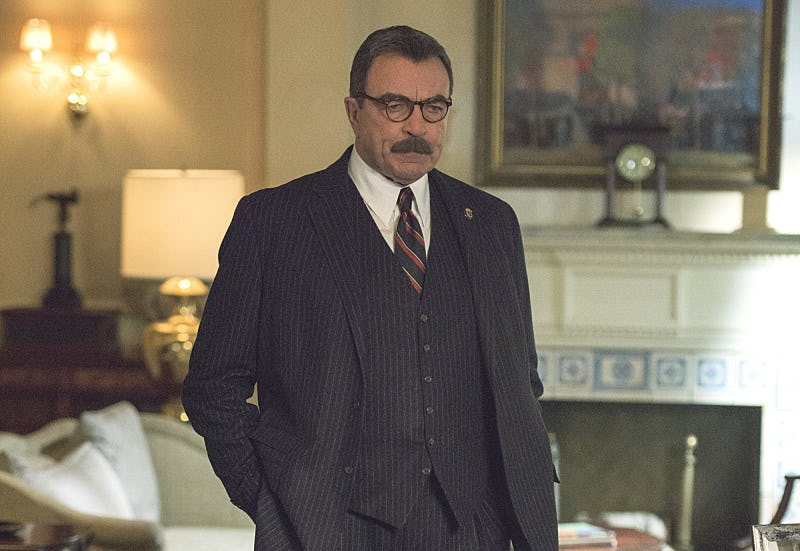 Many TV shows have fallen by the wayside when moved to the Friday night death slot (aka the place where ratings usually come to die a slow and painful death). However, there has been one show in particular that has not only risen to the challenge, but also defied all the odds by getting picked for yet another season pick up. I'm referring, my friends, to the CBS police procedural Blue Bloods , which has officially been renewed for a seventh season. And while I'm very happy to hear that Tom Selleck won't be leaving my television screen anytime soon, I'm becoming more and more nervous about how long I'll have to wait for its return following this week's Season 6 finale. So when will Blue Bloods Season 7 premiere, you may ask? Unfortunately, this hiatus will be serving some hard time.
OK, so in actuality, the wait shouldn't be any longer than usual. In fact, if CBS continues with its regularly scheduled programming routine, the series should be back no later than late September 2016. And yet, considering that we're still in the early part of May, it feels as though we've been sentenced to an excruciatingly long wait. But have no fear my fellow lovers of crime, because there are plenty of other shows out there to enjoy during Blue Bloods' absence. Such as...
Chicago Fire
For similar heroes with a different change of scenery, this firefighter-centric series packs the same emotional punch as any great drama and contains a strong cast you can't help but fall in love with.
NCIS
Not only can this show leave you on the edge of your seat, thanks to some very sinister cases, but it can also make you roll on the floor with laughter as well, proving that the series has just as much heart as it has intrigue. (You'll want to start smacking people on the back of the head immediately.)
Law & Order
If you still crave New York-centric police investigations, you can't go wrong with this widely popular series, which offers up the perfect blend of a police procedural and courtroom drama.
Criminal Minds
Those looking to dabble in something a little darker may want to check out the cases the FBI Behavioral Analysis Unit (BAU) are forced to tackle on a daily basis as they profile and delve into the minds of the most dangerous killers in the world. (Warning: vast amount of nightmares may occur upon watching.)
Brooklyn Nine-Nine
Cop shows don't always have to be dramas, which is more than proven in this FOX comedy hit. You'll laugh. You'll cry (because you're laughing so hard). And yeah, you'll see a little police work every now and again.
Hurry back, Blue Bloods. Our Friday nights just won't be the same without you.
Images: John Paul Filo/CBS; Giphy (5)