5 Common Wedding Day Emergencies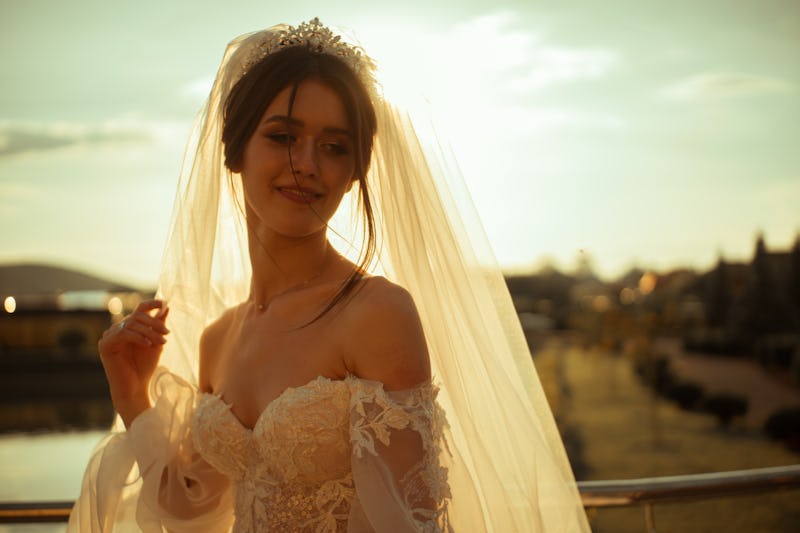 Masha Raymers/Moment/Getty Images
There are so many moving pieces that come into play when you're planning your wedding day. You'll spend countless hours managing your to-do list and eyeballing Excel spreadsheets, while also dealing with stretching a thin budget to cover all your big day expenses and figuring out how to muster up the patience to juggle overly opinionated family members. But no matter how many times you double check your to-do list or get handshakes from your vendors that they will be where they need to be when you need them to be there, there are certain common wedding emergencies that always seem to pop up.
In the end, weddings are just like any other day, and on most days, there are hiccups we experience that we never could have planned for. The train is delayed, it starts to thunderstorm in the middle of a Saturday afternoon picnic, you realize you forgot your wallet at home. Think those kinds of things — just in a wedding setting.
So when things go wrong, it's important to be prepared by putting your game face on and plotting a quick and easy backup plan. To get you prepared, here are the five most common wedding day emergencies and how to fix them on the spot.
1. Wedding Vendors Are A No-Show
You may find yourself dialing their digits and sending them frantic where are you text messages, but you don't hear anything back. They said originally they were going to be there by 3 p.m. and it's 5 p.m. and you haven't heard a thing from them. In this situation, it's important to call for back-up, whether it's gearing up a playlist to replace the DJ, or putting a couple of trustworthy guests in charge of snapping photos and videos on their phone, to replace a missing photographer.
Either way, try not to panic. A missing vendor doesn't mean the whole wedding will be a bust. It truly just means it's time to get creative, and often that creativity can be sparked and delegated to your closest friends and family there to support you on your wedding day.
2. The Dress Doesn't Want To Say Yes
Wedding dress malfunctions are common. The best thing you can do to prepare for this is to carry around a mini-sewing kit, safety pins, and duct tape (that you can use in the inside of the dress if needed).
Having these things handy will help you get your dress functioning and looking fabulous before you take your first few steps down the aisle.
3. You Forgot To Say I Do To Your Vows
After spending months writing the words that will solidify your future with the love of your life, you realize you left the sheet of paper with your vows at home. To make sure this doesn't happen, pre-wedding, email yourself and your best friend a copy of your vows. You can even print a few copies and store them in different purses and bags that you plan to bring with you to the venue.
But if you're at the wedding venue already and realize your vows are 25 miles away, take out a piece of paper and write them from scratch. In this situation, keep your vows short and research online for quick templates you can use. When the wedding is over and you're back home, you can read your real vows and even frame them in your house. It will be something to laugh about later on.
4. The Rain, Rain Won't Go Away
The forecast pinky promised you it would be sunny with a slight breeze, but on the morning of your wedding, a rainstorm decides to be your uninvited wedding guest. You may have a rain backup plan but if you don't, the first thing you want to do is call your venue. See if they can move any planned outdoor moments (like the ceremony or cocktail hour) inside. Also see if they have umbrellas they can provide guests if they need to walk back and forth from their cars throughout the night.
You can send one of your friends or family members to the convenience store to pick up some umbrellas and ponchos to give guests as well. Remember, people say rain on your wedding day is good luck. Whether or not that's the truth, it's definitely a plot twist you should always expect could happen, and when it does, find ways to keep the party going and dry.
5. Your Wedding Guests Are In A Traffic Jam
The ceremony was supposed to kick off at 6 p.m., but almost half of your guests are stuck on the same highway because there's a giant traffic jam ahead. You have a few options in this situation. First, you can go ahead and say your I Do's without them. But your second option is to push the ceremony back a bit and see how many of them make it.
In this situation, chat with your venue and your vendors and see if they can switch the timeline of the night around a little bit. Perhaps have cocktail hour start before the ceremony, so that guests can nibble on some food while the other guests find their way to the venue, and the ceremony can take place when more guests arrive.
The idea that your wedding will go off without a hitch is something you should roll your eyes at. Your wedding will be the perfect day if, and only if, you accept that things may go wrong here and there. When they do, try to stay calm, cool, and collected, and just know that all of the unexpected bumps in the day will be the highlights of the stories you tell about your wedding day for many years to come.
Images: Masha Raymers/Moment/Getty Images; Giphy