The One Thing To Do While Planning A Wedding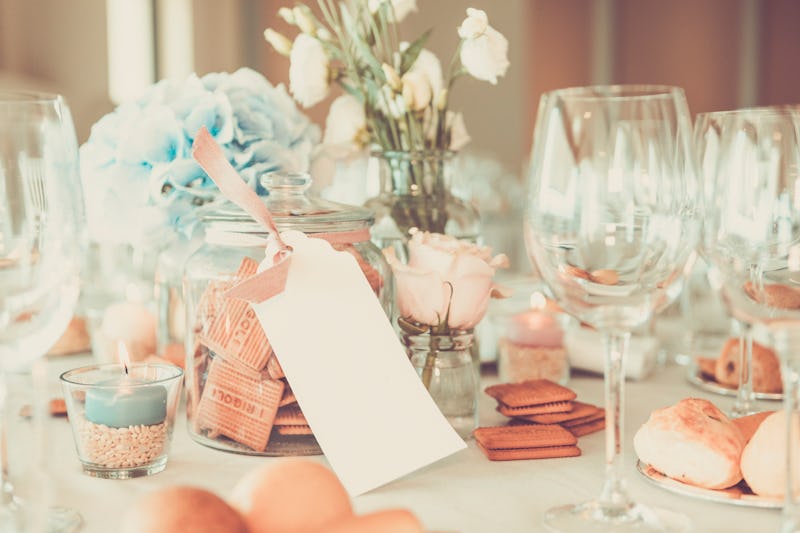 Giacomo Augugliaro/Moment/Getty Images
Don't you wish weddings would just plan themselves? Between finding the right venue that's actually within your budget, picking out a menu that pleases everyone, choosing bridesmaid dresses your friends can all agree to at least tolerate, and creating a seating chart that guarantees the least amount of drama, your wedding planning checklist can feel, well, really freaking overwhelming. But, while you're sending out invitations, deciding between having a band or a DJ, finalizing your flower arrangements, finding a photographer, sampling cake, ordering wedding bands and, you know, organizing all the other totally-not-stressful-or-anything tasks required by the simple act of getting married, consider adding this one other thing to your wedding to-do list: taking a 24-hour break from wedding planning.
Seriously, for one whole day, don't even mention your wedding — especially with your partner, who is likely just as frazzled about the whole planning process as you are. According to WeddingWire, more than 60 percent of couples currently planning a wedding report feeling moderately to severely stressed due to wedding planning, which is actually kind of crazy when you think that your wedding — the end goal of all this — is supposed to be one of the happiest days of your entire life.
That's why WeddingWire launched its Something Blue campaign, an effort to help engaged couples minimize the stress that comes with planning a wedding. WeddingWire, which helps soon-to-be newlyweds find everything from local vendors to customized checklists to real wedding photo inspiration, is even going so far as to redirect couples away from its site on May 15 with a pop-up encouraging people to take the entire day off from wedding planning. It's calling it Official Day Without Wedding Planning, and it's a pretty genius idea. Taking a step back for just one day can save you a ton of anxiety in the long run.
More importantly, taking a day-long break from wedding planning can help you re-prioritize the most important aspect of your wedding — your relationship. "It is a way to reconnect and remember why you fell in love in the first place," Kim Forrest, WeddingWire's trend expert and editor, tells Bustle. "It's really important to take a break and give yourself some mental rest."
So what can you do to make the most of your day off from wedding planning? Forrest has a few suggestions.
1. Plan a day free of wedding planning for a Sunday or Monday
WeddingWire is imposing a timeout for May 15, which is a Sunday. If for whatever reason that date doesn't work for you, consider taking another Sunday or Monday off. Those two days are typically the busiest for wedding planning, so use this time to give your brain a much-needed rest.
2. Don't talk about your wedding budget
Not with your partner, not with your friends, not with anyone — at least, for one day. More than 80 percent of WeddingWire users say that the wedding budget is the biggest stress-inducer, and understandably so — 74 percent of couples end up spending more than their budget. But, for one day, push that anxiety out of your mind to clear up headspace to think about something else, for a change. You'll appreciate the mental break.
3. Turn off your phone
OK, so it might not be feasible to turn off your phone for an entire day, but try not to use it to do wedding-related activities. And yes, that even extends to scrolling through Instagram, especially if you're following a bunch of different wedding accounts. If you can't resist the temptation of checking your phone, engage in an activity that will keep your hands busy, or retreat someplace where you can't connect to Wi-Fi. "The best way to challenge yourself is to go somewhere without internet," Forrest says. "We are so attached to our phones and devices. Even the act of looking at Instagram can make you stressed out." Just for one day, tune out.
4. Do something active
Outdoor activities are a great way to relieve stress — and they get you away from your phone. Forrest suggests going on a hike with your partner, or taking a yoga class together. Plan an activity that demands your full focus. A little fresh air will help you think more clearly, and feel less overwhelmed about your to-do list.
5. Pamper yourself — and your partner
Can't get outdoors? Head to the spa instead. Get a facial, or book a massage. More simply, plan a date night with your partner, and revisit something you love doing together, but haven't had time for lately. Just remember — don't talk about wedding planning. "Take time off and enjoy being together, which is really what it's about in the end," Forrest says.
6. Use the time off to put things in perspective
This, ultimately, is the most important point of them all. "In the end at the wedding, the details don't matter," Forrest says. "If the escort card display was off kilter, nobody noticed. The little details end up not being that important." When you take a step back from all the wedding planning madness, you'll realize what is truly important — being with the person you love.
Images: Giacomo Augugliaro/Moment/Getty Images; Giphy