Does The Caramel Waffle Cone Frapp Have Caffeine?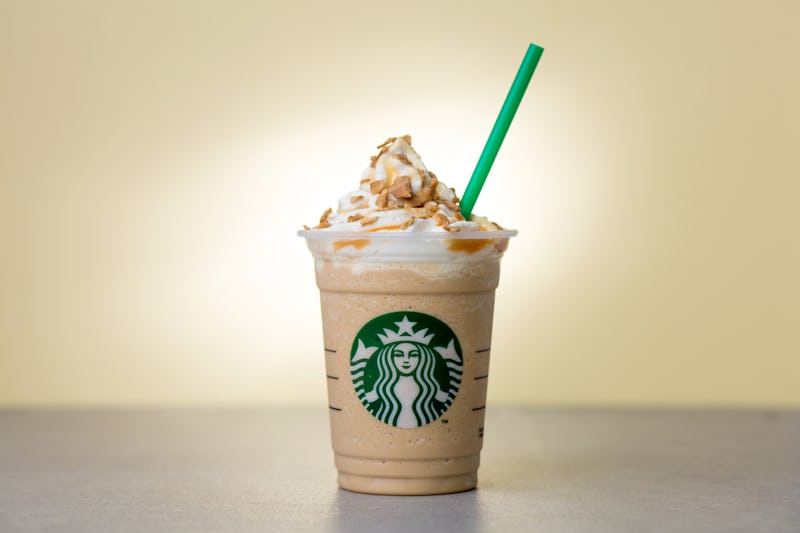 Summertime memories are filled with fireflies, beach days, the smell of perfectly grilled hamburgers, and big honkin' cones full of ice cream. Starbucks has been rolling out its seasonal blended beverage menu over the past couple of weeks, and on it you'll find drinks like returning summer fave the S'mores Frappuccino, and the brand new Caramel Waffle Cone Frappuccino. So does the Caramel Waffle Cone Frappuccino have caffeine? Because even with the long, bright summer days, sometimes we need a little boost to get through the morning.
As it turns out, unlike a cone full of ice cream, the Caramel Waffle Cone Frappuccino is absolutely caffeinated. A tall (12 oz.) Frapp contains 55 mg of caffeine, a Starbucks rep tells Bustle. But if you're looking for a sweet treat with no added energy boost, worry not, because this Frapp has a sister beverage called the Caramel Waffle Cone Frappuccino Blended Crème, which is totally caffeine-free. Venti Caramel Waffle Cone Frapps, which are served in a 24 oz. cup, have exactly double the caffeine content of the tall (110 mg), which actually packs a bigger punch than a 12 oz. Red Bull.
The Caramel Waffle Cone Frappuccino does share some key features with the wonderful hand-rolled waffle cones of summertime fame — namely, whipped cream and real pieces of ice cream cone. You'll almost feel like you're at the fair or on a seaside boardwalk, which may or may not help your productivity at work, but at least there is plenty of caffeine there to keep your spirits high. Ideally, you can pick up one of these blended beauties on your way out of town for a relaxing Sunday day trip.
I mean, who doesn't love a good ice cream cone, right?
The Caramel Waffle Cone Frappuccino is available now and throughout the summer while supplies last, so conquer your cravings for ice cream and caffeine with one stop into your local Starbucks.
Image: Courtesy of Starbucks