Introducing Starbucks' Caramel Waffle Cone Frapp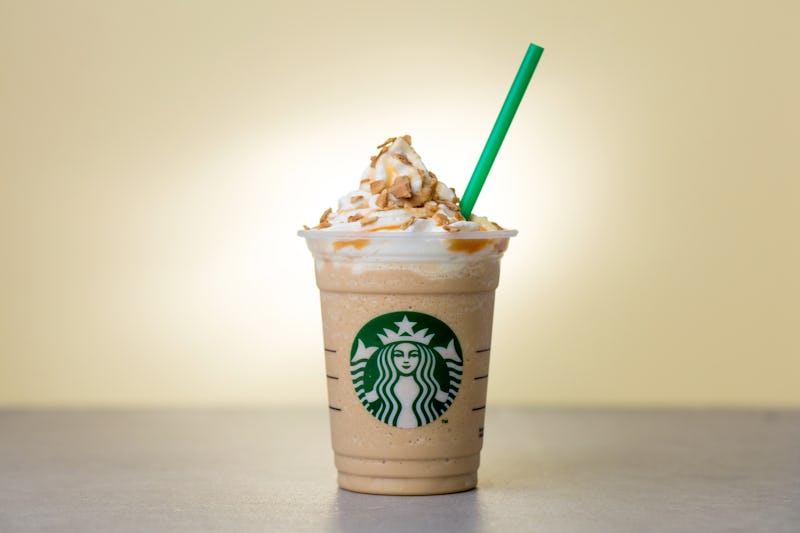 Sometimes, the best things in life are the ones you never saw coming, and the Starbucks Caramel Waffle Cone Frappuccino definitely fits that bill. The brand new Frapp is here just in time for summer, and Starbucks promises it's a delicious blast of nostalgia that tastes just like those long, endless, care-free summers from your childhood. Hi, I'll take one of those, please.
The drink makes its debut May 3, and will be available at participating U.S. and Canada Starbucks stores through the summer, meaning you have more than enough time to get this seasonal offering before it disappears. And, you're going to want to make sure you try it. The Frappuccino is, as you probably guessed, inspired by that boardwalk classic the waffle cone, and it tastes just like what you imagine summer should taste like, only better, because it's caffeinated. Don't confuse this frosty new treat with a regular Caramel Frappuccino — this baby comes with a special dark caramel sauce, which tastes richer and toastier than its lighter counterpart, as well as a special waffle cone syrup to really hit the message home. The coffee-based beverage is then topped with whipped cream — because duh, it's a Frappuccino — and crumbled bits of actual waffle cone, in case there was any lingering confusion about what, exactly, it is that you're drinking. The result is a drink that is pure summer — glorious, warm, revitalizing summer.
The Caramel Waffle Cone Frappuccino runs between $4.25 and $4.95 for a tall, depending on where you live, which is probably more or less what you'd pay for an actual waffle cone, if you happened to find yourself wandering up and down a boardwalk. Personally, most of my summer will most likely be spent at my desk, so it's encouraging to know that I can just hop across the street for a taste of what I'm missing. The beverage also, conveniently, comes with a shot of coffee, meaning it just so happens to double as the perfect energy boost. Your ice cream cone never came infused with coffee, did it?
Lately, Starbucks has been all about handing us nostalgic throwbacks in Frappuccino form. Earlier this spring, it brought back the popular S'mores Frappuccino, a drink based on the fireside classic that comes complete with marshmallow whipped cream and a smattering of graham crumbles. The Waffle Cone Frapp seems like an obvious next step.
If you're in the mood to celebrate summer, albeit a few months early, then you know where you need to be. Oh, and don't forget to invite your friends! Starbucks just updated is Starbucks Emoji Keyboard to include a Caramel Waffle Cone Frappuccino emoji, so send one to everyone you know to see who else is in the mood to try this latest treat. It's cute right?
But enough chit chat. The Caramel Waffle Cone Frappuccino awaits, and it sounds pretty darn good.
Images: Starbucks; Giphy