'Wayward Pines' Season 2 Already Seems Different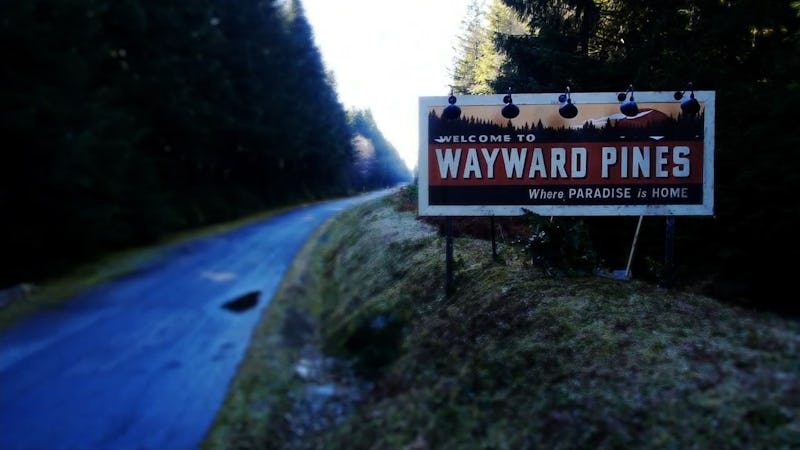 If there's one show that can give you serious anxiety about small towns, it's Wayward Pines. Fox's surprise summer hit was the unsettling combination of Twin Peaks and American Horror Story, which makes sense considering the series is executive produced by M. Night Shyamalan, the man who reminded us to always check under our bed for ghosts. Now, Wayward Pines is returning for Season 2 on May 25 — but as the new Wayward Pines Season 2 trailer suggests, it won't be the exact same show this time around.
According to Variety, Wayward Pines was originally supposed to be an event series that concluded with Season 1, but the success of the first season inspired Fox to continue story. Though it isn't an anthology, like American Horror Story or American Crime, the creepy series is revamping itself for its sophomore season. That's mostly because (spoiler alert!) Matt Dillon's character, Ethan Burke, died in the Season 1 finale. Given that Ethan was the person who acted as the audience's eyes into the craziness of Wayward Pines, it's only fitting that the series gives us another person who wants answers as much as the audience does.
According to TVLine, the character we'll explore this world through is Dr. Theo Yedlin (Jason Patric), a surgeon who, when Season 2 picks up, will have just woken up from a state of suspended animation. Unfortunately, when Dr. Yedlin wakes up from the nap, he quickly realizes he's now entangled in the rebellion against the First Generation. Though he may know what's going on behind the scenes of Wayward Pines, it doesn't make it any easier to fight the all-mighty powers that be from doing what they want with the human race. Now that the secrets of Wayward Pines are out of the bag (hey, at least Ethan's horrific death wasn't in vain?) it's up to Dr. Yedlin to find a way to put back the pieces of an all-but-lost world. Check out the new trailer below.
Dr. Yedlin won't be the only newcomer to the series. TVLine reported that while Carla Gugino, Terrence Howard, and Melissa Leo will all reprise their Season 1 roles, Nimrat Kaur, Josh Helman, and Kacey Rohl will be joining the cast as new characters. Djimon Hounsou will also star on the series as a man named C.J. Mitchum. I'm sure each of these characters will bring even more secrets for Dr. Yedlin to uncover.
Image: Fox