The Best Ways To Celebrate Cinco De Mayo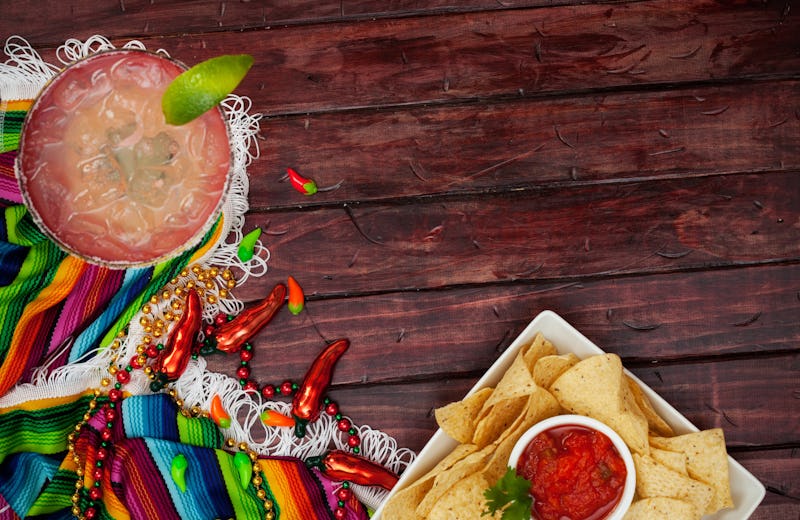 Cinco De Mayo as a celebration of Mexican culture is arguably more popular in the United States than it is in Mexico. Looking for ways to celebrate Cinco De Mayo? Then listen up. Mexican Cinco De Mayo celebrations are more or less limited to the city of Puebla where the victory over the French army took place on May 5, 1862. Without getting too sanctimonious on you, there are good ways and bad ways to observe Cinco De Mayo, and both options are pretty visible every year in the United States. Here are a few culturally intelligent ideas for celebrating Cinco De Mayo so you don't look like an ignorant weirdo in a sombrero, or worse.
How about this for a wild opinion — learning about and experiencing other cultures is a really, really good thing! If we, as a multiracial melting pot of a country, don't learn about each other and the value systems, traditions, and heck, even foods that make us tick, what is the benefit of living in such awesomely close proximity to people who might have a totally new perspective on the world to share? So, here's a goal for everyone this Cinco De Mayo — broaden your horizons and learn something about your neighbors that you wouldn't know without putting in a tiny bit of effort.
Plus, learning about other cultures is super fun.
1. Eat at an authentic Mexican restaurant
Postpone your next Chipotle visit in favor of getting the real thing at your neighborhood taqueria or the place with the amazing tamales. Because, honestly, you'll probably discover a new favorite.
2. Try a traditional meat like barbacoa or lengua
With the ever-expanding popularity of the taco truck, you'll definitely be able to track down some kind of traditional Mexican meat that you've never tried before. I, personally, have never tried lengua, but Cinco De Mayo would be the perfect time to take the plunge.
3. Listen to traditional Mexican music
So, this amazing song called "El Mariachi Loco" is the walkup music for Dodgers first baseman Adrian Gonzales, who explained the choice in an interview with ESPN, and I spend the entire summer from opening day on with this song stuck in my head. Thanks, Adrian.
4. Make fresh tortillas at home
Learning how to make fresh tortillas from scratch is a life-changing little gem of wisdom that you'll never regret even for one second. If you have kids around, this is also a great activity to get them involved in. It's like an awesomely edible craft.
5. Explore a street festival
Cities all over the country host Cinco De Mayo street festivals for those of you who can't make it all the way to Mexico for the occasion, complete with traditional Mexican dancing, mariachi music, and the best al pastor you've ever eaten spinning majestically while roasting on a spit right out in the open.
6. Have a movie marathon
With Alfonso Cuarón and Alejandro Iñárritu out there pumping out Oscar winners, you'll have no shortage of excellent options. P.S. If you haven't watched Mozart In the Jungle , you really, really should. Gael García Bernal is beyond hilarious as maestro of the New York Symphony.
7. Hit up a MLS soccer match
Soccer, or football, as it's known in every other country on the planet, is the most popular sport in Mexico, so pay tribute to the pastime. MLS games run Friday through Sunday most weekends, so you'll have to postpone your Cinco De Mayo celebration by just a few hours, if you go for this option.
Images: Fotolia; Pexels; Unsplash (2); Anhelo Producciones and Besame Mucho Pictures