7 Non-Improv Books Improvisers Will Love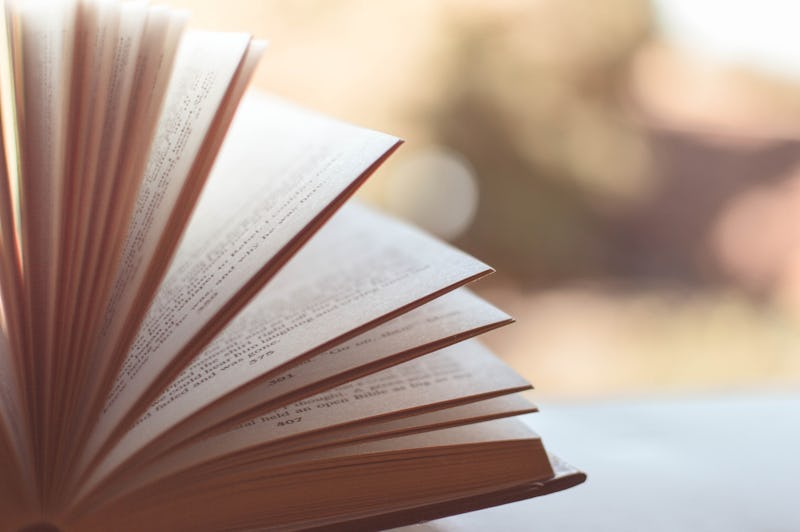 My life right now boils down to two things: books and improv (and occasionally, books about improv.) I first fell in love with improv when I took a class in college, mistakenly thinking that I could use it to fulfill a graduation requirement. Once I moved to NYC, I began taking classes at the Magnet Theater and became absolutely obsessed. These days, whether I'm taking a class, performing, attending a show, or rehearsing with my indie team, I can count on improv to have my back.
In my time as an improviser, I've learned that improv is not just about making a lot of fart jokes. (Though, sometimes, it definitely is.) So much of improv is about capturing and understanding the way humanity works. In improv class, we talk about so many things that overlap with what makes great writing: character relationships, setting, making connections, finding the intensity of a moment. So it makes sense that so many improvisers are also avid bookworms and prolific writers. All this creativity and imagination certainly goes hand-in-hand. After all, we're spending hours playing make-believe as adults.
There are plenty of great books out there about actual improv. But this list contains books about other things that will appeal to the unique brain of improvisers. Whether you're just starting your first class or you're a member of TJ and Dave, you're sure to find a book on here that will inspire a hearty "yes" out of you.
This is the book that inspired Bladerunner. This classic is a brilliant look into empathy and what it really means to be human. Set in post-apocalyptic San Francisco, this book depicts a world in which most animals are androids and the definition of being truly alive is called into question. As Rich Deckard, a bounty hunter, chases down six escaped human androids, his understanding (and yours) of what it means to be human gets completely tangled. Plus, Philip K. Dick's philosophy about reality and science fiction is very "yes and"-oriented. Just read this speech he gave, entitled "How to Build a Universe that Doesn't Fall Apart Two Days Later," and you'll see what I mean.
This epic fantasy is an incredible, page-turner of a story, and the way that magic functions in this world will appeal to improvisers' imaginations. (For instance, the ability to draw something into an existence!) Set in a world filled with war, mystical storms, kings, assassins, magic, and more, this book will have you rooting for its characters with all your heart.
3. Infinite Jest by David Foster Wallace
This is one of my favorite books ever. David Foster Wallace has such a keen ability to depict the breadth of human consciousness, and this enormous book is his shining magnum opus. Centered around a competitive tennis academy and a halfway house in an alternative future, this book is about many things... including entertainment, boredom, and addiction. A key piece of the puzzle is a film that, when watched, will render the viewer useless to do anything but watch it over and over again. Filled with footnotes, and footnotes within footnotes, and footnotes within footnotes within footnotes, this book will open a million new pathways in your brain.
(If you haven't read any DFW yet, I recommend starting with some of his essays before tackling this gigantic book.)
This is a must-read for anyone on a creative path. Part memoir, part manifesto, this book is all about how Amanda Palmer learned to balance making art with making money, and how she made her non-traditional career path a success. Enigmatic and smart, Palmer's writing will draw you in and help you believe in the importance of whatever creative journey you're embarking on.
You know in an improv scenes, when somebody says something that would be incredibly mundane in any other context, like "the shoes," but because the scene was set-up so well you're like "OH MY GOD THE SHOES!" and it's the funniest thing in the world. That feeling of connecting the dots is exactly what this book is about. Plus, Elena Ferrante is a master at writing character relationships. The story of two girls growing up in Naples, Italy in the '50s, this book will suck you in and break your heart.
Obviously, as an improviser, you want something funny. Terry Pratchett is my number one go-to author when I need a laugh. Smart, snarky, and endlessly imaginative, Pratchett and the wacky Discworld that he's created is a never-ending source of delight. This book is especially great for improvisers, because it's all about the nature of belief. When the Hogfather (a Santa Clause-esque figure in the Discworld) disappears, Death himself steps up to the job, as his kickass granddaughter gets to the bottom of the murky plot behind it all. Full of wacky characters, high adventure, and good old-fashioned fun, this book will put you in high spirits.
When you're pouring yourself into an art form as seemingly ephemeral as improv, there's a lot of times when you end up asking yourself, "What's the point?" This book is the perfect antidote, in part postulating the answer, "Because survival is insufficient." Following a post-apocalyptic traveling Shakespeare company/symphony orchestra, an A-List actor, and a former paparazzo, this dazzling story spans decades, moving between life before and after the pandemic. It dives full-throttle into complex questions about how we find our purpose.
Images: Pexels/Pixabay