'Gilmore Girls' Adds A Talented Singer To Its Cast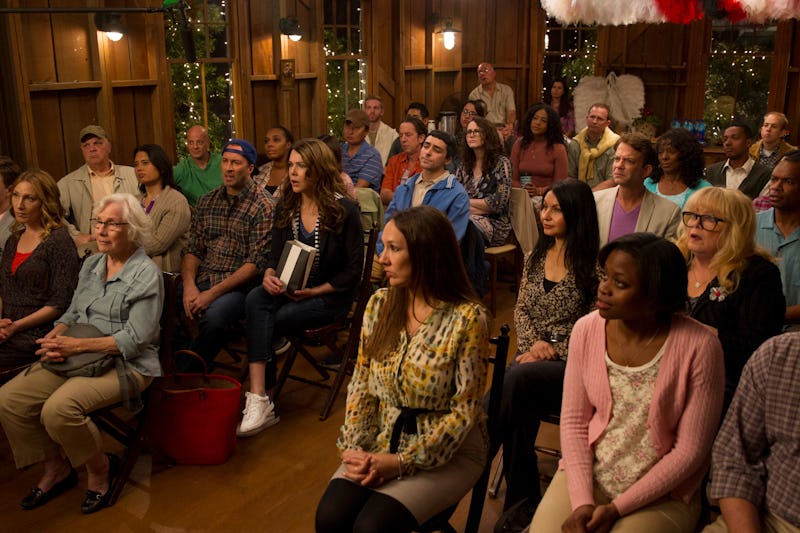 Another day, another casting announcement from the set of the Gilmore Girls revival. Except this one might reveal some pretty big things going down in Stars Hollow. On Wednesday, singer and actor Ali Axelrad that revealed she's in the Gilmore Girls revival on Instagram, but it wasn't just the announcement that was exciting. It was what she was wearing in the picture. Dressed to the nines in pretty fancy costuming and makeup, it looks like Axelrad is ready for something rather over-the-top to happen in Stars Hollow. After all, it isn't every day that someone in sequins and an illusion neckline goes traipsing around the streets of Stars Hollow. So who is Ali Axelrad playing in the Gilmore Girls revival? Her part could tell us a lot about some the show's biggest moments.
The timing of the picture seems in line with a number of other photos that have been popping up on Instagram showing a number of talented folks rehearsing what appears to be a dance number for the revival. What a potential group number would be for isn't quite clear yet, but Axelrad's costuming is definitely appropriate for a huge dance sequence. But the problem with that theory is that, in the pictures from the dance rehearsals, Axelrad and her adorable bangs are nowhere to be found.
But a simple search for Axelrad's past experience reveals that, instead of dancing, her real talent is in singing. There are a number of clips of her hitting the high notes on YouTube in various theater productions in New York and L.A. With her vocal expertise in mind, I think it's more likely that Axelrad will be somehow involved in the Stars Hollow musical. You know, the musical that Sutton Foster told Vulture her struggling actress character will be in.
With a musical on the horizon for the Gilmore Girls revival and Axelrad's penchant for killing us softly with her song, I'm calling it now: I think a role in the Stars Hollow musical is likely what she's signed up for, and I can't wait to see her show off her talent to the whole town.
Image: Saeed Adyani/Netflix