Money Can't Ruin 'black-ish's Father/Son Dynamic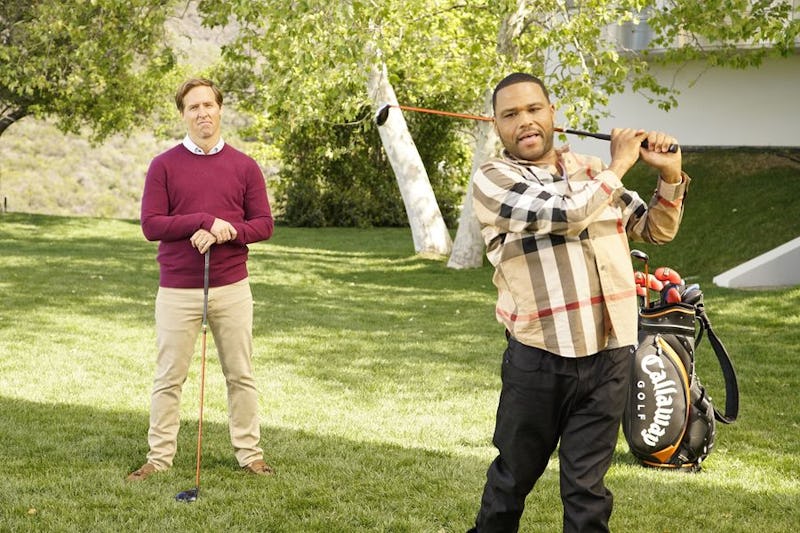 Does anyone think that their dad is cool? Maybe when they're a kid, but by the time you're a teen, most kids are incredibly embarrassed by their parents, to the point where it's almost a rite of passage. So when Dre discovers Junior has super-wealthy friends, he's relieved to find out that his son might be a nerd, but he's also cool, at least among his new posse. Bow tries to point out that Junior has always had friends, but Dre is just shocked that for the first time these friends and their interests actually seem trendy instead of dorky; more likely to chill at a "lituation" than play Magic the Gathering. But while Dre loves the fact that his son has pals, they happen to be a couple of super wealthy brats who would happily wear designer shoes to play actual basketball. And while the Johnsons are wealthy, they're not "host an Obama fundraiser" wealthy, even though their position in a wealthy Los Angeles suburb lets them rub elbows with the truly elite one-percenters.
Feeling some class anxiety, not unlike last week's episode, when Dre heads over to hang with Junior's friends' parents, he gets flustered and embarrassed by his lack of pedigree, and commits faux pas after faux pas, including my favorite bit of the episode, a monologue about how his grandparents opened the first black-owned bank (in 1979).
And when Dre mistakes the family's priceless Moroccan chair for a toilet (in a weirdly understandable way), Junior may lose the chance to take helicopters to basketball games, but he keeps his father's newfound realization that he's a typical teen. It's a purely goofy storyline; it's practically a comedy of manners when Dre is bumbling around the mansion with Nat Faxon, who plays the actually cool, super rich dad.
But while Junior and Dre get most of the screentime, I preferred the B-story, where Bow tried to unravel her kids' lies to find out who is breaking things around the house. This episode also marks the return of the family's nanny Vivian, who gets in Bow's head over how much stuff gets broken on a daily basis in the Johnson household. Ruby, Diane, and Zoey gang up on Jack — who turns out to really be the world's cutest evil mastermind.
And regardless of Vivian's tut-tutting, Bow ends the episode proud of both her ability to understand her kids and a little proud of just how well her kids can scheme. Just like the main story, it's pretty classic sitcom stuff — but what makes black-ish great is that even on a basic episode, the execution is fun, funny, and a little weird.
Image: Kelsey McNeal/ABC; Giphy