Breakfasts That Will Revolutionize Your Mornings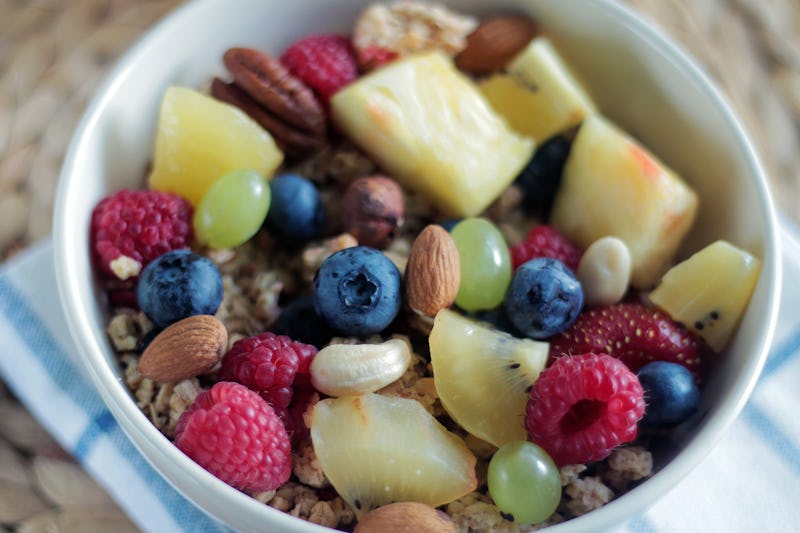 We all know we're supposed to eat breakfast. But actually making time to do it — especially when most of us are sleep deprived and want to stay in bed for as long as humanely possible — can be tough. It's why a few healthy breakfasts for busy mornings can seriously revolutionize our lives.
According to professional dietician Megan Moore, RD, LD, CDE, in a piece for TodaysDietician.com, breakfast is a meal you don't want to skip when it comes to maintaining a healthy metabolism. "During the night when we're sleeping, our metabolic rate runs slowly and conservatively, but once we're awake, our bodies need to speed up and break out of its fasting metabolic state," Moore explained.
And I can personally attest to the huge difference eating breakfast before starting the day truly makes. I used to get ready for work and rush out the door on my way into the office; nourishing my body wasn't even an after-thought — it wasn't a thought at all. I'd inevitably get to my desk, realize I was hungry, and start chugging coffee. I'd be starved by noon and was hyped up on caffeine, meaning my ability to concentrate definitely suffered.
The days when I actually took the time to take care of myself and eat before work consistently left me with more sustained energy, and quite frankly, an extra spring in my step. Every time I did it I thought, "I really need to this more often!"
If you're trying to find ways to incorporate breakfast into your routine but are always pressed for time in the morning, here are 11 on the go breakfast ideas that will revolutionize your life.
1. A Green Smoothie
OK, you're probably thinking that a green smoothie (AKA a vegetable-based drink, as opposed to a cream or fruit base) sounds like a whole to-do. But they're actually incredibly easy since it just comes down to throwing a bunch of stuff in a blender. Also, by drinking a green smoothie first thing you know that you've already gotten a huge dose of healthy vegetables, no matter what you choose to eat the rest of the day. I personally like to blend a few handfuls of spinach with water, then add in an apple, half a pair, a carrot, and some ginger. It literally takes three minutes and is crazy refreshing.
2. Cereal — Pumped Up
A lot of us equate cereal with the super sugary options we had as kids, but according to healthy food blogger Holly Waterfall, there are a ton of smart, whole wheat and low sugar cereal options out there now. Plus, you can always throw in a handful of berries or greek yogurt to really amp up the health factor.
3. Yogurt Parfait
Parfaits are fast, easy, and super healthy. Dawn Jackson, RD, and Fitness Magazine advisory member, recommended using greek yogurt specifically, as it can contain twice the protein of regular yogurt. I personally recommend making them in a pretty transparent glass, as it makes them way more fun to eat. And don't worry about it looking beautiful. Throw those ingredients in a bowl and eat.
4. Over Night Oats
Special Projects editor Adina Steiman at Epicurious, a creative cooking website, recommended trying overnight chia seed pudding in an article on making breakfast, even when you're too busy. Just throw some chia seeds, yogurt, and a sweetener of your choice in a jar the night before and voila! And if you're not a pudding fan, you can do the same thing with oats.
5. Breakfast Muffins
A compilation piece for CookingLight.com recommended making a batch of breakfast muffins over the weekend packed full of your favorite nutritious ingredients. That way you always have something you can grab on your way out no matter how crazy late you are.
6. Mini Frittatas
The same compilation piece also recommended another take on the breakfast muffin — the breakfast frittata. This egg-based mini quiche is also super easy and can be made in a larger batch on the weekends so you can grab and go during the week.
7. Banana Toast
Health.com recommended simply spreading a nut butter of your choice onto some whole grain toast and topping with banana slices. This incredibly quick meal is packed with important nutrients to fuel you until lunch.
8. Matcha Latte
In a piece for MindBodyGreen.com on what actual nutritionists eat for breakfast when they're on the go, holistic health coach Elissa Goodman says she drinks a matcha latte. She says it's essentially a regular latte, but, "I make it with antioxidant-rich matcha green tea instead of coffee. I add coconut oil for healthy fat and satiation." She noted that, "Matcha energizes without the coffee 'crash,' and the coconut provides brain fuel for a productive day."
9. Blueberry Smoothie
In the same piece, Robin Berzin, a physician and health coach who specializes in women's nutrition and health, said she likes to make a blueberry smoothie every morning. "During the week, I always start my day with a smoothie that is packed with wild organic blueberries, unsweetened coconut milk, and my parsley vegan protein powder. It keeps me full until lunchtime," she said.
10. Do Dinner For Breakfast
This is a tip I read about several years ago and I always do it whenever I can. If you're making something like salmon and veggies for dinner, just be sure to make a little extra so you can eat it for breakfast the next day. A lot of "dinner" foods actually make great choices for your morning.
11. Grab The Avocado
Patricia Bannan, RDN and author of Eat Right When Time is Tight, said she often adds an avocado onto whatever she's eating in the morning as it contains healthy fats that will keep you full longer. It's always good to have a few in the kitchen for those times when you need something filling fast.
An awesome breakfast doesn't have to be a hassle. Plus, it will make you feel a thousand times better in the long run. So spend a couple extra minutes each night ensuring you have what you need, grab it in the morning, and go!
Images: Pexels (2); Nur Afni Setiyaningrum/Unsplash