'Fear The Walking Dead' Has A Big Fight Coming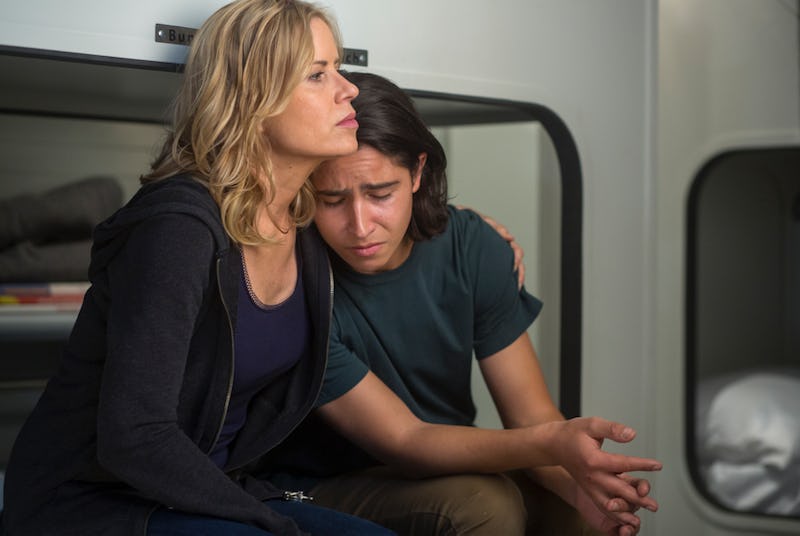 Fear The Walking Dead's second season is gearing up to a major confrontation, and I have to wonder if everyone going to make it out safely. Who will die on Fear The Walking Dead ? A big fight is coming if our survivors want to make it to Mexico together, and most of them are not ready for this kind of attack.
At the end of Sunday's episode, Alicia and Travis were taken by Jack and Connor's pirates (who, lets be real, were probably tipped off by Alex from Flight 462.) Meanwhile, one of the pirates named "Reed" is trapped on the Abigail with his enemies. The promos for next week show Alicia and Travis trying to escape, and the survivors on the Abigail getting ready to attack. Even if they are successful, there are sure to be casualties.
I think that Madison and Strand will both live to Season 3. Their relationship, which in a way mirrors Rick and Shane from early seasons of The Walking Dead, is the crux of this series. I also think that Alicia, since actress Alycia Pebnam-Carey left The 100 to devote herself to Fear, is safe. Other than that, your guess is as good as mine.
The obvious choice is Strand's associate Carlos — this new character has "red shirt" written all over him. I worry about Travis, and who doesn't worry about Travis? Either him or Chris, because taking away Travis' entire family might be one of the only ways to get him to harden up to the apocalypse, unfortunately. Not to root against an old man, but I also worry that Daniel Salazar might sacrifice himself or die in the heat of battle. Plus, if I had to choose between Daniel and Ofelia, I'd rather learn more about the latter. She has not quite had her time to shine just yet.
While I am certainly not rooting for it, I am starting to think that Nick is the most likely to die on Fear The Walking Dead, even though he was originally set up as a major player. Madison's son is already a point of contention between her and Strand. They each seem to know Nick in different ways and care about him in different ways, which puts Nick in a kind of danger.
What if they all survive, but lose the Abigail? That would be tragic in a completely different way. It also fits The Walking Dead — those survivors never get to stay in one place for too long. This is a tricky emotional situation to be in, because while I'm super pumped to see the Fear survivors step up to the plate and start staking their claim in the new world, I know that there are consequences. We just met these characters, and I'm not ready for them to start dying yet.
Image: Peter Iovino/AMC