The Actor Who Played Tom Riddle Talks Voldemort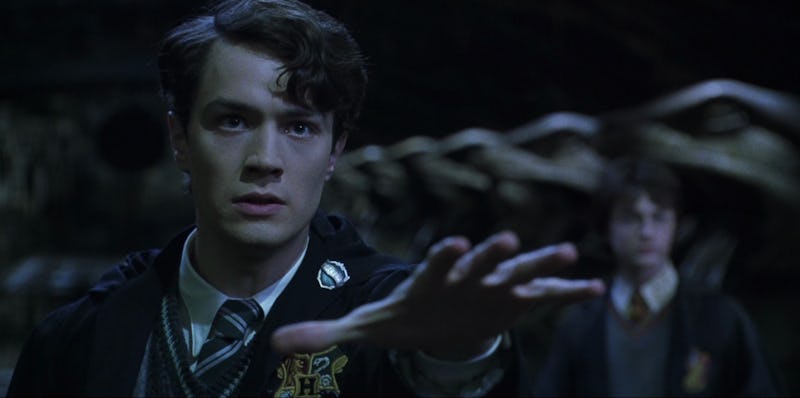 There are few literary and cinematic villains that are as widely recognized as Harry Potter's Lord Voldemort. The evil wizard, who also answers to He Shall Who Not Be Named and Tom Riddle, terrorized the franchise's young protagonist for seven books and eight films — until he met his ultimate and final demise in the final chapters of HP. While Ralph Fiennes portrayed the Dark Lord over the course of the films, another actor, Christian Coulson, also took on the iconic character for a single film. In Harry Potter and the Chamber of Secrets audiences met the Dark Wizard when he was a student at Hogwarts, not unlike Potter himself. And now, the actor who played Tom Marvolo Riddle in the second film reflects on being part of the magical franchise. And the most surprising part? He completely relates to Lord Voldemort, and here's why.
"I had been at boarding school in a sort of Hogwarts-y school called Westminster, which has been around for about 1000 years," Coulson shares. According to Harry Potter wikia, Hogwarts was founded in 990 A.D., but hey — muggles only live so long — so 1000 years is understandably comparable. "The stone steps leading up to where we had assembly are worn down from hundreds of years boys running up and down them," he says. Just imagine how many witches and wizards have raced up the steps of Hogwarts.
But the comparisons don't stop there: "My parents were abroad when I was there, and I felt like I was an orphan. There was a detached survival mechanism that I really identified with." As the novels details, Riddle's mother died shortly after giving birth to him, and Lord V was raised in a London orphanage.
And just as Riddle used cunning maneuvers to outwit his professors, so did the actor that played him. "I really loved doing that scene with Richard Harris where I'm pretending to be a model student... while really lying to him," Coulson says. "It reminded me a lot of my experience at boarding school — of being impeccably well-behaved on the outside and secretly getting up to mischief."
But don't be fooled, Coulson only identifies with some of the Dark Lord's traits. After all, Voldemort is a monster. "There's a lot that isn't similar about us, but I felt that I understood something about him.There's something very wrong with him, but I understand what it is," the 37-year-old actor says. "The things he did [as a teenager] made sense to me in terms of his survival."
During the time Coulson was filming, only four Harry Potter books had been released by author J.K. Rowling. Because of this, the British actor was able to use his imagination to fill in some of the blanks about his character. "From the information in those [four books], it seemed to me that there was a coldness and an emotional absence to his evil, and that was what I was interested in exploring."
With J.K. Rowling offering up new books and films that fit into the Harry Potter universe, there's hope audiences may get to dive even deeper into the rabbit hole that is Lord Voldemort's twisted psyche. Will we ever see Lord Voldemort on the big screen again? Who knows, but if it's a possibility, I think I know just the man for the job...