34 Places You Can Get Free Food On Your Birthday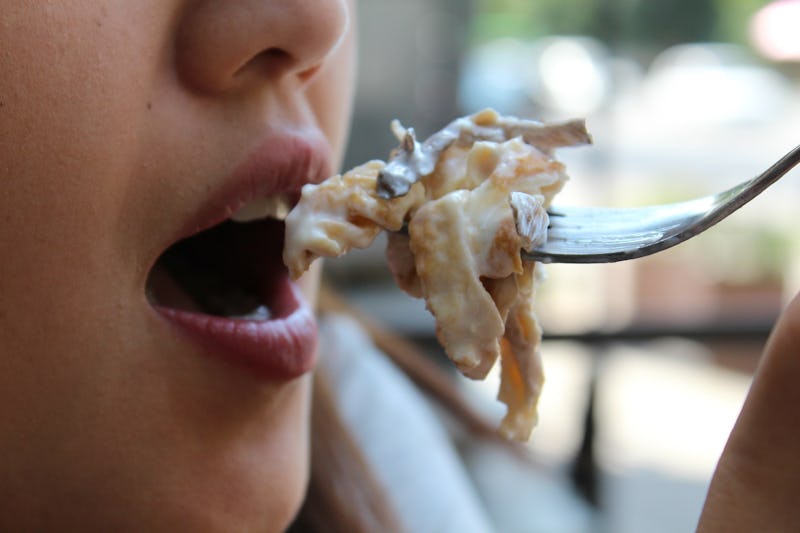 When you're on a tight budget in your early 20s and desperately looking to score a good deal, nothing is quite as valuable as your birthday. Why? Because birthdays are special and everyone knows that secret rule. It only comes once a year so it's like your very own mini holiday, especially because there are so many places to get free food on your birthday that it is downright boggling. Lucky for you, the internet gods have blessed me with the ability to scavenge for you — so all you have to do now is show up.
I have taken full advantage of my birthday privilege in the past and will continue to do so way into my future. Just imagine having a Free Cone Day at Ben and Jerry's, but without the hassle of standing in line for an hour and a half? Sounds pretty amazing, right? Now imagine having a free food option for every course, of every meal, for an entire day! That's what your birthday can bring right into your eager mouth-hole and empty stomach-pit. If that's not the American dream, I don't know what is.
The options below come from chain restaurants that can be found in almost any town, all over the United States. If not in your particular town or city, then a car ride away at most. As long as you have a birthday, you have free food options. I know they don't really amend the constitution too often, but this should be put on it at the very least. So sit back, relax, and enjoy this list of places you can get free food for your birthday.
1. Cinnabon
Listen, delicious Cinnabon treats do not grow on trees. Louis C. K. devoted close to five minutes of standup about the addictive sweet roll. If you sign up for Club Cinnabon you will not only receive a free Minibon right away, you will also get a gift on your birthday. It is a secret surprise, but the internet has hinted at it being another free Minibon or a free Mochalatta Chill drink.
2. Chili's Bar & Grill
I still cannot get rid of that catchy jingle about baby back ribs from way back in the day. Do you remember when they got 'NSYNC to perform it?
Now that's what I call successful marketing. You can enjoy a free dessert or appetizer when you sign up for Chili's reward program online. They will send you a coupon in the mail.
3. Sonic America's Drive In
With the amount of hot dogs, sides, desserts and burgers to choose from, Sonic is easily one of my favorite spots. If you are in the mood for some free tater tots, a medium drink, or a regular cream slush on your birthday, then you can set up a Sonic profile.
4. Starbucks
This beautiful coffee drinker's paradise is responsible for making birthdays great by giving you free treats. All you have to do is sign up for their rewards program online and you are good to go for a free food or drink item on your birthday. No wonder that mermaid is smiling.
5. Not Your Average Joe's
While this is not the most recognizable place to eat out, it sure gives you a great birthday gift. By signing up online and bringing a copy to the restaurant, you can receive any entree and dessert of YOUR CHOICE. For free.
6. P.F. Changs
You can get a complimentary dessert or appetizer during your entire birthday month at P.F. Changs! I've been eating their frozen meals lately, and I have to say — delicious.
7. Cracker Barrel
Lucky for you, you don't even need to sign up for anything to get a free dessert on your birthday. Just make sure to tell your server and enjoy.
8. Au Bon Pain
If you sign up through their website you can enjoy a free birthday lunch. You will also receive a free travel mug and anniversary gifts for signing up, and you'll need that travel mug to carry around all the FREE TREATS you're gonna get thanks to this list.
9. Checkers
10. Corner Bakery Cafe
A free baked good sounds delicious. Why not treat yourself to a slice of cake on the one day a year cake is a must? Nothing tastes as good as free food does.
11. Yogurtland
If you are looking for another treat that is more tart than sweet, look no more. You can get a free three ounce birthday treat when you sign up at Yougurtland.
12. Benihana
When you sign up with Benihana online, you get a $30 gift certificate that can be used the entire month of your birthday. Not too shabby, Benihana, not too shabby.
13. Krispy Kreme
Is there anything better than seeing that "hot" sign glowing in the distance? Maybe. But I can't think of more than ten. With that in mind, sign up with Krispy Kreme online to receive a free birthday doughnut every year. You can thank me later.
14. Jamba Juice
I've wanted to drink a delicious smoothie for a very long time, but it seems like my wallet doesn't agree. Now, I find out that just by signing up online I can get a free smoothie or juice on my birthday, not to mention a bunch of coupons to save money of my next purchase.
15. Red Robin
Sure, desserts and apps are nice, but how about an entire free burger? Well, you can totally get one during your birthday month at Red Robin. Since they have like a kajillion options you can totally get exactly what you want! Yum indeed.
16. Panera Bread
First of all, I cannot stop singing my praises for this place. I think it has the best selection of food, and the best tasting food. Maybe I'm just easily pleased, but the mac and cheese paired with the tomato bisque soup ... #foodcoma. If you sign up with them you can expect to get a free pastry on your birthday.
17. Friendly's
Friendlys really lives up to its name by letting you join the BFF club. Once you are in, you can officially eat a free Happy Ending ice cream Sunday.
18. Buffalo Wild Wings
I'm still bitter that the waiter who I gave my number to at Buffalo Wild Wings in Los Angeles never called me. Not bitter enough to let a free serving of wings go. If you join the Buffalo Circle online you can expect those little delicious pieces in your mouth on your birthday.
19. Hooters
Listen, they have amazing wings. That is a fact. So why don't you sign up online and get 10 free wings on your birthday?
20. California Pizza Kitchen
When you join their VIP program online, you can get a free dessert during your birthday month. I would pair this is a large pizza if I were you.
21. Steak N' Shake
When your birthday or special anniversary rolls around, Steak N' Shake will take care of you. By signing up online and giving them those important dates you will receive coupons that are good for burgers and fries.
22. Denny's
You don't even need to sign up online to receive a free Grand Slam on your birthday. Just show up hungry and get ready to be fed.
23. IHOP
What's better than pancakes? A free stack of them on your birthday, that's what. Just sign up online and enjoy.
24. Pinkberry
If you sign up for a Pink Card online, you can expect free frozen yogurt on your birthday.
25. Boston Market
By becoming a VIP member with Boston Market, you can get a free dessert on your special day.
26. Sprinkles Cupcakes
Bring your coupon to the store on your birthday and get a delicious cupcake for free.
27. Ruby Tuesday
Free birthday burger to those who join their online club!
28. Dunkin Donuts
America better be running on Dunkin Donuts, since they are giving away a free drink of your choice on your birthday.
29. Noodles & Company
A free noodle dish on your birthday when you sign up online. I honestly want to try this so bad. Noodles are my weakness.
30. TGI Fridays
Another free dessert or appetizer deal with this restaurant. Just make sure someone takes you out to dinner, and add this bonus deal to it.
31. Jersey Mike's
If you're craving a mouth-watering sub on your birthday, you are in luck. By signing up online you can get a coupon for a free sub and drink, valid for one week before your actual birthday. Not a bad way to welcome a new year of your life.
32. Subway
If Jersey Mike's isn't nearby, you can always get the same deal from Subway on your special day. Or you can just do both! Live it up, it's your birthday!
33. Bubba Gump Shrimp Co.
If you are a fan of a franchise created in a movie which serves incredible sea food, then get ready to eat for free. Sign up online for the Landry's Select Club card and receive a $25 rewards card to be used on your name-day.
34. Rainforest Cafe
Another really fun theme restaurant that will give you $25 on your birthday — just don't forget to bring the Landry's Select Club card.
Now go forth and birthday it up!!
Images: Pixabay