How 'GG's Big Falling Out Helped My Mom & Me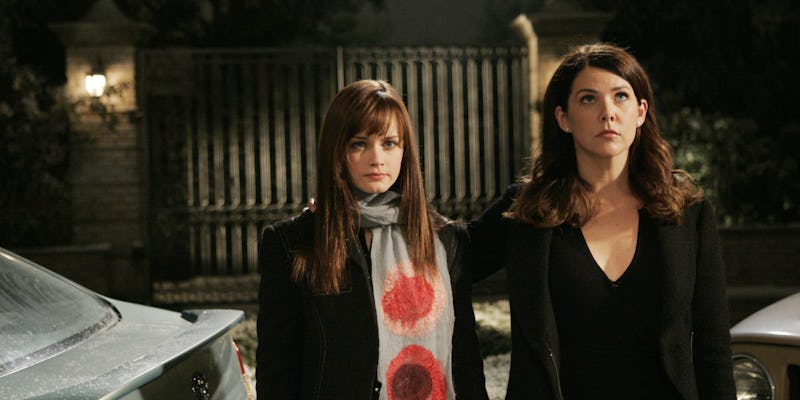 Like pretty much every other Gilmore Girls fanatic, I absolutely love the show's depiction of Lorelai and Rory's relationship. I still vividly remember the evening in middle school when my mom and I watched the pilot together and it instantly became our favorite show. My mom is my best friend in the world and our relationship is very similar to Lorelai and Rory's. She's my shoulder to cry on and the person I have the most fun with, whether we're traveling to Europe or sitting on the couch at home in Connecticut, watching movies and eating junk food. That's why when Lorelai and Rory stopped speaking to each other in Season 6, I was extremely displeased and thought it was a totally unrealistic plotline — until my mom and I went through the same thing.
When Rory stole a yacht and dropped out of Yale just because one jerk gave her bad feedback at an internship, I thought Gilmore Girls had made a misstep because this was totally not the Rory I knew and admired. And, when she stopped speaking to her mom for five months, three weeks, and 16 days, I was seriously irked — in what universe would these two women basically become estranged from one another? Years later, when I made some bad life choices and had a temporary falling out with my mom, I learned the answer — in the real world. In fact, I think Lorelai and Rory's estrangement is one of the show's most realistic and important plotlines.
Yes, Rory's behavior leading up to their fight was totally out of character and irresponsible — but that's the entire point. Even the best-intentioned, most "together" people lose their way sometimes and make irrational, selfish decisions. Several years after these episodes aired, I found myself in a similar situation as Rory. It didn't involve stealing a yacht or dropping out of college, but I hit a rough patch in my personal life and I resorted to a number of unhealthy, dangerous coping mechanisms.
Like Lorelai, my mom rightfully gave me some tough love and called me out on my behavior. And, like Rory, I wasn't ready to face the reality that I'd made some huge mistakes and needed to work hard to rectify them. My mom's honest words sent me into a frenzy because I knew deep down that she was right — so I responded in the most selfish way possible and stopped speaking to her. I wasn't ready to fix the aspects of my life that I'd broken, or even acknowledge that I'd totally lost my way.
Thankfully, our period of not speaking was far shorter than Lorelai and Rory's, but it was the longest, most painful three weeks of my life. Though my friends did their best to comfort me, most of them didn't understand that three weeks feels like an eternity to someone who is accustomed to speaking to her mom at least once a day. Our fight loomed over me and it was all I thought about, but my stubbornness prevented me from calling my mom and admitting that I'd messed up and I needed her. I was known as the bubbly, chatty girl in my circle at work — but for those three weeks, my colleagues noticed that I suddenly became withdrawn and quiet. Each day I shoved in my headphones, did my work, and forced myself to hold back the tears until I returned home to my apartment.
During Lorelai and Rory's estrangement, Lorelai kept a list of things to tell Rory when they would inevitably reconcile. My mom and I did the exact same thing and we thought of each other constantly. Often, it was the little things that pained me the most — I wondered if my mom had read the book I'd sent her a few weeks ago and which Olympic events she was following. On the rare occasions that I was able to laugh, I'd instinctively reach for my phone to text my mom a funny story — then my heart would sink as I snapped back to the reality of the situation.
Gilmore Girls also showed that Lorelai and Rory were in sync, even though they weren't speaking — illustrating that they were two peas in a pod, even when they didn't necessarily want to be. On the morning of Sookie's babies' baptism, they used nearly identical phrasing as they wondered aloud what to wear. And, mother and daughter were both devastated when they realized their plans for Rory's 21st birthday, which had been years in the making, weren't going to happen. Each confided in her significant other that she was convinced the other had probably forgotten about the plan, anyway.
After my mom and I reconciled, we realized we'd handled the fight in fairly identical ways. Every night in New York City, I laid in bed unable to sleep and tearfully attempted to distract myself by watching sitcoms on Netflix. (It wasn't very effective.) I tried to watch the Olympics, only to turn off the TV after five minutes because it reminded me of all the nights my mom let me stay up past my bedtime so she and I could watch our favorite events together. Back home in Connecticut, my mom was doing the exact same things. When Lorelai attempted to watch a silly movie without Rory, she tearfully gave up after about 30 seconds and sadly told Paul Anka, "it's not the same." This scene gets to me every time, because it's such a sad, realistic moment that depicts what it's like to attempt even the simplest activity without your best friend.
Ultimately, Rory and I both realized how lost we were and how many mistakes we'd made — the biggest of which was turning our backs on the women who had sacrificed so much for us and would literally have done anything to help us if only we'd let them. The fact that Lorelai and Rory's reconciliation episode is titled "The Prodigal Daughter Returns" is so fitting. Rory's mistakes certainly didn't make her a bad person — they made her a more realistic, complex character than she'd been in previous seasons. And, because our mothers are both amazing, they welcomed us back with open arms as we sobbed our apologies.
Lorelai and Rory's mother-daughter relationship is arguably the most beautiful one to ever grace our small screens — and it's so important to depict the reality that even the best relationships have their problems because no one is perfect. The closest relationships are often complex, and I believe the rough patch with my mom made our bond stronger. Part of it was the realization of how much joy she brings to my life every single day — and I'll always love watching the episodes where Lorelai and Rory excitedly make up for lost time. Like Lorelai, my mom immediately accepted my apology and my request for help, which strengthened our relationship and taught me an important lesson about forgiveness. I sometimes struggle with holding grudges, but my mom's forgiving nature is something I strive to emulate.
When Rory and I have such close bonds with our moms, there's nothing we can't overcome. We make mistakes and we say things we don't mean — but none of that can take away our love and devotion for each other. Gilmore Girls depicts this perfectly and even though these episodes hit so close to home they can be hard to watch, it's OK. I know that, like Lorelai and Rory, my mom and I have a deeply special relationship that can't be broken, which is something I feel grateful for every single day.
Images: Warner Bros. Television (2); oy-with-the-poodles-already; fyeahgilmoregirls (2)/Tumblr