'90s Kids Spent Their Summers Doing These Things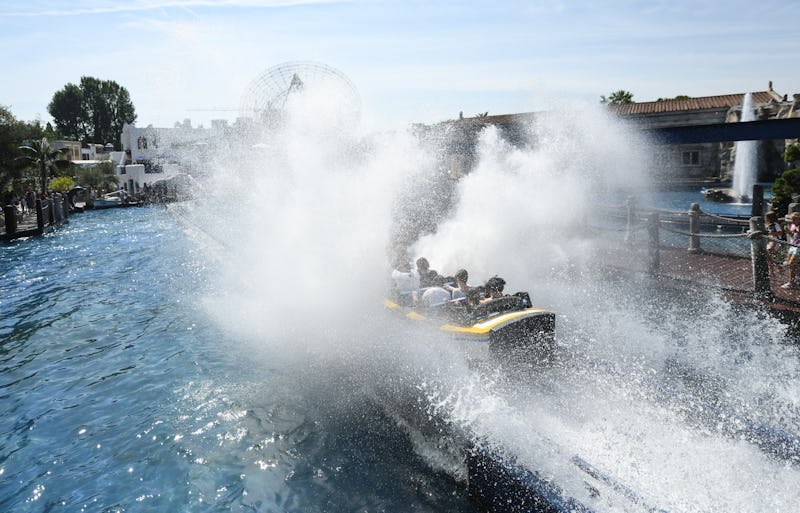 picture alliance/picture alliance/Getty Images
With June right around the corner, join me in a moment of silence for the dearly departed summer vacations of our youth. Unless you're a teacher, you'll be stuck with the rest of us working stiffs slogging through the daily grind during this gloriously sunny time span — whilst wishing, naturally, we were doing the things every '90s kid did over the summer. Now that we're all grown up, it's impossible not to feel the familiar tug of nostalgia for those seemingly endless days spent squeezing the life out of every second. Dang, adulting is hard.
Rumor has it kids these days want to waste away their summer inside fiddling on their smartphones, playing video games, or watching TV. Since I can only speak for my own kids — who, at the tender ages of 3 and 5, live for long afternoons in the backyard paddling pool or at the beach — I don't know how much truth there is to that speculation, but I sincerely hope it isn't so. That sounds downright tragic!
Summer in the '90s was such a magical time. From the moment that final bell rang until the time we were forced to return to school with our feet dragging, '90s kids made the most of our freedom, and that looked a lot like the following activities.
1. Getting Soaked At The Closest Water Park
Every summer during the '90s, my family traveled an hour up the coast to Myrtle Waves water park. There, my siblings and I would spend the day shooting down twisty tunnels, intermittently breaking for Dippin' Dots or $2 corn dogs. Of course, a large portion of time was also devoted to trying to figure out how to cut in line on our favorite slides and stopped just short of a tunnel's end to build up enough water to shoot our tan little bodies out like cannon balls.
2. Or Pruning Up In The Pool
If a water park just wasn't in the cards, a viable alternative was whiling away hours on end in the pool. Should you be so lucky to have one at your house, well, you were likely a neighborhood legend. If not, you'd beg your mom to take you to the country club or local community pool so you could ogle the attractive but much older lifeguard on duty (think Wendy Peffercorn), toss Splash Bombs at each other, float on Fun Noodles, and dive for those weighted rings or sticks until your fingers were wrinkled.
3. Taking A Family Road Trip
There's a reason '90s kids are so obsessed with the Griswolds — we were the Griswolds. Every summer entailed at least one road trip squeezed into the family station wagon or, if you were lucky, a Chevy Van with the built-in table and captain's chairs. The voyage was only made bearable by playing "The Alphabet Game" and tuning out the world with your Walkman (or Discman, depending on the time frame).
4. Listening To Your Favorite Summer James On Repeat
See: "Summertime" by DJ Jazzy Jeff & The Fresh Prince, "Steal My Sunshine" by Len, "Summer Girls" by LFO, "Boombastic" by Shaggy, "Genie in a Bottle" by Christina Aguilera, "California Love" by Tupac, "Waterfalls" by TLC, "Always Be My Baby" by Mariah Carey, and "Tonight, Tonight" by Smashing Pumpkins.
5. Camping In The Great Outdoors
You may have been comically bad at pitching a tent, but the force was strong with you when it came to making a mean S'mores. Depending on how good your parents were at the whole camping game, this time in the great outdoors during your formative years likely either made you a lifelong camping fan or someone who avoids it like the plague.
6. Droppin' A Ton Of Quarters At The Arcade
Can you hear it? The cacophony of myriad arcade games pinging, dinging, buzzing, and ringing in beautiful dischord? I can — it sounds like my childhood. I like to think I still hold the highest score in Pac-Man at my favorite arcade from back in the day, which was especially rad because it was right next door to the motion simulator rides that made you feel like you were riding a dune buggy in the desert or nearly careening off a mountain road perilously devoid of guard rails in a big rig.
7. Spending All Day Outside
For '90s kids, summer vacation was a time for waking with the sun, heading outside, only coming inside when your mom summoned you for dinner, and then collapsing at the end of the day in a heap of contented fatigue. Any given day could quite possibly be jam-packed with Super Soakers, Slip 'N Slides, Capture the Flag, jumping on the trampoline, Splash Off Water Rockets, and riding bikes.
8. Taking In A Movie
Sometimes the weather just didn't cooperate, and those days were perfect for heading to the movie theater to catch a flick. This obviously required a bucket of buttered popcorn the size of our heads, along with Twizzlers or gummy watermelon slices. Then we'd settle in for roughly 90 minutes of cinematic entertainment in the form of classics like The Mighty Ducks or Jumanji.
9. Inviting Friends Over For A Slumber Party
Of course, with no school to interfere with our social agenda, slumber parties could stretch out for days on end. We'd watch movies, play silly board games (Mall Madness, anyone?), binge on Gushers and pizza, giggle until our guts hurt, and stay up way too late. Fun times.
11. Hanging At The Mall
When we started to get stir crazy at home — aka drive our parents crazy — they'd drop us off at the local mall which, let's face it, was basically our natural habitat in the '90s. No such trip was complete without an Orange Julius at the food court and popping into Gadzooks.
12. Showing Off Your Mad Roller Skating Skills
The roller skating craze may have started with our parents, but '90s kids kept it goin' with summer days spent at the roller rink. I can still remember how cool I felt the first time I figured out how to skate backwards, and how much the sun stung my eye upon emerging from the dim lighting of the disco-ball illuminated roller skating arena.
13. Boogie Boarding At The Beach
While it's entirely possible not every '90s kid enjoyed beach trips during summer vacay (poor souls), going to the beach was a rite of passage for those of us who weren't totally landlocked. We'd douse our hair in Sun-In or lemon juice, drop our Velcro paddle-and-ball sets by an oversized beach towel, and make a beeline for the breakers with our boogie boards.
14. Riding Roller Coasters Until You Were Green In The Face
My siblings and I were fortunate in that we had several amusement parks in close proximity to our home town. Six Flags? Yes, please. Dollywood? Count us in. Not to mention the Myrtle Beach Pavilion, may it RIP, where we rode the bright blue, five-loop roller coaster until our brains were basically scrambled eggs. Then we'd eat a basket of cheese fries, win an oversized stuffed animal by shooting a water gun, and ride it again.
15. Straight Up Chillaxin'
While they were the exception to the rule, some days '90s kids really did need to recharge our batteries by doing absolutely nothing. Which, for us, meant watching Jerry Springer and making prank phone calls to hardworking adults. Is Mr. Freely there? First initials I.P.? *snicker* It's still funny. Blame it on Bart Simpson.
Images: picture alliance/picture alliance/Getty Images; Giphy