Drake Is An Experienced 'SNL' Host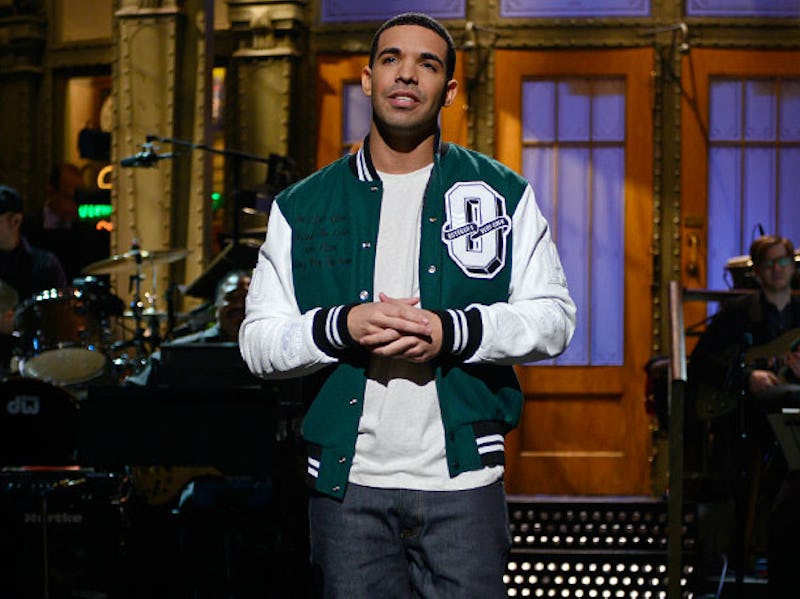 Drake's new album, Views, was a long time coming, but now that it's finally here, the rapper isn't slowing down. Forget cryptic Instagram photos or surprise pop-up concerts: Drake is promoting his album the old-fashioned way. And by "the old-fashioned way," I of course mean by making an appearance as both the host and musical guest on Saturday Night Live. The NBC series confirmed on Twitter last week that Drake will host SNL on May 14, which should send any diehard fans racing to their DVRs. However, this won't be Drizzy's first time in Studio 8H, so how many times has Drake hosted SNL before? The answer is not enough.
Though Drake has only hosted one other time, back in January 2014, he did appear on SNL in 2011 as a musical guest. And just because he was only the musical guest that time doesn't mean he didn't get to spar with some of the show's more seasoned comedians. In addition to performing, Drake appeared in "Weekend Update" as a teenager dressed as a wolf and as himself in a digital short opposite Andy Samberg. The interview is as awkward as one might hope, and you can watch it below.
While May 14 will only mark Drake's second time as SNL host, the episode will earn him a pretty cool title. According to Revolt, this appearance will make Drake the first rapper to host and perform on SNL twice. The honor is certainly deserved — his sketches were pretty hilarious the first time around. Not only did Drake do an amazing Lil Wayne impression, which you can watch below, but he also poked fun at awkward dads, Disney World cast members, and even his 13-year-old self.
Drake may know how to make us all feel the feels with Views, but he clearly knows how to make us laugh as well. Though he doesn't have many Saturday Night Live sketches under his belt yet, I'm stoked to see what he'll do with his second round as host. Fingers crossed that Drake finally puts on the Degrassi sketch we've all been dying to see — and that his sophomore attempt is as hilarious as his first.