Meghan Trainor's "Me Too" Is All About Confidence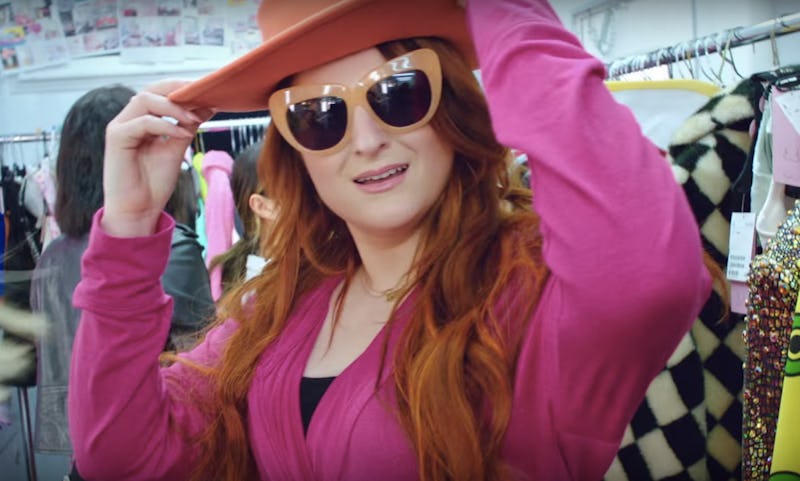 Fans of Meghan Trainor are about to be really excited. I know it's not just me. On Monday, Trainor released the "Me Too" music video and single off her upcoming album, Thank You. However, this new song and music video doesn't feature the tearfully humbled Trainor who graciously accepted her first Grammy this past February. This time around she's going by the nickname M-Train and she is not afraid of letting the world know how much she loves herself. In fact, if you need a morning boost of confidence to get you up in the morning, this song may just end up becoming your summer anthem. Update: On Monday, shortly after the video went live, Meghan Trainor pulled "Me Too" from YouTube and Vevo because of alleged photoshopping saying, "My waist is not that teeny. I had a bomb waist that night. I don't know why they didn't like my waist, but I didn't approve that video and it went out to the world." Bustle has reached out to Epic Records for comment, but has not yet heard back. On Tuesday, the video went live again for fans to enjoy, with Trainor remarking, "Missed that bass. Thank you everyone for the support."
Trainor does not dance around the subject with the lyrics in this song. In fact, when you mash the lyrics up with her fierce dances moves in the video, there really is no way around her message in the song. You basically will want to be her. Not even the beginning of the song starts on a humble note.
Who's that sexy thang I see over there?That's me, standin' in the mirrorWhat's that icy thang hangin' 'round my neck?That's gold, show me some respect
And, even in the bridge of the song leading up to the chorus, there really is no holding back.
I thank God every dayThat I woke up feelin' this wayAnd I can't help lovin' myselfAnd I don't need nobody else
That's why, when it comes to the song's official music video, it makes perfect sense that she starts her morning kissing her brand-new Grammy that's sitting on her bedside table. And, honestly, if you had a Grammy would you do anything different?
That's just the beginning of all of the love Trainor is sharing for herself throughout the song. Once the song gets into its chorus, that's when things get a little more blunt. She's not just talking about how much she loves herself; she's showing the world why we should all want to be like her as well. This song has almost immediately become the perfect song for you to ward off the haters with.
If I was you, I'd wanna be me tooI'd wanna be me tooI'd wanna be me too
From there, the second verse of the song describes how fabulous her life is in just a bit more detail. Just admit it. You've all thought about having this life and shoving it in the faces of your bullies at some point. Let's be real.
I walk in like a dime pieceI go straight to VIPI never pay for my drinksMy entourage behind meMy life's a movie, Tom CruiseSo bless me, baby, achooAnd even if they tried toThey can't do it like I do
Even if you're wearing a giraffe onesie, the message is still loud and clear. Hell, the giraffe onesie probably makes the message even more clear.
"Me Too" is now available on iTunes, and Meghan Trainor's new album, Thank You, will be out on Friday, May 13. Until then, I will be learning some off the fierce choreography in the music video.
Images: MeghanTrainorVEVO/YouTube (3)