18 Recipes For Your Memorial Day Barbecue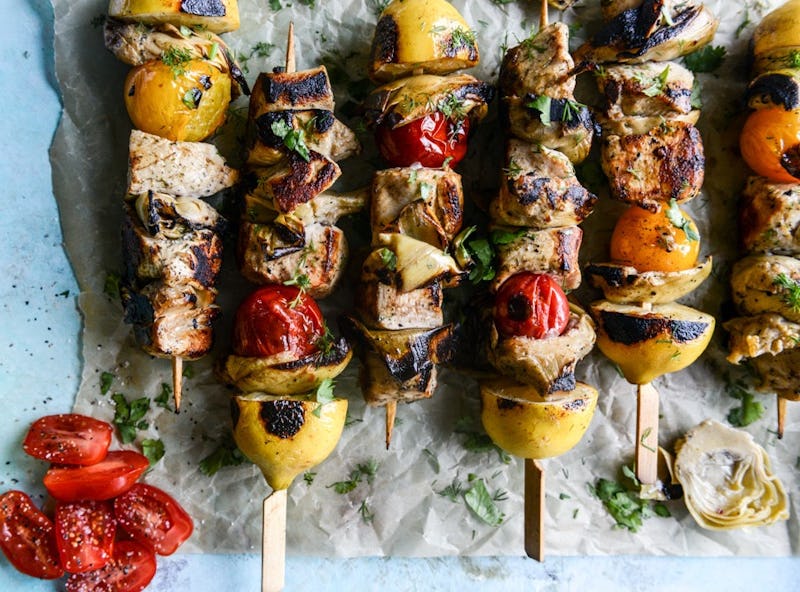 Summer's almost here, and it's time to round up your friends, lather on the sunscreen, bring out the paper plates, and kick off the start of the season in the ultimate way. This Memorial Day, conjure up your inner grill master and gather 'round the flame to whip up these Memorial Day barbecue recipes that promise to please all day long. Serve your guests a lineup of palate-thrilling bites guaranteed to put to shame all backyard barbecues of yesteryear.
Satisfy everyone's summer cravings with backyard barbecue classics like juicy bacon burgers, fresh potato salad, and hearty baked beans. Surprise with genre-busting selections of more experimental remixes like jalapeño popper grilled cheese sandwiches, portobello peach burgers, and Korean barbecue short rib hot dogs. Complement the meaty lineup with grilled fare, from garlicky zucchini to Cotija-smothered corn and watermelon stacked with feta. Sweeten things up with an unexpected dessert of grilled peaches drowned in cinnamon sugar butter.
Ringing in the new season just right requires little more than a group of friends, summer weather, and delectable dishes to keep everyone satiated as the party continues on. So get that grill to temp, and get ready to heat things up with the following crowd-pleasers for a delicious Memorial Day weekend.
1. Bacon Cheddar Ranch Pub Burgers
No barbecue is complete without burgers. These bacon-ized beauties by Simply Scratch exceed expectations (and are a generous take on the term "slider").
2. Grilled Korean BBQ Short Rib Dogs
For a fun twist on the traditional hot dog, try this Korean BBQ short rib reinvention from Half Baked Harvest who promises "these are fun and delicious and so perfect for Memorial Day."
3. Grilled Prawns with Garlic And Parsley
Upclose & Tasty assures this recipe is super easy. You can switch out prawns for shrimp, and either way the dish gets "a little extra kick without being overpowering" from "the combined flavors of the crushed red pepper, garlic, parsley, and olive oil."
4. Grilled Lemon Garlic Zucchini
With zucchini "getting in gear for full bloom this summer season," Damn Delicious serves up this delectable side of zucchini rounds tossed in lemon butter garlic sauce — "a sauce so good, you may want to double the sauce portion and serve some on the side with a spoon."
5. Grilled Chicken, Burst Tomato, and Artichoke Skewers With Goat Cheese Dip
You can't have a backyard barbecue without skewers, so serve up these flavorful sticks by How Sweet It Is, bookended between "charred, steamy lemon to give everything more flavor," and pair with plenty of goat cheese dip ("and tons of ice cold pinot grigio").
6. Jalapeño Popper Grilled Cheese
Recipe creator Foodie Crush declares that the determining factor of every perfectly crafted grilled cheese is "the pull" — "'the pull' of melty, gooey cheese when two halves are divided from one." This recipe guarantees to deliver that perfect pull, plus the added heat of roasted jalapeños and the contrasting crunch of a golden crust.
7. Portobello and Peach Burger
Vegetarians and meat eaters alike will be lining up for these tasty portobello burgers by Green Kitchen Stories. Stacked high and full of fresh flavor, the recipe gets an added panache with grilled peaches.
8. Crispy Smashed Potatoes
These golden wonders are roasted until perfectly crispy, then drizzled with "a decadent, yet heart-healthy, avocado garlic aioli." Recipe creator Oh She Glows recommends making this recipe "as soon as humanly possible" and insists that your only regret will be not making a bigger batch.
9. Grilled Steak Salad with A1 Vinaigrette
Serve up some juicy grilled ribeye on a bed of fresh, crunchy salad decked out in thick slices of avocado, tangy-sweet tomatoes, and crispy French fried onions. A Spicy Perspective tops off the dish with a "zesty creamy" A1 vinaigrette for a potent blend of flavor.
10. Barbecued Chicken Thighs
These tender babies by Natasha's Kitchen can be prepped ahead of time so you "just toss 'em on the grill when you're ready; making them perfect for parties." Expect the juiciest results after marinating them overnight.
11. Herbed Red Potato Salad
This potato salad is made without mayo, but doesn't lose any flavor. Cookie & Kate uses high quality barbeque sauce as "the main flavor builder" and yellow mustard to add "a vinegar tang to the dish."
12. BBQ Baked Beans
Baked beans are a requisite side for your backyard barbecue bash. Recipe creator Foodie Crush says the bacon bites are the best part of this concoction, and it's impossible to argue.
13. Blackened Salmon Burgers With Herbed Cheese
For a healthier take on the barbecue burger staple, try these salmon burgers from Half Baked Harvest, who described them as "one of those recipes" that you talk, think, and dream about for days on end. A poppy-seed bagel makes "the perfect vessel" for the sliced avocado, whipped cream cheese, grilled pineapple, grilled jalapeños, and fresh watercress that scream perfection within.
14. Mexican Hot Dogs with Chipotle Cream
Add some extra zest to your hot dogs by way of avocado corn salsa and chipotle cream. Recipe creator Damn Delicious knows "Memorial Day weekend = BBQ and of course, hot dogs" so serve these up liberally because seconds (and thirds) will be inevitable.
15. Grilled Corn With Bacon Butter And Cotija Cheese
Grilled corn is a must at your backyard fête, so serve them up in style with these gorgeous grilled ears by How Sweet It Is that are slathered with "soft, pillowy butter" and "crispy, fried bacon." Add some Cotija cheese, and the results are downright sinful.
16. Tequila Lime Fish Tacos
Love And Lemons says "the great thing about this recipe is that once you gather all the ingredients for the tacos, you'll conveniently have everything you need to make margaritas to go with them." Not a bad way to start for a summer kickoff party.
17. Grilled Feta And Watermelon Stacked Salad
This interpretation of a Greek staple by Cooking For Keeps is "perfect for summer dinners," bringing a delicious upgrade to a backyard barbecue staple. The watermelon finds a surprisingly synergistic pairing with the feta.
18. Grilled Peaches With Cinnamon Sugar Butter
The Comfort Of Cooking begins the instructions to the recipe by saying "first, find the best peaches you can get your paws on." Once grilled, these juicy peaches are "outrageously good with a swirl of cinnamon-sugar butter and vanilla ice cream, or freshly whipped cream."
Images: How Sweet It Is (3), Simply Scratch, Half Baked Harvest (2), Upclose & Tasty, Damn Delicious (2), Foodie Crush (2), Green Kitchen Stories, Oh She Glows, A Spicy Perspective, Natasha's Kitchen, Cookie & Kate, Love And Lemons, Cooking For Keeps, The Comfort Of Cooking