5 Quick And Easy Grilling Hacks For Memorial Day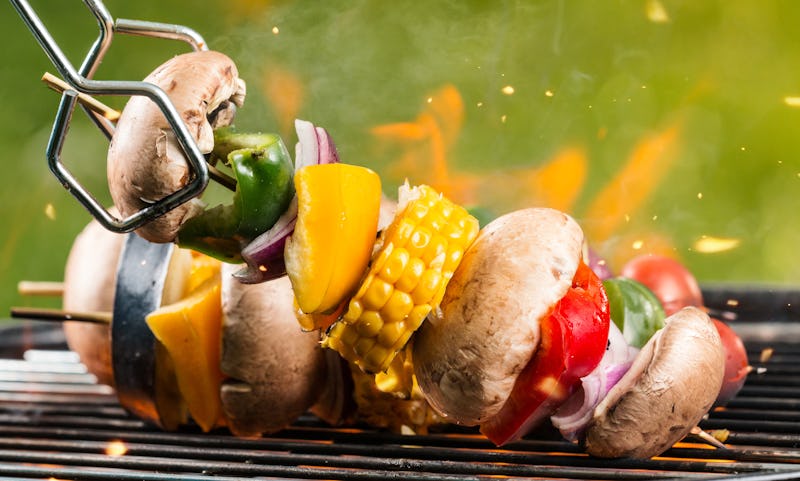 Memorial Day marks the unofficial start of summer, and by default, the unofficial start of grilling season. If that thought served as nothing more than a sobering realization that you only have mere hours to figure out how to dazzle a crowd with your grilling prowess, not to worry — because I chatted with Mike Peters, host of the Great American Cookout tour, who gave me some pretty sweet pointers on easy grilling hacks for your Memorial Day cookout.
But before we get to the meat of the matter (sorry, just couldn't resist), let's take a moment to acknowledge the fact that this weekend, girl, you are the grill master. The master of grills. The grill mistress. The grill maestro. The grill... OK I'll stop. And as the master of all things grilling, you are a) in charge of the menu, b) in charge of the marinade, and c) fully equipped to close the lid, shout "self service!" and rule the flip cup table for no less than an hour or two. Ah yes, it's good to be grill queen.
So from one grill master to another, I present to you Mike Peters' top grilling hacks for your Memorial Day backyard barbecue bash.
Hack No. 1: Booze up that marinade
What's the best way to add extra flavor? Add booze, of course! Peters loves a good brown sugar bourbon marinade. Running super short on time? Pick up a pre-blended marinade and add oil, vinegar, and extra bourbon to taste.
Hack No. 2: Use a spice rub and marinade for optimal flavor
There's no need to choose between a spice rub or a marinade — for optimal flavor, Peters recommends using both. For example, if you're cooking chicken breast, first rub a dry spice mixture of salt, brown sugar, cayenne pepper, and paprika on both sides. Then, place your chicken breast into a Ziploc bag and pour your marinade over the chicken breast. Massage the marinade into the chicken breast, making sure those delicious marinade flavors seep into the pores. The entire spice rub/marinade process should only take about five minutes.
Hack No. 3: Reverse sear
Once you're ready to grill, remember to cook the meat in two heat stages to give it that flavorful, crispy char — this is what Peters refers to as "the reverse sear." If you're cooking on a gas grill, first turn the gas down to a low heat (about 275) and place your meat over indirect heat (i.e. just next to the heat source). If you're cooking over charcoal, place your meat on the edges of the grill grate. Close the lid and cook your meat for about 20 to 25 minutes. Open the lid, move your meat onto direct heat, crank up the flame to high (about 375), and char your meat for about five minutes. This "reverse sear" method results in a juicy piece of meat with a crispy, caramelized coating.
Hack No. 4: DIY your dipping sauce
Reserve some of that dry spice rub to DIY your own dips and condiments. Peters says, "Mix it with mayo. Mix it with ketchup. Make it your own."
Hack No. 5: Don't just serve dessert, grill dessert
I love a good grilled peach. But why stop there when you can grill watermelon, pineapple, and bananas? You can even grill cheesecake. Yes, cheesecake. In fact, Peters' wife Christine has been known to make a mean cheesecake on the grill. "It can be done," says the grill master. And yes, it will be done.
Images: Fotolia; Jeremy Keith, snowpea&bokchoi, thebittenword.com, Rachel, Mike/Flickr