The 'Jumanji' Reboot Will Honor Robin Williams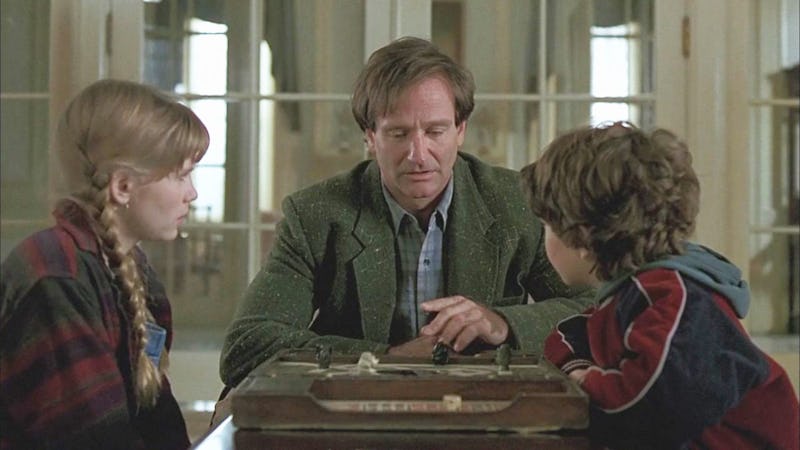 As you may have heard, Jumanji is getting a remake, which, for so many '90s kids who grew up with the original film, may feel like sacrilege. But, Dwayne "The Rock" Johnson is here to quell those fears, revealing this Jumanji reboot will honor Robin Williams. On Instagram, Johnson revealed that the movie will be a "new re-imagining" of the classic story about a brother and sister who play a board game that comes to life, only to unleash lions, monkeys, and a man named Allan Parrish (Williams), who's been stuck in the game since he was just a kid. Williams' character learns to connect, and even love, these strangers who bring him back to the real world after years of being alone. In fact, Alan in Jumanji taught a whole bunch of kids that you are not alone and everything will be OK.
It's probably why Johnson admitted in his Instagram post that he didn't want to ignore the obvious, writing "an important thing that I want to be honest and bring up is Robin Williams... the love and respect I have for this man is boundless. You have my word, we will honor his name and the character of 'Alan Parrish' will stand alone and be forever immortalized in the world of JUMANJI in an earnest and cool way." Johnson doesn't go into detail about how Williams, who passed away in 2014 of a suicide, will be honored in this loose sequel to the 1995 original, but he does say, "I have an idea of what to do, and I think his family will be proud."
It's a nice gesture, and one that seems completely genuine. In April, The Rock announced he was joining the new Jumanji by promising in an Instagram post he would try and "deliver something cool and special and not screw the whole damn thing up." By making sure this new version, directed by Jake Kasden, acknowledges its past, it helps fans imagine the film's future. It's something The Rock may have realized from being in the Furious 7, where Paul Walker's death was handled in a way that proved he was gone, but not forgotten.
In this new post, Johnson talks about the first time he met Williams explaining, "I also think Robin is somewhere lookin' down and laughing, remembering the first time we met backstage and I (for the first time ever) was a star struck bumbling idiot that couldn't even get my words out. Idiot. He literally calmed me down w/ that smile and laugh."
While Johnson says "but that's for another fun story down the road," this story he tells about Williams seems to hint that the "earnest and cool way" the movie, which will stick closer to Chris Van Allsburg's 1981 children's book of the same name, will honor Jumanji's original star by getting at his humor. The way he was able to disarm fans with a well-timed joke and a smile. Williams style of comedy throughout his career made people feel included and The Rock is making sure Williams is a part of this new movie for the same reason.
Jumanji will hit theaters on July 28, 2017.
Image: Sony Pictures