Life Lessons Robin Williams Taught Me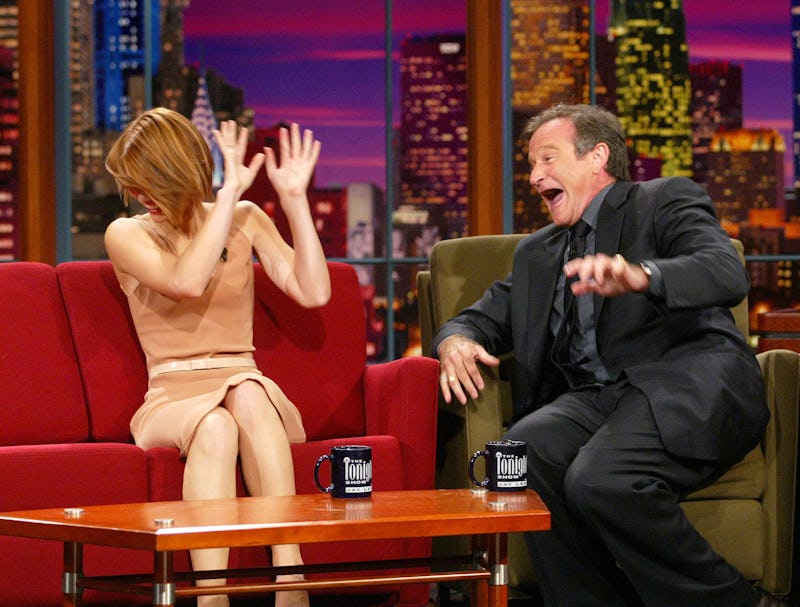 Kevin Winter/Getty Images Entertainment/Getty Images
It is not just the worlds of comedy and film that will be affected by the tragic death of Robin Williams. It's not just those fans who have followed his long and respected career that will feel the loss. Anyone who has ever seen one of Williams' movies or heard one of his jokes or read an interview with him has suffered the loss of a great man.
While he will always be remembered for his career, which included excellent performances in both comedies and dramas, Williams touched our lives by doing more than entertaining us in films, TV shows, and stand-up specials. In all of those mediums and his personal life, Williams imparted important lessons that have resonated with many people, and will undoubtedly continue to help others' lives. Here are just some of the lessons that Williams taught me throughout his 63 years that I will always remember.
Never Underestimate the Power of Laughter
Williams' many comedic works should serve as proof enough that he loved to make people laugh, and clearly he was great at doing just that. But why did he love to make us laugh? He's said many things about the power of comedy, calling it "the only weapon we have" and lauding it for its optimism.
The Importance of Freedom
As the voice of Genie in Aladdin, Williams taught me how important freedom is, and no, not just from the magical lamp that you've been living in for centuries. Williams taught me about creative freedom, by pursuing many different types of films and acting projects — and in his constant, contagious silliness, he taught me about freedom from self-doubt.
Always Be a Kid at Heart
In Hook, it was much easier to believe Williams as the flying leader of the Lost Boys than the more serious Peter of the beginning of the film, who had lost sight of the more loving, fun side of life. If anyone kept the perfect amount of youthfulness throughout their life, it was Williams, and he encouraged others to do the same. Somehow, Williams did a much better job of teaching me this lesson than the actual Peter Pan.
Accept Help When You Need It
Williams was open about his struggles with alcoholism and drug use, and in 2006, after being sober for 20 years, he checked into rehab for alcoholism. After attempting to deal with it on his own, Williams told ABC he realized he needed help and so he went and got it. It takes a lot of courage to not only realize you need help but to seek it out, and by sharing his struggles, Williams showed a tremendous amount of strength that I will always be reminded of when dealing with any struggles I may face.
Believe In Yourself, Even If Others Doubt You
Considering Williams' many inspirational movies, such as Dead Poets Society and Good Will Hunting, Flubber may seem like an odd choice for the source of a life lesson. But as a kid, I just loved it, and I don't think it's just because of how hard Williams could make me laugh when chasing green goo. At first, no one really believed in Williams' character, Professor Philip Brainard, until he proved them all wrong. It was a great message wrapped in comedy (a common theme in Williams' films), and one that has stuck with me since.
There Are Different Types of Happy Families
Could Mrs. Doubtfire have given a better lesson than showing a positive outcome after divorce? Rather than reunite the parents to create a happy ending, this movie showed me that a family can survive a divorce and come out happy on the other end. It's often remembered for its lighter side, Williams' posing as a nanny and the ensuing hijinks, but the emotional side of the movie deserves more credit for truly helping children of divorce.
It Will Be Okay
Even though it was just a few weeks before my fourth birthday, I can still remember going to see Jumanji in theaters — mostly because I got so scared that I had to leave in the middle of the movie. I don't remember exactly what scene it was, but at some point while animals were terrorizing the town, I freaked out and my mom took me home. It wasn't until a few years later that I finally saw the end of the movie. I was thrilled to see that it had a very happy ending, but also mad at my three-year-old self for not getting a chance to see that the first time. I should've known that Williams wouldn't leave me upset, his other movies I saw as a kid proved that much. Still, that's how he taught me what might just be his most important lesson, that everything will be okay — even if there are scary monkeys chasing you.