'The Grinder' Season 2 Needs To Happen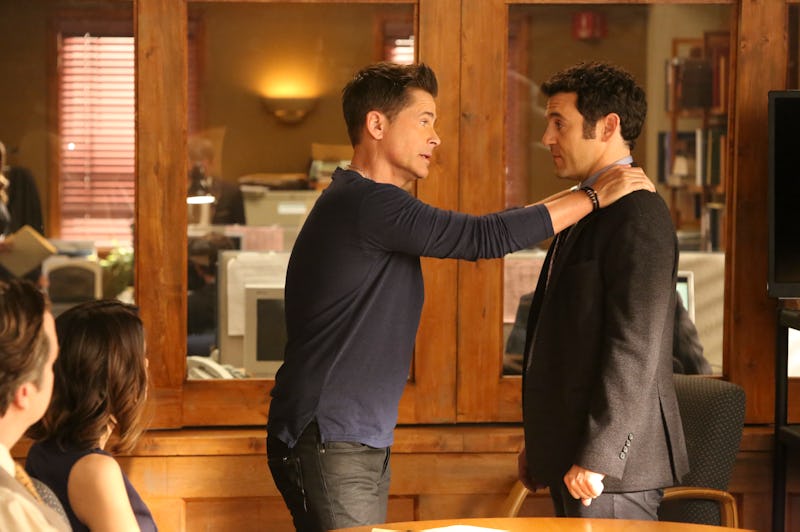 There's nothing worse for a TV fan than watching the last episode of a season and wondering if it's a series finale or a season finale. That's certainly the case when The Grinder airs its last first-season episode on Fox on May 10. The show has been on the bubble for quite some time now. So, will The Grinder return for Season 2? [UPDATE: According to TV Line, FOX has cancelled The Grinder.]
FOX hasn't made an official announcement yet, and it's not clear if that is good or bad news. Glass-half-full people can say well, it made it this far without being canceled despite its low ratings. And, since FOX saw the low ratings and, as TVLine reported, still increased the episode order from 13 to 22, the studio could give it another year to try and build an audience. Maybe it could even move to a different time slot, since, as Cinema Blend reported, " Agent Carter and iZombie didn't really put together great numbers during the time period, either."
Still, glass-half-empty folks might say that Fox has already renewed a lot of its comedies, including Last Man on Earth and Brooklyn Nine-Nine, and yet has stayed mum about The Grinder. But, if the network needs a little push, here are some reasons The Grinder shouldn't rest.
Rob Lowe
He is lit-erally laugh-out-loud funny as Dean Sanderson. You can tell the writers of the show have a real fun time writing for him and his character's unique blend of total earnestness and complete self-delusion.
Fred Savage
Lowe gets the showier role, but Savage is a consummate straight man — and, in some ways, that's harder to pull off.
The Show-Within-A-Show
You only get to see little snippets of The Grinder, the show that Dean Sanderson was on before he quit to move home and help out at his family's real law firm. And yet, they really get to puncture a lot of the soapier aspects of primetime legal dramas and hacky TV tropes.
Guest Stars
By which I mean Timothy Olyphant. After watching him be such an angry, serious character on Justified for so long, it's really a big change to see him be so silly as Dean's TV replacement — and even stranger to see how he's so good at it. (No wonder he won a TV Critics' Choice Award for the guest run.)
Total Weirdness
A lot of the family-based sitcoms on TV right now are really about what it's like to live as realistic family in the world right now, with realistic problems underlying the reality-based antics. The Grinder should get points for its commitment to its all-out wacky premise. It's seriously about a guy who worked on a TV law show and can't really tell the difference between TV law and real law. No family is dealing with that in real life. There are realistic brother dynamics in there somewhere, but it's all wrapped up in TV hijinks, and the show is the better for it.
But, One Caveat
I must admit, I took a break — let's call it a recess — from watching The Grinder because, after a while, the episodes were too similar to each other. Stewart had a problem, Dean exacerbated it by trying to solve it in his Grinder persona, Stewart got annoyed until he realized he really needed Dean/The Grinder, rinse, repeat. Fortunately, by the end of the season, they switched up the formula with the ongoing plot involving their dad. If The Grinder gets renewed for a second season it just needs to steer clear of any repetitive patterns and it'll be golden for Season 2, and many more beyond that.
Images: Patrick McElhenney/Fox; Giphy (6)