Wally May Wake Up With Speed On 'The Flash'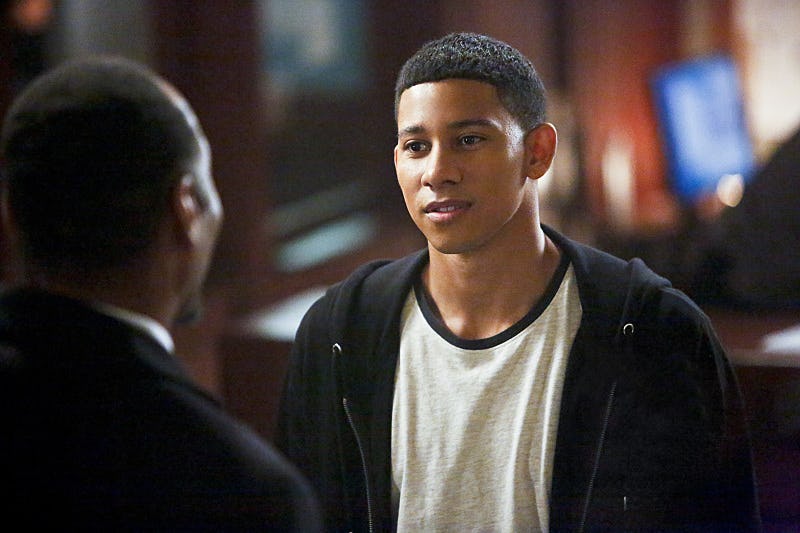 In The May 3 episode of The Flash, the particle accelerator explosion designed to help Barry Allen recover his metahuman powers didn't go as planned. (That's the understatement of the season.) Despite warnings from the rest of the team to both Harry and Barry that what they were setting up was a dangerously unpredictable event, Barry submitted to Harry's conditions, which the scientist hoped would precisely recreate the exact moment that Barry got his speed. Instead, the S.T.A.R. Labs team helplessly watched while the energy from the explosion disintegrated their hero and friend. Two other characters absorbed the energy and seem to have been luckier than Barry. Wally West and Jesse Wells were exposed to the particle accelerator explosion, but their bodies were left in tact. Could this have been the moment when Wally became a speedster, as predicted by his role in DC Comics?
If so, this is a moment fans have been expecting since Keiynan Lonsdale joined the show as Iris' long-lost brother and Joe's long-lost son. His alliterative superhero name isn't a coincidence. In DC Comics, Wally West becomes a speedster known to Central City as Kid Flash. (And Jesse Quick has her own metahuman transformation.) Wally's arc throughout this season of The Flash set him up to step into a hero role, most notably having his own life saved by the Flash. His kidnapping by Zoom and subsequent rescue gives Wally a new perspective on life, and he begs his father to use his friendship with the Flash to set up a meeting where Wally can thank him personally. It is precious.
Later, Wally approaches Joe to tell him that his experiences with the Flash imbued him with a sense of purpose he didn't have before. He wants to help people. Joe thinks that's just fine, and promises Wally that he'll find a path that satisfies his "need for speed" and philanthropic heart. That's basically the job description for being the Flash.
Back in December of last year, The Wrap interviewed Lonsdale about Wally's trajectory on The Flash . He couldn't give away when the aimless West boy would become a suited vigilante like his hero, but he did say that, as a fan, the origin story is his favorite part.
"One of my favorite things about any superhero scenario is when they go from regular everyday humans to figuring out they have powers. I think The Flash did that really well in Season 1 with Barry. I'm sure it'll be different, but it's always cool to see a new character develop new powers, so I'm looking forward to that part."
There must be a reason why Jesse and Wally survived the blast and Barry seemed to be destroyed; The Flash will probably let fans in on that before the season is out. But I'd be very surprised if Wally and Jesse walked away from the explosion without any alterations to their own chemistry, even if only hints of their powers are displayed before the season is out. Still, showrunner Andrew Kreisberg told Entertainment Weekly in April that the plan is not currently for The Flash to become a superhero ensemble series. "For the most part, Barry Allen is the only Flash. Obviously there's expectations for both [Wally and Jesse]; whether or not they're realized is part of the fun and joy of watching the show," Kresiberg said. "It will never be Spider-Man and his amazing friends, it'll always be The Flash." At least that's confirmation that Barry Allen isn't gone for good.
When he comes back from wherever he is, The Flash could do with a little help. And a newly empowered Wally West might be just the partner he needs.
Images: Bettina Strauss/The CW, itberice, centralcitygifs/Tumblr; Giphy