'RHOBH' Unseen Moments Are The Best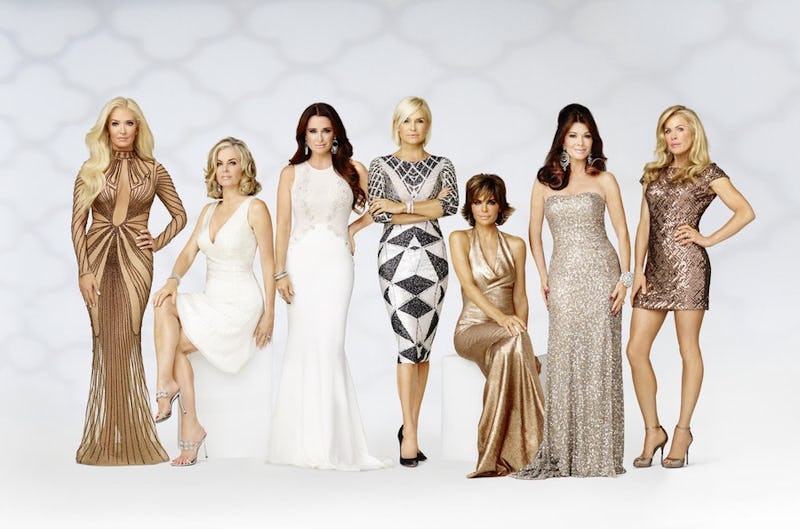 After a seriously contentious three part reunion, The Real Housewives Of Beverly Hills was back on Tuesday for a special episode of unseen moments. I have to wonder why a lot of these moments didn't make it into the actual season because there were some real gems. Super funny and previously unseen clips from Real Housewives Of Beverly Hills Season 6 were woven in with some questions from Andy Cohen, and it was actually really refreshing to get something other than the constant, often redundant drama that this season became known for. Also, if anyone was wondering what I want to do with my life, I want to be Erika Jayne.
Some of the moments were a little ordinary and not super interesting but then there were some true diamonds in the rough that really deserved to be in the regular season. One of the best things to watch was Erika Jayne rehearsing for an upcoming performance. Her choreographer calling out dance moves in his own special way gave me life. There is a reason why #PatThePuss is taking over Twitter and that reason is Erika Jayne. She's legitimately a national treasure. Let's just leave it at that.
Seemingly insignificant but still one of the most seriously shocking moments had to belong to Kyle. There was a clip where she explained that her youngest daughter had downloaded an app and had "accidentally" been charging exorbitant amounts of money to Kyle and Mauricio's credit card. Kyle ended up admitting that the final bill was thirty seven pages long and added up to some figure that was five digits. As if that wasn't shocking enough, Kyle insisted that she wasn't even going to really discipline her daughter for it, citing the fact that they never punish their kids. Um, I feel like this may be the time to maybe ground her, Kyle. Also, what app was that?
This season definitely seemed a little one note with the Lisa Rinna and Eileen against Lisa Vanderpump shenanigans but I know that I am already looking forward to seeing what happens next season. Will the same ladies sign back on or will we see a good old fashioned shakeup for this cast? I guess we will have to wait and see.
Images: Michael Larsen/Andrew Eccles/Bravo