Daisy's 'S.H.I.E.L.D.' Vision Is Becoming Clear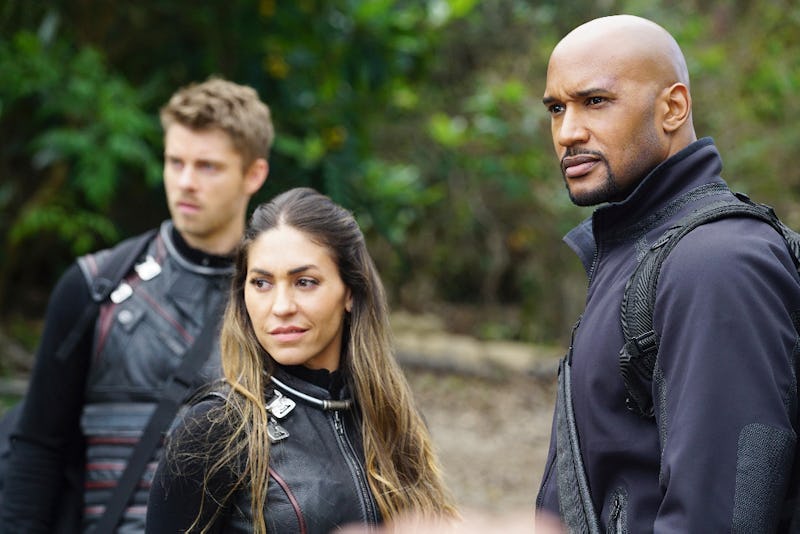 Holy Hive, I'm clearly not ready for next Tuesday's S.H.I.E.L.D. finale. Not if it means saying goodbye to a character I care about! After the latest episode, I'm more worried than ever that Mack might die on Agents of S.H.I.E.L.D. — if Elena giving him her necklace is any sign.
What may have seemed like a nobel gesture could have deadly repercussions. YoYo's cross necklace floating in a spaceship next to the presumably dead agent is the only clue we have from Daisy's vision of the future. I really don't want Mack to be the agent who dies. Don't get me wrong, I'm not rooting for anyone other than Hive to kick the bucket. But who's going to play video games with Fitz if Mack dies? He can't die before macking (sorry, not sorry) on Elena, right? We already lost Trip and Ward (in more ways than one) on this series. How much more pain am I expected to take?
Actually, from a storytelling perspective, this is probably a red herring. This might actually mean that Mack is OK. In the promo for next week, Fitz is holding the necklace, and I don't like that option either! I have a feeling that the necklace is going to get passed around a few times before it leaves Earth's atmosphere on Agents Of S.H.I.E.L.D. — and Daisy's vision sadly comes true for one of S.H.I.E.L.D.'s own.
Image: Richard Cartwright/ABC