Here's The Status Of 'TVD' Season 8 Cast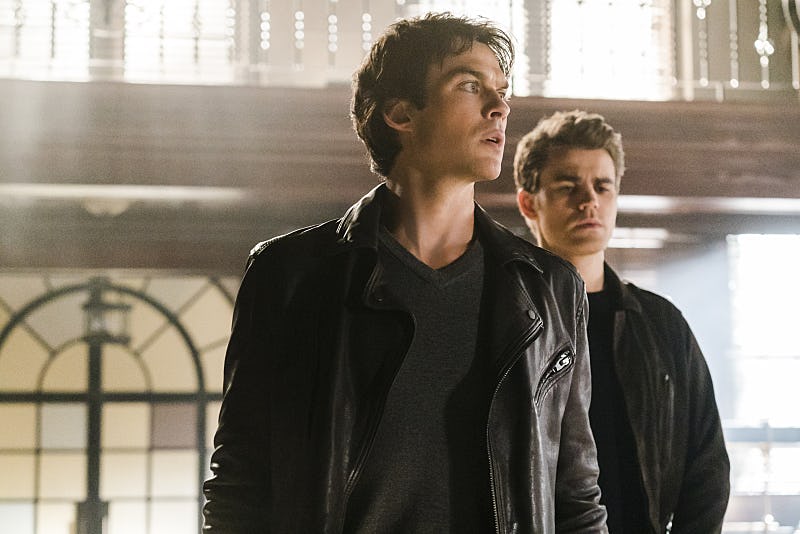 There's a lot of gossip going around that Vampire Diaries will end after Season 8, but you don't have to worry about that quite yet. After the Season 7 finale on Friday, the show will be back for at least one more season, having been renewed by The CW in March, according to Entertainment Weekly. And, with the promise of its return, it's time to speculate what The Vampire Diaries Season 8 cast will look like considering some actors have been talking about leaving the show.
Last month Ian Somerhalder freaked fans out when he made a comment hinting the show was ending. "We have decided to do one last season to really do the story justice," he said at Walker Stalker Con, as reported by TV Line. A few days later he took to social media to backtrack, according to TV Line, saying that it wasn't the show's last season, but that he would be leaving at the end of next season. Somerhalder wasn't the only one who's spilling on their Vampire Diaries plans. Kat Graham is leaving Vampire Diaries after Season 8 too, she told Us Weekly. How do the showrunners plan on keeping the series alive without Damon and Bonnie? I don't really think they can or they should. Luckily you know for sure you get them for one more season.
Right now there's a hot mess of plot lines going on. We've got Bonnie, who's taken on Rayna Cruz' duties to murder vampires, including her best friend and boyfriend. Matt is attempting to stop Bonnie, while Stefan and Caroline went on the run. Meanwhile, Damon and Enzo realized the only way to save Bonnie from murdering them all is by opening the doors to the Armory. In case you forgot, Bonnie opened the doors to that creepy cave in the cellar and then trapped everyone inside with it. Basically everyone is on the verge of death as per usual.
Someone could very well die on the finale, but no one has said Season 7 is their last. Here's where the stars stand.
Paul Wesley
In the midst of some actors declaring Season 8 will be the end for them, Paul Wesley has been silent. Perhaps it's safe to assume that Stefan Salvatore isn't going anywhere? It also wouldn't surprise me if the show does end next season to see Stefan headed to New Orleans with The Originals — and his real-life girlfriend, Phoebe Tonkin.
Candice King
In January, Candice went on maternity leave to have her real-life baby with husband Joe King. At the time fans thought she might be leaving, the series, but creator Julie Plec promised E! News that she'd be back by the end of the season. There's no news on where she stands for next season, but she's back in action as of last week and already being hunted down by her best friend. As for next season, I imagine Caroline and Stefan have some things to wrap up, but I can assume that she will have a smaller role with a newborn at home.
Zach Roerig
I mean if anyone is going to die in the Season 7 finale, it's going to be Matt. How he's made it this long as a human in Mystic Falls, I'll never understand. That being said, if he's made it this far, I'm extremely positive he will be around for Season 8. They've never not had a cop on the show between Matt and Liz Forbes.
Michael Malarkey
WetPaint reported that Michael Malarkey almost left the show during Season 5 to be on another show, but elected to stay because he liked Enzo. There's been no mention of him leaving the show and I imagine, considering they've made him a main character, that he will want to ride through the last big season with everyone else. Plus, who wouldn't want to hang around and make out with Kat Graham?
Matthew Davis
Alaric Saltzman is a weird character. Once upon time when he was their teacher, it made sense that he was constantly around. Over the years he's become a fan favorite popping up every now and again, but this season he's been a bit of a dud. He's already died once, so between him and Matt Donovan, he might not make it to Season 8. Although it's cruel to leave those girls without a dad, so maybe he tells Caroline to get back with Stefan and takes his girls somewhere else. Either way, he may not be a huge part of next season, if I had to guess.
Nina Dobrev
Obviously Nina Dobrev has been off the series since Season 6, but there's no way Damon and Bonnie can both be leaving the show without seeing Elena one last time, alive. Let's look at this logically. When Bonnie dies, Elena is meant to wake up. If Graham leaves, then the show will presumably kill her off, meaning that Elena would wake up. Somerhalder is also leaving so it would give them the perfect excuse to ride off into the sunset together forever. Neither of them would have to come back. The end.