Fans Won't Have To Wait Long For 'TVD' Season 8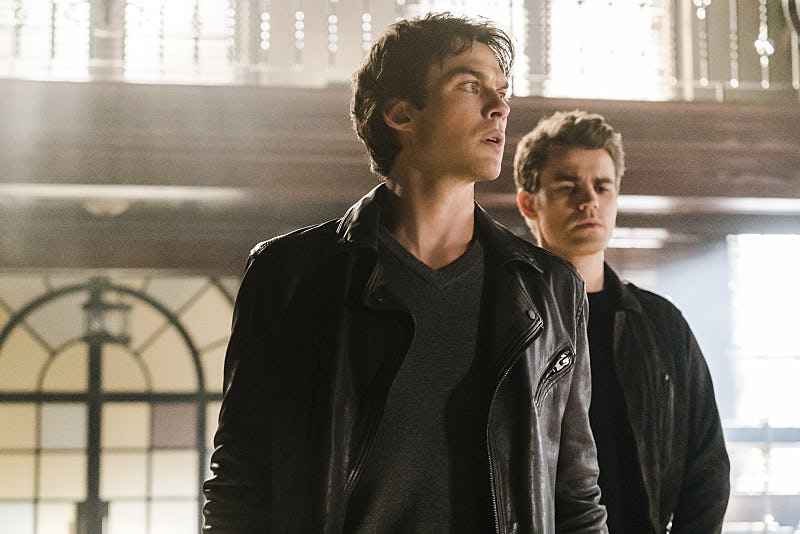 Despite Elena's absence and its shift to the Friday night "death slot," The Vampire Diaries has remained a force to be reckoned with and still holds a vital place in all of our still-beating hearts. But now that the TVD Season 7 finale is just a few hours away from making its debut, it's time to reflect on the months to come that will be deprive us of our weekly dose of vampiric drama. But fear not, my friends — for The Vampire Diaries will return for Season 8 in the fall (presumably), so you can at least take comforting in knowing that our Mystic Falls withdrawal will likely only be temporary.
At this point in time it's a little too early to know exactly when The Vampire Diaries Season 8 will premiere. The networks have yet to release an official fall line-up for the time being. However, it's usually safe to look back on former season premieres for guidance, which will help indicate when the series in question will most likely make its grand return to the small screen. While the first three seasons aired in mid-September of each year, the past four seasons have made their debut in early October. So odds are that Season 8 will appear back on the air waves on (or close to) Oct. 7.
So as we begin to prepare ourselves for this five-month long waiting game, let's make a few fun predictions of how our favorite characters will be spending their summer break.
Damon Will Be Drinking & Pinning Over Elena's Absence
Sure, I kinda miss the days when Damon didn't constantly mope about missing the love of his life, but if he's doing it while drinking and (preferably shirtless), then it's a concept I think I can make my peace with. Bonus points if it also includes spontaneous dance parties.
Stefan Will Be Perfecting His Hero Hair Look
I know it may seem amazing as is, but you know Stefan. He's a constant perfectionist and won't be able to rest if there's a single hair out of place.
Bonnie & Enzo Will Be Relaxing On A Tropical Island Somewhere
Because let's face it, poor Bonnie and her constant knack of dying could really use a break right about now, especially if Season 8 is Kat Graham's last season. Something tells me the writers could make it her most challenging season yet.
Caroline Will Go Looking For Klaus
Am I using this post to service my own favorite 'ship Klaroline? Who's to say, really? But you can't deny that the idea sounds super intriguing. If Klaus is missing, then he needs someone with Caroline's organization and work ethic to help bring him home. And if they end up falling further in love in the process, then who am I to get in the way?
Matt Will Be Policing
Because, really, what else has he been doing these days?
Is it October yet?
Images: Tina Rowden/The CW; Giphy (3); veryownpersonalblog/Tumblr; allisonbaelfire/Tumblr