Nick & Jess Fans Will Love 'New Girl' Season 6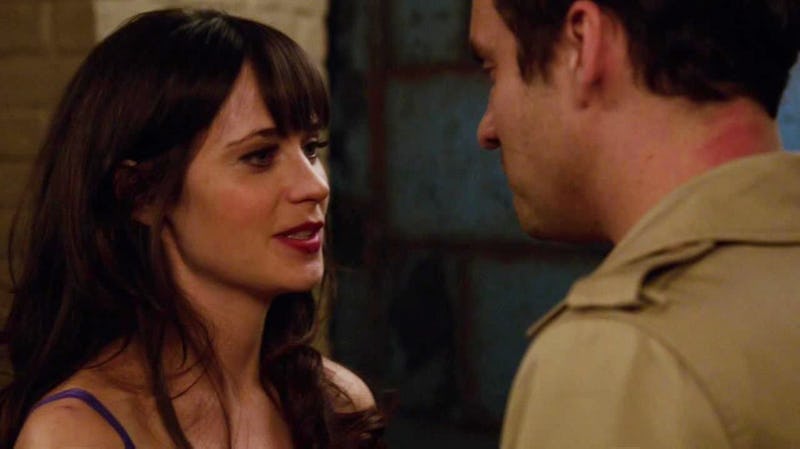 If you're not into spoilers, click away and come back to this once you've watched the New Girl Season 5 finale, because we'll be touching upon several key plot points. On Thursday, May 10, Season 5 closed with two episodes which begged the question: will Nick and Jess get back together in Season 6? One big clue is the fact that, in "Wedding Eve," Sam admits he's got feelings for Diane. So, just like that, Sam and Jess are broken up — meaning it's full steam ahead for a Jess and Nick reunion. Right? Right?
Wrong. The season ends on a pairing we didn't see coming: Nick and Reagan (Megan Fox), with Nick relocating to New Orleans to be with her. And, just like that, our hopes were dashed. The happy-sad ending of Jess and Sam seemed to be paving the way for a reunion. Sam being in love with someone else seemed to take away the guilt factor of audiences rooting for Jess and Nick, whereas Sam's description of being in love with his best friend felt like sneaky dialogue foreshadowing of what we expected to take place in the following episode. Even the opening scene of the "Wedding Eve" episode, with Nick gifting Jess a walkie-talkie, and their dialogue showing how much comic and emotional chemistry they have together, felt like a little push to the audience as to who they were supposed to want the season to end on.
But, if we read the ending scene as the one we're supposed to take seriously, then Nick and Jess won't be getting back together in Season 6. Will they?
Wrong again. I'd argue that, despite these plot twists, there's definitely hope. If showrunner Liz Meriwether's feels are anything to go by, the future looks unexpectedly bright for the ex-couple. In an interview with The Hollywood Reporter, Meriwether was asked how long she'd been thinking about revisiting the "Nick and Jess thing." She responded:
For me, it's the heart of the show. I knew we were going to come back to it, but we had to figure out a way to get back into it that feels good for the show and the characters and will allow us to have stories. Part of the problem with season three was that we didn't know how to keep this feeling like an ensemble show and still have them together. And those characters weren't quite grown enough to be in a relationship in a funny, light way.
So far, so good. "Heart of the show" doesn't make their romance sound like some light, throwaway plot point that was necessary for Nick's character development before he ended up with Reagan — it makes it sound like the destination the whole series is heading towards. She goes on:
We're trying to figure out a way to reintroduce the dynamic but in a new way. Jess is out of the relationship with Sam [David Walton] and sort of pining for Nick, while he's starting his relationship with Reagan [Megan Fox]. Hopefully that takes us to some new story areas next season. I love the two of them together, and I think this season we did a good job of using the guest stars to be catalysts to the Nick-Jess relationship. I think we're going back into that story area, but hopefully with growth for both characters and a new dynamic that will be still give us some tension between them.
I don't know how you're interpreting the above, but it looks pretty clear to me. Reagan's character and presence in Nick's life will be used as a catalyst to speed up Jess realizing that she still has feelings for Nick. Reagan's just there as a plot point to create that much-loved tension between the pair. In short: Nick and Jess are getting back together. I'm calling it now: before the end of Season 6, our favorite New Girl couple will be back in each other's arms.
Images: 20th Century Fox Television; Giphy (2)