Scott Patterson Teases Luke & Lorelai Fans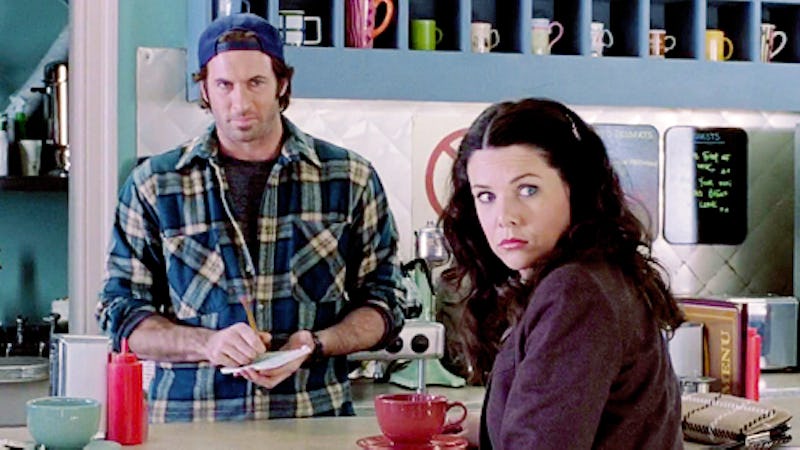 Scott Patterson (perhaps better known as Stars Hollows' favorite barista/lover Luke Danes) recently swung by the podcast Gilmore Guys for his second interview with presenters Kevin T. Porter and Demi Adejuyigbe. While there, he revealed some news that is going to make Gilmore Girls fans and, more specifically, Lorelai/Luke fans very happy indeed. Patterson spoke about his time on set filming the new revival for Netflix, and he revealed that he's about to shoot his last Luke and Lorelai scene for the Gilmore Girls revival with Lauren Graham, the actress who plays Lorelai. Which I think is great news, especially if you can't wait for the Netflix revival to drop.
So far there's been no release date cited for the revival, but, given how central Graham and Patterson have been to the series, if they've already wrapped up filming, it looks like this revival can't be far off from the editing suite. Given the cosy tonality of the show, journalists had predicted a fall/winter Gilmore Girls revival release date, but, with this detail on the cards, I'd say much earlier than this looks likely: say around September. Obviously I know nothing, have never shot a Gilmore Girls episode and this is pure speculation: but how long can editing four episodes take, anyway? Surely not longer than four months? Anyway, let's cut to the juice. Here's what Luke had to say:
Tomorrow's the last day. I have a little thing to do tomorrow with Lauren [Graham], and it's one of the more beautiful shots of the entire four episodes. Amy [Sherman-Palladino] and Dan [Palladino] have come up with some absolutely gorgeous shots, gorgeous scenarios, just beautiful stuff, so tomorrow I don't know if we're reshooting something we've already done or if we're just adding something to what we've already shot.
Besides the good vibes his comment on wrapping up filming is giving me, it's also giving Lorelai/Luke fans some food for thought. "...absolutely gorgeous shots...scenarios, just beautiful stuff."
Whether or not this signals Lorelai and Luke are staying together or parting forever, it suggests a scene with a whole mountain of emotional depth. Perhaps the most frustrating element of the Lorelai/Luke dynamic have been all the times the pair communicated their deepest feelings to everyone apart from each other: both Rory and Luke's sister, Liz in particular, often seemed to be on the receiving end of lovelorn monologues from both Luke and Lorelai. Whatever happens, it suggests that we'll finally get the emotional outpouring we deserve, whether for good or for bad.
And after six seasons of romance that's been a little on the stoic side, and sometimes a little verbally stilted, we're ready for some intense feelings — and I think the characters are, too. I'll pass you over to Patterson himself for more amplification on the same theme. When asked on the same podcast if he thinks fans will be happy with the new episodes, he responded: "Yeah, they're going to be ecstatic: tonally, it's deeper. It's more filmic. But it still has that light comedic tone. And the scenes are longer, the emotions run deeper." You see? This is going to be the emotional rollercoaster Lorelai/Luke fans have been waiting for — an emotional rollercoaster we might get to ride even sooner than we thought.
Images: Warner Bros. Television (2)