Potterheads Can Finally Tour Number 4 Privet Drive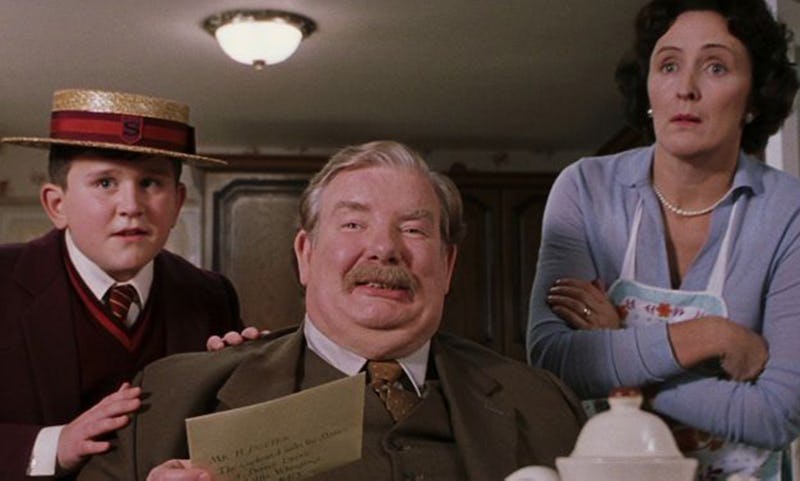 Rejoice, fellow Potterheads, for now you can go pay homage to your fave characters in the whole series: the Dursleys!! Fans can now tour Number 4 Privet Drive, the iconic address that Harry Potter called home for 11 miserable years and six miserable summers. Usually fans can only see the outside of Privet Drive at the Harry Potter Studio Tour in London, but for a limited time they'll be able to physically go inside of the Dursley's lair (er, home) and get an upfront and personal view of the set — at least they'll be able to from May 27 through June 6, so you might want to hustle.
The house is still adorned the way it was in the film, complete with the Dursleys' furniture, their gagworthy homages to little Dudderkins, and even a room that has a few of the tens of thousands of letters created for the films suspended in flurried motion like they were that one notorious Sunday there wasn't supposed to be any post. Fans won't be able to peek into the cupboard under the stairs, but considering how many spiders Harry made friends with in there, that's proooobably for the best.
To kick off the celebration, actress Fiona shaw, who portrayed Petunia Dursley in the films, attended the grand opening and cut the official ribbon.
She even graced the crowd with some SPOT ON Petunia-isms that make me wish she had a spinoff reality series called Petunia Scolds Children From The Front Walk. Hey, we have Cursed Child and Fantastic Beasts on the way, who's to say that Aunt Petunia can't get a little spinoff love, eh?
Warner Bros. Studios shared a few images on Twitter so fans suffering from FOMO across the pond can get a sense for what the set looks like from the inside. You could, of course, just rewatch all of the movies, but I don't know if I have 17,000 hours of my adult life to spare. (JK, I'd hit pause on my own open heart surgery to rewatch Harry Potter.) Here is a sneak peek at Privet Drive:
Unfortunately Privet Drive is just about as inaccessible as the Ministry of Magic itself if you're stuck in the states, but hey — at least we New Yorkers stole Newt Scamander. I'm not going to say that my proudest achievement of adulthood is existing in the same city where a fictional character fictionally lived many decades ago, but I'm not going to not say that, either. In any case, if you're in the area, go take a seflie at the doorstep where Dumbledore ditched a helpless baby! And then post it on social media so the rest of us can cry ourselves to sleep.
Images: Warner Bros. Studios