Trump's Candidacy Is Actually Doing Something Good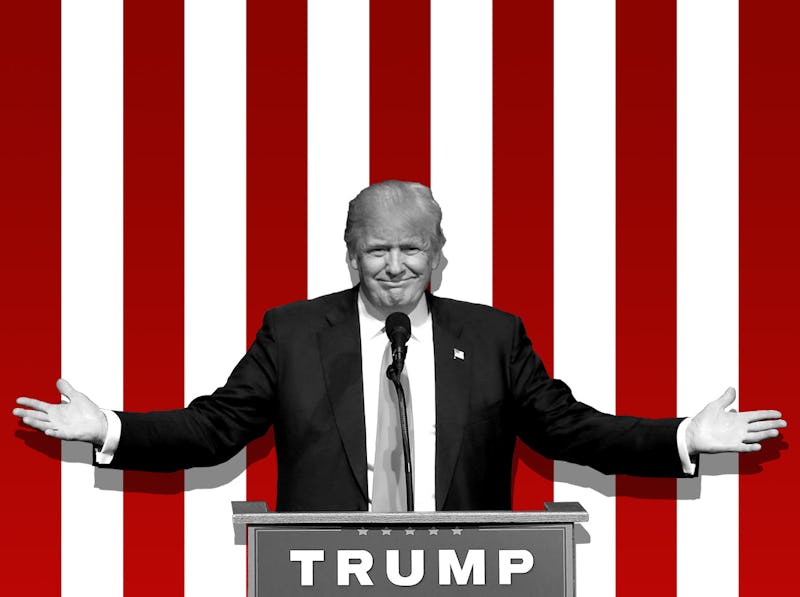 Throughout this election cycle, Vermont Sen. Bernie Sanders has said time and again "We win when voter turnout is high, we lose when it is low." He's also put a partisan twist on that aphorism, tweeting: "When voter turnout is high, Democrats and progressives win. When voter turnout is low and people are demoralized, Republicans win." While it is certainly debatable how accurate Sanders' proclamations are (PolitiFact has largely debunked the first one), they are fun to keep in mind when reading The Washington Post's report that Donald Trump's candidacy has driven Latino voter registration, And it's not just voter registration, but a record number of citizenship applications — all so they can cast their ballot against him.
It's inspiring, really. The Washington Post reported Wednesday that eager Hispanics are "flooding into citizenship workshops" and "jamming hotlines" to figure out just what they need to do to be able vote against Trump in November. Across major states with large Latino populations, like Texas and California, the ranks of eligible Trump-hating voters are swelling. Perhaps, this is how America becomes Great Again.
I predict that if this thing is big enough to be a recognizable trend now in May, it'll only expand over the next six months as Trump assumes his position as the GOP nominee and is afforded even more airtime to bumble on about undocumented immigrant "rapists," Trump-Tower taco bowls, and the ever-rising border wall.
"A surge in Latino engagement is coming," Ben Monterroso, executive director of nonpartisan group Mi Familia Vota, told The Washington Post:
Unsolicited, people tell you that "I'm becoming a citizen because I want to vote against Donald Trump" or "I want to vote against the attacks on our community."
This trend may be one of the few actual good things Trump's candidacy has brought about in 2016. (Granted, you can make the argument that another benefit was it exposed just how fractured the GOP really was all this time, though I'm also not sure that knowledge is worth it if the price is a President Trump.) I think there's something riveting and patriotic about people who may not have seen the point in voting — in even trying to become U.S. citizens — rising together en mass to stop the Donald.
At the end of the day, though, this news isn't actually a wholly happy development, because what's driving this upsurge in Latino voter registration — aside from passion and anger — is fear. It's easy for middle-class white voters, like me, to cringe at Trump and makes jokes, because I'm not the one facing the reality of his xenophobic, ignorant plans that could potentially rip families apart and inspire further discrimination and hate. The horror of a Trump presidency is, for so many of us, abstract. But for these Latino citizens rushing to register, it's something much realer and more urgent.
Images: Bustle/Allison Gore