Yes, Michael Ausiello Will Be In The 'GG' Revival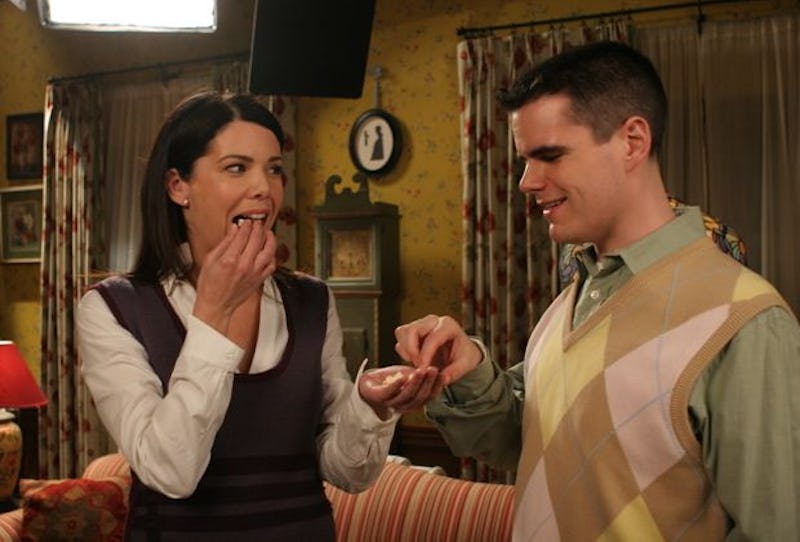 Just when you thought the cast list for the Gilmore Girls revival couldn't get any bigger, co-founder and editor of the website TV Line, Michael Ausiello, announced that he will cameo in Gilmore Girls. But this isn't the first Gilmore role for Ausiello. In 2005 he starred as a customer at the Dragonfly Inn in the episode entitled "But I'm a Gilmore!" This time, Ausiello reports exclusively for TV Line, his role won't be the same. So who will hebe playing in the revival? The details he's spilling about his role reveal some potential spoilers for the Gilmore Girls revival.
So what exactly were the secrets Ausiello spilled about his new role? Well, there were a few of them. For starters, Ausiello revealed that the scene he shot was with Lauren Graham and Alexis Bledel. Considering it's show about the mother-daughter duo, it's not exactly revealing that he would star in a scene with the two of them. But, given the amount of drama these two have experienced in their relationship, this detail about his role suggests that Lorelai and Rory are likely not feuding in the revival.
Let's all have a collective sigh of relief about that one.
But there were already pictures of Rory and Lorelai together on the Gilmore Girls set, so that's not exactly surprising. The detail that is a bit more surprising, however, is that Ausiello claimed that his internal dialogue was incredibly verbose during the scene. And while this may have been a simple joke, this comment may also mean that whatever was happening in the scene was pretty dramatic. If his internal dialogue was going a mile a minute, there's a good chance that what he was responding to was a pretty pivotal scene.
The other detail that Ausiello revealed is that his role is being kept under lock and key by Amy Sherman-Palladino. And while that's not exactly a surprise — most of the details from the revival have been hidden away — it is surprising to me that he can't reveal even the slightest hint about his role, especially since he is the co-founder of the website that has revealed a number of exclusive reports about the Gilmore Girls revival. I mean, even Sutton Foster spoke out about her character, revealing that she plays a struggling actress starring in the Stars Hollow musical. So what's so significant about Ausiello's role that he can't reveal even a shred of information about it? I'm thinking this might mean that whatever scene he is in is pretty important.
Lok out for Ausiello when the Gilmore Girls revival is released. He may not have any lines, but I'm convinced his role is going to make a huge impact.
Image: Warner Bros. Pictures; Giphy